Software development outsourcing is thriving. The increased demand for digitalization and innovative products allowed the information technology outsourcing market to reach $66.5 bn in 2019, and experts predict further growth. This is not surprising, because outsourcing software development is much more profitable both in terms of expertise and in terms of price. However, in such a rapidly growing and changing environment, choosing a business partner that meets all your requirements can be confusing. Especially when you don't know where to start. Let's fix it. In this article, we will look at the top software outsourcing destinations to find out which countries are the best to develop software products.
Table of contents:
Software outsourcing market overview
Let's start with the market overview to better understand all benefits and pitfalls of outsourcing. The outsourcing market has been developing for many years, and the Covid-19 pandemic has only intensified this. According to AppDynamics' report, 95% of respondents said their organizations have changed their technology priorities during the pandemic following the Covid-19 outbreak. The increased demand for digitalization has forced companies to re-prioritize their tasks and find a fast and efficient solution for technology adoption.
But why do companies outsource? According to the Deloitte Global Outsourcing Survey 2020, the main reason for outsourcing software development is cost reduction. Assembling an in-house team includes the costs of recruiting, providing jobs and a social package, nurturing expertise, which will cost you significantly more. By outsourcing the development of a software product, you pay for the hours of work of a certain specialist only when his services are needed. Moreover, when outsourcing, you are not limited by location and can choose the most reasonable rates, which differ depending on the region. Delegating labor-intensive tasks to service providers allows you to reduce the internal workload of the company and focus on core business goals, optimize resources, and gain more flexibility.
Recommend reading our recent article Why outsourcing software development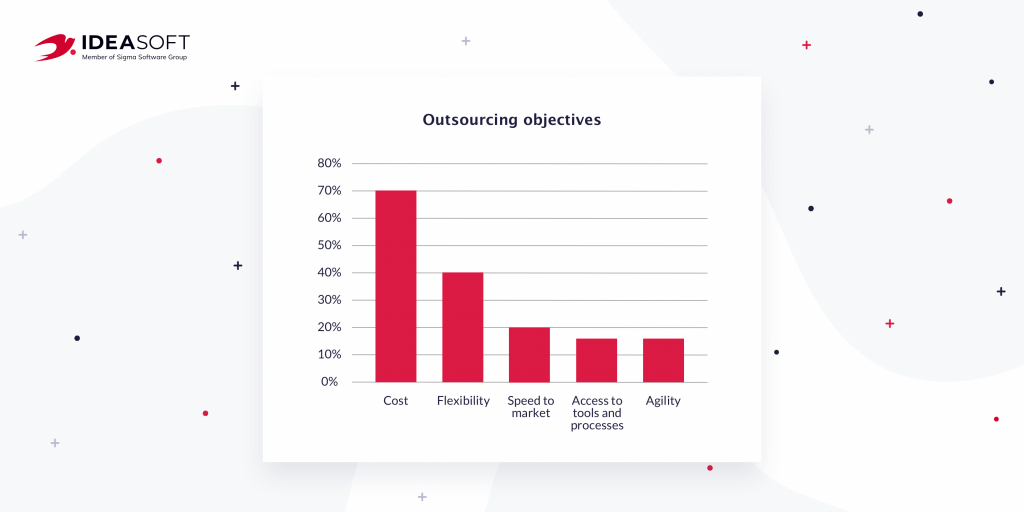 Of course, the reasons for outsourcing depend a lot on the type of company. For example, according to Clutch, 24% of small businesses use outsourcing to improve their business performance. At the same time, large companies are more likely to have a budget for outsourcing, so they are more likely to resort to such services. The good news is that you can find outsourcing service providers on the market for different budgets and needs.
Main criteria for choosing an outsourcing software development company
But how to choose a software development provider? This question worries everyone who is looking for a business partner for the first time or has had a negative experience of interaction with outsourcing companies in the past. Some people put attractive developer rates in the focus of their choice and get poor-quality software. Others choose companies that cannot fully cover their needs. To help you, we have compiled a list of the main factors when choosing a software development partner. Keep in mind that they may rank differently for each project, depending on your goals and the resources available.
Technical education level
Everyone needs quality software products, and only skilled specialists can create such software. When resorting to outsourcing, you have the opportunity to choose a company for cooperation from anywhere in the world, but you should take into account regional differences and the level of the tech education level of specialists in the country are going to work with. Be sure to study both the general level of education in the region and the expertise of a particular company.
Time zone
Even though you are delegating the creation of software, you will need to interact with a remote team, and a minor issue like the time difference could one day become a major problem. Therefore, we advise you to consider the time zone when choosing an outsourcing service provider, so that at least part of your work time and your partner's work time coincide. This way you will be able to quickly resolve the questions posed and effectively interact with each other.
Product development expertise
There are many software development companies and each may have a different specialization. So you need to know what technologies developers are working with, whether they are familiar with popular programming languages ​​that may be used in your project. If you are planning to adopt blockchain, artificial intelligence, or other advanced technology, make sure a company has a similar experience. For example, if you want to create a mobile application for the AppStore, you need a company with in-house Swift developers who have experience building apps that meet all Apple requirements.
Resource availability
Availability of company resources is also an important criterion for choosing an outsourcing partner. Make sure that the company you intend to work with has all the necessary specialists to cover your tasks and you don't have to wait until some developer is free or the company hires DevOps. Plus, partnering with a full-service software development company can save you time and money. For example, IdeaSoft has a staff of specialists who will help you with all tasks related to software development, from business analysis and design to programming, testing, and support.

Price/quality ratio
While the main benefit of outsourcing is cost reduction, you shouldn't focus on price alone. Many people think that any software development company can provide you with the same services, the only difference is in rates and brand, but this is far from the case. Companies differ in expertise, experience and they provide different qualities of services. Your task is to find the best price/quality ratio. In this context, you shouldn't be guided just by general information about the company's work but also of whether it meets the requirements of your particular project. Determine some kind of acceptance criteria that affect the quality of your product and choose an outsourcing partner based on them.
Top software outsourcing destinations
According to statistics, the most popular outsourcing destinations are Europe, Asia, and Latin America. Let's take a closer look at the IT environment of each region to determine the best countries for outsourcing software development
Europe
Despite the fact that Europe is one of the main consumers of IT outsourcing services, it is also a popular outsourcing destination. The thing is that developers' rates are very different in the West and in the East. Therefore, many entrepreneurs from Germany and the UK, for example, outsource software development to colleagues from the Eastern region. According to the State of European Tech 2019 report, the European software engineering pool counted 6.1m developers.
According to statistics, the most popular outsourcing countries in Europe are Poland, Ukraine, Romania, Czech Republic, Hungary, Bulgaria, Belarus, and Croatia.
Ukraine
Ukraine is a well-known country for outsourcing software development all over the world. Projects such as Grammarly and DepositPhotos were created by Ukrainian engineers. Plus, such international giants as Oracle and Google have opened their R&D centers in Ukraine. According to the IT sector report of 2019, Ukraine has become the largest exporter of IT services in Europe.
The information technology market in the country is constantly growing and this is not surprising. Around 39 Ukrainian tech universities generate about 30,000 tech specialists annually. And the market has good government support. In total, there are close to 200,000 IT specialists in Ukraine, according to Escadra. In Ukraine, you can find a specialist of any technology stack and seniority level. Besides, compared to the USA and Western Europe, there are reasonable hourly development rates. Convenient time zone, open culture, high level of professionalism, all this makes Ukraine one of the top software outsourcing destinations.
Poland
Poland has a mature software development market. International companies are happy to open their R&D centers here, as did Google, IBM, and Motorola. The total number of IT specialists in Poland is 295,300, and annually, about 70 thousand students study Computer Science. Although the software development market in Poland doesn't have such impressive growth rates as Ukraine, it continues to develop and is expected to reach $2,834.2 million during 2021, according to Statista.
Despite the fact that development rates in Poland are not the lowest, they are still relatively low when compared to Germany, UK, or the USA. In addition, the country has a convenient geographical location almost in the very center of Europe. A favorable political environment, strong economy, and highly qualified technical resources contribute to Poland's success in the outsourced software development market.
Hungary
The pool of IT specialists in Hungary is not as large as in Ukraine or Poland, with only 80,000 specialists. However, the region is very popular for R&D centers due to its favorable business environment. So, according to statistics, most of the income from the technology industry is generated by enterprises controlled from abroad.
IT outsourcing in Hungary is popular due to several reasons. Firstly, Hungary is a member of the European Union, which means that its services are fully in line with European standards. This makes it easy for other European companies to hire and interact with Hungarian professionals. Second, Hungary provides really high-quality software development services and has a stable market. However, in a certain sense, the country's IT market has reached its maximum, and if you are looking for a long-term partnership and an active community, Ukraine has more potential.
| | | | |
| --- | --- | --- | --- |
| Criterion | Ukraine | Poland | Hungary |
| Number of developers | 200,000 | 295,300 | 80 000 |
| Most popular technology | JavaScript, Java, C#, | JavaScript, Java, Python, | Java, JavaScript, Python |
| Main IT hubs | Kyiv, Kharkiv, Lviv | Warsaw, Krakow, Wroclaw | Budapest, Miskolc, Debrecen |
| Average software development hourly rate | $25-46 | $40-56 | $39 – $52 |
Asia
The Asian market has over 10 million software developers. The region is primarily known for its relatively low development rates and it does not always mean bad quality. Software and tech consulting services are one of the fastest-growing markets in Asia. This is not surprising given the innovative business environment. Asia is home to many tech startups. According to McKinsey, in April 2019, Asia had roughly more than one-third (119) of the world's 331 unicorns (startups worth over $1 billion). The main players in the outsourcing market are India, the Philippines, and China.
China has one of the fastest-growing software markets in the world. According to IBIS World, the market size, measured by revenue, of the software development industry has reached $1.2tr in 2021. The sector is well supported at the state level. In addition, the country's education is mainly focused on science and mathematics, which makes it possible to replenish the pool of IT specialists by several million annually.
According to PISA (Philippine Software Industry Association), the Philippines currently employs over 190,000 tech specialists, and this number is expected to reach 210,000 by 2022. One of the main benefits of working with the Philippines for Western countries is that English is the official language for Filipinos. In addition, due to the country's history, Filipinos have a lot in common with Western culture. Therefore, communication will be easy for you, and you can consider the Philippines as one of the top software outsourcing destinations.
India is one of the world's largest exporters of outsourced software development services. According to ResearchAndMarkets report, the IT outsourcing market in India was valued at INR 5,649.47 billion in 2019 and is estimated to reach INR 8,830.14 billion by 2025. Key industries that Indian IT outsourcing companies work with include banking, financial services, insurance, telecommunications, manufacturing, and healthcare. A definite advantage of outsourcing in India is the low development rates, but many companies face cultural and linguistic barriers.
| | | | |
| --- | --- | --- | --- |
| Criterion | India | Philippines | China |
| Number of developers | 4 million | 190,000+ | 6 million |
| Most popular technology | Python, Java, JavaScript | PHP, Java, JavaScript | ASP.Net, PHP, Lua |
| Main IT cities | Bangalore, Hyderabad, Chennai | Manila, Cebu, Davao City | Beijing, Shanghai, Shenzhen |
| Average software development hourly rate | $22-50 | $25-50 | $30-60 |
Latin America
Latin America is a popular outsourcing destination mainly for North American companies due to low time and distance differences, high English level, and relatively low development rates. Argentina, Brazil, and Mexico are the most popular countries for outsourcing software development in Latin America. Let's take a closer look at each of these top outsourcing destinations.
Argentina's software development pool numbers around 139,000 professionals. The country's education system is focused on informatics, which means that even more qualified developers will appear in the country in the near future. Software and mobile development, data transfer to the cloud, and DevOps development are the main specializations of Argentine engineers. However, you should keep in mind that the country is developing and still remains a quite unstable economic environment that can cause certain difficulties. For example, the unreliability of state laws regarding the entry of foreign businesses.
Brazil's IT market has grown significantly over the past few years. Today, Brazil has the largest number of developers among all Latin American countries. Many US companies prefer to hire Brazilian professionals because they are highly skilled and well-educated. Brazil has approximately 1,714 IT-related technical and graduate courses, which produce 100,000 graduates per year.
Mexico is also one of the most popular countries for software outsourcing. In response to market demand, the government is modernizing the country's education system to replenish the talent pool with well-educated technicians. There are currently about 223,398 software developers working in this region. SkillValue ranked Mexico second among the countries with the best engineers in the world in terms of price/quality ratio.
| | | | |
| --- | --- | --- | --- |
| Criterion | Argentina | Brazil | Mexico |
| Number of developers | 139,000 | 475,000 | 223,398 |
| Most popular technology | C, Java, PHP, | JavaScript, Java, C# | JavaScript, Python, C# |
| Main IT cities | Buenos Aires, Chaco, Formosa | Rio de Janeiro, Porto Alegre, Curitiba | Guadalajara, Monterrey, Tijuana |
| Average software development hourly rate* | $35-55 | $30-50 | $30-50 |
What is the best country for IT outsourcing today?
Well, now that you've learned more about top software outsourcing destinations, let's try to find out which country is the best for outsourcing. According to the latest Skill Value report, based on +550 technical assessments, the top 5 countries with the best developers of the world regarding price and quality include Slovakia, Mexico, Poland, Hungary, and Ukraine.
It makes sense. However, when you are choosing a software development partner for yourself, you should look at the factors that are crucial specifically for your project. For example, for US companies, Mexico can be an excellent option due to its close geographic location, especially if you want to actively participate in the development process or are looking for specialists to expand your in-house team. At the same time, you will find lower rates in Eastern Europe. Not surprisingly, in this context, many choose Ukraine as the best country for outsourcing software development.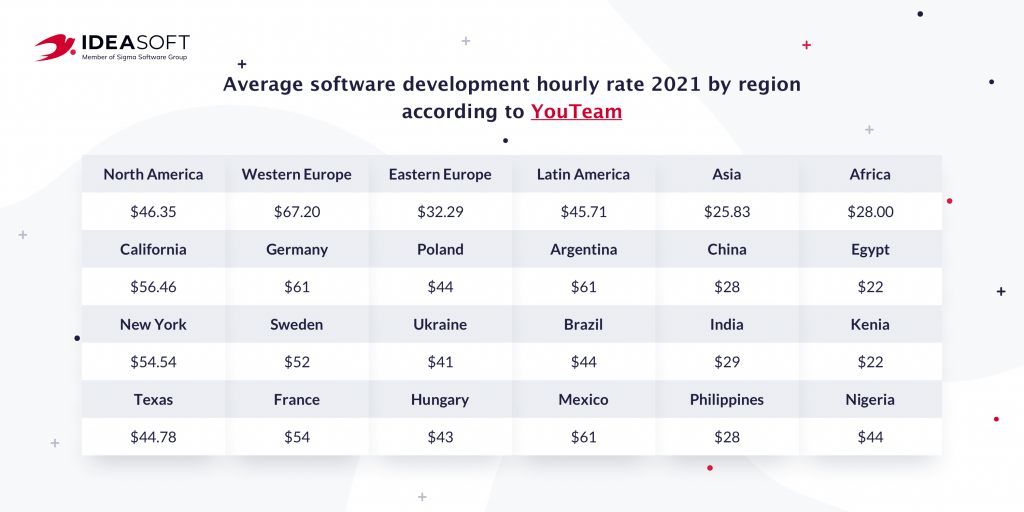 So why do companies outsource software development to Ukraine:
A huge pool of technical specialists. Ukraine already has about 200,000 professional developers. Plus, over 20,000 tech students graduate in Ukraine each year, according to The IT Ukraine Association. Ukrainian engineers master a large technology stack, including advanced technologies such as AI, machine learning, and blockchain. Plus, you won't experience trouble with communication. According to DOU, 70% of surveyed engineers speak English at the intermediate and upper-intermediate levels.
Favorable business environment. In Ukraine, the information technology market is supported at the state level. Therefore, you will not have any problems with the legal side of interaction with a partner company. IT companies have favorable tax conditions that allow them to provide services at reasonable prices within the regulatory framework and market trends.
International recognition. The talents of Ukrainian developers are known far beyond the borders of the country. Ukraine is in the top 50 Most Innovative Countries by The Global Innovation Index. Also in 2021, 12 Ukrainian companies, including IdeaSoft, entered the Clutch Top 100 Fastest-Growing & Sustained-Growth Companies for 2021. Such internationally famous startups as Grammarly, GitLab, Jooble, DepositPhotos, and others originated in Ukraine.
Reasonable rates and great quality. Ukrainian developers create high-quality software products due to a good technological background. Moreover, development rates are lower than in Western Europe or even neighboring Poland and Hungary. Often it is the excellent value for money that becomes the decisive factor in favor of outsourcing to Ukraine.
Convenient time zone and location. The time difference between Ukraine and the United States is 7 hours, between Ukraine and the UK – 2 hours, which opens up new prospects for working on projects. Also, if you want to visit Ukraine, it will not be difficult. The country has excellent traffic interchanges.
If you like the benefits of outsourcing software development to Ukraine, we will be happy to help you get started on your project and prove that cooperation with a Ukrainian company is a good decision.
IdeaSoft, being part of Sigma Software Group, a Swedish software development company, will be able to cover all tasks related to the development of your software product. We provide a full range of services from business analysis, UX/UI design to programming, testing, support, and outstaffing. The company's portfolio includes more than 250 successfully implemented projects in such industries as fintech, telecom, healthcare, B2B, government, logistics, and others.
Feel free to check our services, industries we work with and contact us directly to discuss your next project!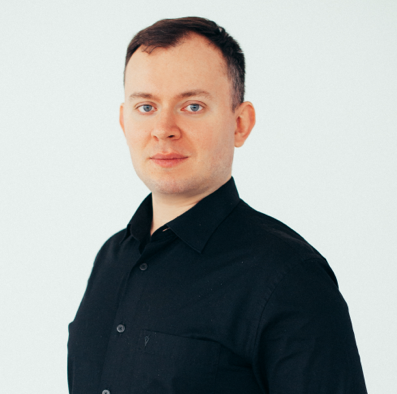 Viktor Legetsky
Managing Partner