Although the pandemic turned 2020 into a challenging year for both society and businesses worldwide, COVID-19 has also accelerated digital transformation and many of the changes already underway. In 2021, new technology trends are set to drive new opportunities and significantly affect a wide range of industries and businesses. Here we are going to consider technologies that will dominate in 2021.
Table of contents:
Remote working technologies
The COVID-19 pandemic has triggered a fast shift to unprecedented numbers of employees working from home. PwC's US Remote Work Survey claims that most companies are considering extending remote work for their employees after the pandemic ends or creating hybrid workspaces where employees rotate between remote and office working. Therefore, technologies related to remote work will be trending in 2021. Let's look at statistics.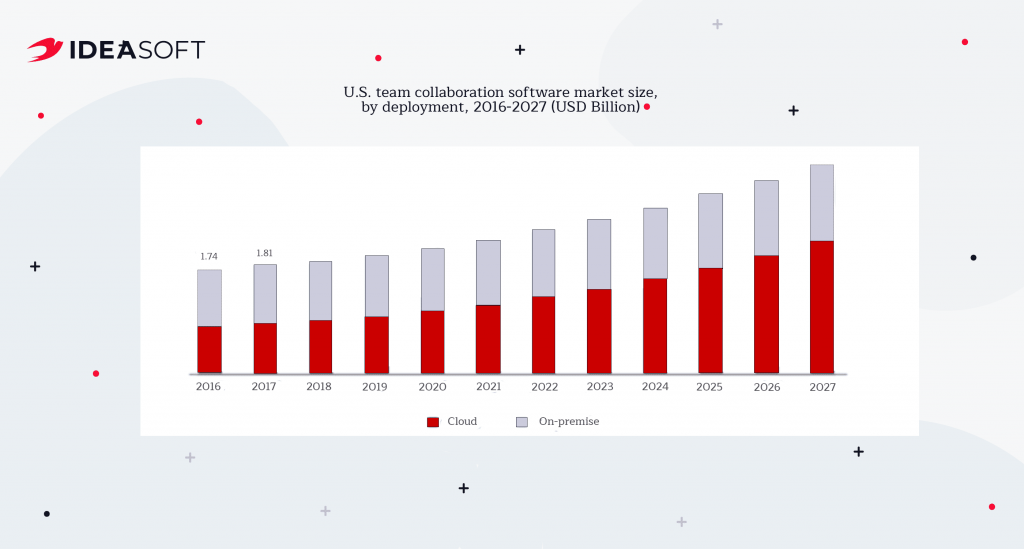 The global team communication and collaboration software market size was valued at 9.5 billion (USD) in 2019. And it is expected to grow at a compound annual growth rate (CAGR) of 12.7% from 2020 to 2027. Many communication services, such as Slack, Skype, Fuze, Chanty, have consolidated into markets over the past year. Several beneficial SaaS (software-as-a-service) applications were launched in this domain, such as Loom, Front, Mobilize, etc.
5G technology
5G technology standard for broadband cellular networks can bring revolutionary changes across industries with improved capacity, faster speed, and low latency features. Therefore, we cannot miss this while talking about technology trends in 2021. IHS Markit estimates that the 5G value chain will generate 3.8 trillion (USD) output and support 22.8 million new jobs by 2035. The number of 5G mobile subscriptions worldwide is projected to exceed 2.7 billion by 2025.
Against this background, we can expect the development of new advanced technologies, as well as the emergence of new telecommunication solutions. 5G could be a real catalyst for many industries, including healthcare, AR/VR, insurance, financial services, transportation, manufacturing, and media.
Private 5G
The inception of 5G private networks is ideal for achieving digital organizational transformation. Many organizations build their private 5G networks to guard against the security risks inherent in public networks. Private networks designed for things like connecting autonomous vehicles or embedded sensors in one place are deployed faster. They can deliver immediate, concrete benefits to solve logistical and manufacturing pain points.
Edge computing
In 2021 edge computing is predicted to evolve from experimental to practical, real-world deployments. As the influx of connecting IoT devices increases, a cloud computing platform becomes overloaded with data from these devices, so the demand to process generated data in real-time is growing. According to IDC, in 2025, 45% of IoT-created data will be stored, processed, analyzed, and acted upon close to or at the edge of the network. Edge computing allows us to reduce this data traffic and overload on the cloud with low-latency benefits, processing data closer to the data generation touchpoints. Some companies such as Cato Networks, MobiledgeX, and Mutable are at the forefront of edge computing.
AI/ML as one of the biggest technology trends in 2021
Artificial Intelligence (AI) and Machine Learning (ML) are the biggest technology trends of 2021. According to Gartner, in 2021, AL and ML augmentation will create 2.9 trillion (USD) of business value and 6.2 billion hours of worker productivity globally. This year, 80% of emerging technologies will have AI/ML foundations. Therefore I introduce several promising areas that overlap between AI/ML solutions and IoT (internet of things).
Voice Assistants
According to Juniper Research, by 2024, consumers will interact with voice assistants on over 8.4 billion devices, overtaking the world population and growing 113% compared to the end of 2020. Polly is an example of such a voice assistant. This is an Amazon text-to-speech AI service that uses advanced deep AI/ML to synthesize speech that sounds like a human voice.
Self-driving cars
Annual production levels of self-driving cars are expected to reach 800,000 units worldwide by 2030, according to Statista. More than 1,400 self-driving vehicles are currently testing by more than 80 companies across the US, as TechCrunch claims. The most successful startups in this area are Rivian, Cruise, Nuro, and Zoox.
Autonomous drones
According to the FAA, hobbyist drones will triple in size from 1.1 million vehicles to 3.5 million, and the share of commercial drones will grow from 42,000 vehicles to 442,000 by 2021. Drones originated in military applications, but their use is rapidly finding many more applications, including aerial photography, product deliveries, agriculture, policing and surveillance, and infrastructure inspections. Wingcopter, DroneDeploy, Sentera, DroneUp are examples of profitable startups in this domain.
Telehealth
During the COVID-19 pandemic, telehealth usage skyrocketed. According to the Statista report, from 61 to 74% of US adults aged 18-54 are willing to use telehealth, and up to 16% have already tried telehealth services.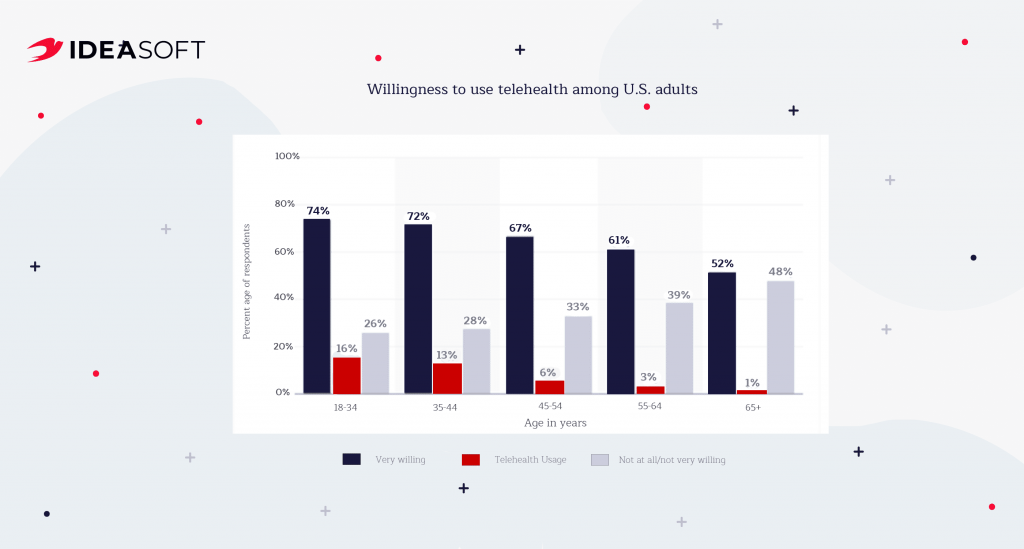 Although a year ago, the telehealth market was worth 45.5 billion (USD), in 2026, it is expected to reach a 175.7 billion (USD) threshold. Here are some examples of healthcare software solutions that can help doctors deliver better medical services:
The EHR (electronic health record) and Big data collected by telehealth solutions are valuable for global research. Researchers can use it to determine how age, social status, symptoms, and other characteristics affect the treatment outcome. Later, these studies will help physicians worldwide prescribe the most effective medications and make data-driven treatment decisions.
IoMT (Internet of medical things) tools enable physicians to monitor patients remotely. Modern smart beds, inhalers, and EKG monitors can exchange information with telemedicine apps. IoMT tools can also remind patients to take medicine, set alerts, and complete various other actions. The world IoMT market is expected to grow from 24.4 billion (USD) in 2019 to 285.5 billion (USD) in 2029.
Online education and e-learning
In 2020 due to the COVID-19 pandemic, online education and e-learning had gained a new strategic value. In 2021 some elements will contribute to enhancing the online learning experience. According to World Economic Forum, the global online education market expects to reach 350 billion (USD) by 2025. Let's consider the main technology trends in online learning and e-learning in 2021.
AR and VR. AR/VR create an exceptional learning experience, such as Virtual Labs, Virtual Field Trips. Another possibility is a Virtual Coach, an intelligent assistant that guides the user towards choosing the training path considered most appropriate based.
Gamification. Gamification is a method of making lessons into fun and interactive experiences. There are resources for every subject matter so that all teachers can provide their students with a fun learning experience, regardless of what subject they are teaching. You can gamify lessons using many different apps and websites, such as Khan Academy and Duolingo.
Microlearning. Microlearning involves short training videos or lessons that focus on one particular topic and assists with learning specific skills. It is similar to YouTube, which gives a list of videos against a particular subject or input. More companies creating highly targeted content in the form of quizzes, videos, games, podcasts, etc., to maximize learning efficiency.
Identity and passwordless future
Online security evolves rapidly with the evolution of the Internet and the methods for carrying out cyber-attacks. According to the IBM Security report, the global average total cost of a data breach was 3.86 million (USD) in 2020. Passwords are a weak point in the security chain due to their reuse, and they can be easily stolen or cracked. Passwordless authentication aspires to eliminate the use of passwords in authentication when verifying and authorizing users. What are the main trends in a passwordless area in 2021? Here is the answer:
Magic links authenticate URLs containing tokens and give the user access to a specific private area.
Security keys allow you to go passwordless or implement two-step verification to enhance your security.
Physical biometrics. According to research Visa, customers are willing to use biometrics rather than passwords or PINs: 70 % of users believe it is a more accessible system, 46 % think it is more secure, and 86 % are interested in using it as a verification system.
Smart card. A recent market study by Technavio projects the global RFID (Radio Frequency Identification) and FIDO (Fast Identity Online) market to grow at 15.84 billion (USD) in 2021. The global contactless smart card market is expected to grow at a compound growth rate of 18% through 2027.
Blockchain-based identity solutions. Blockchain is one of the main technology trends. It provides immutable, decentralized databases that look like a really promising way to store and transfer data. Thanks to the block system, all data in a blockchain remain immutable, which makes it possible to use this technology to build reliable identity management systems. If developed appropriately, a blockchain-based app can enhance robustness for data privacy. With blockchain, users store their data and control which elements of their identity, location, and health credentials to share.
Looking ahead
2020 was a year of extensive digital transformation in response to COVID-19. The pandemic has accelerated understanding that technology will continue to transform our lifestyle and work, and the pace will only quicken. Companies hurry to incorporate new digital capabilities to be resilient and adapt to the post-pandemic world. Tech trends will be the driving force for businesses.
If you need any help with the digital transformation of your business, feel free to contact us! IdeaSoft has been helping innovative companies achieve greater results for more than 5 years now. With a wide experience in blockchain development, mobile development, and UX/UI design our team helped more than hundreds of customers around the world to achieve greater results.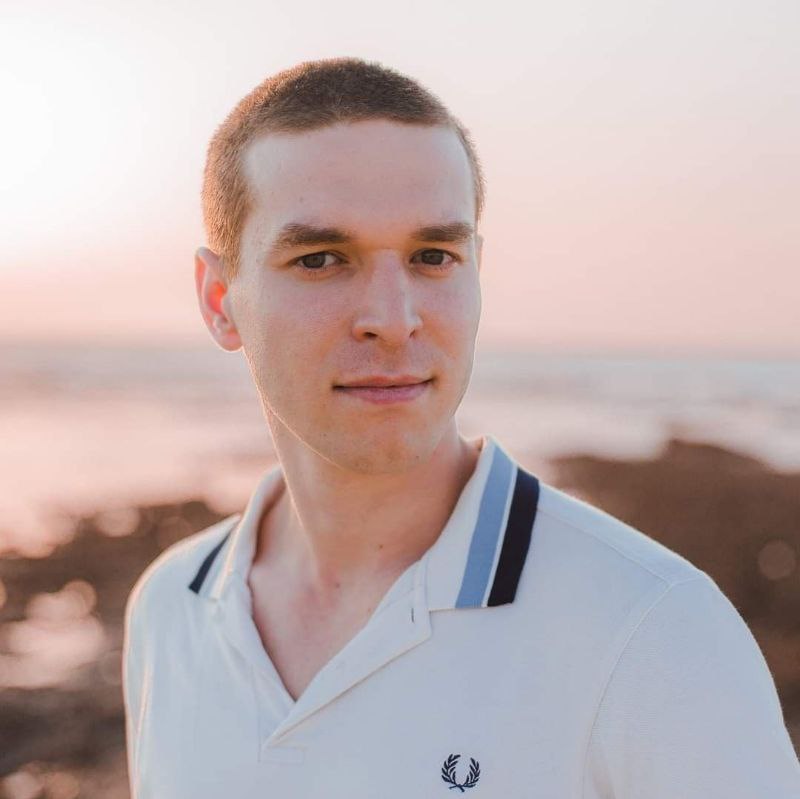 Arkadiy Kolomiets
Business Development Manager