If you analyze the current ERP options on the market, you might notice that most of today's solutions provide only basic functionality for generic processes. However, this brings in a new challenge for ERP customization for many businesses, and that's where third-party integrations come into the game.
Third-party ERP components can contribute to software functionality, covering the individual and variable needs of a particular business. These also allow access to unique features and add-on solutions that benefit business performance and can even provide a notable competitive advantage.
With a large scope of third-party ERPs available today, companies have quite different attitudes and past experiences working with these software modifications. Many of them are negative and not without a reason: poorly done customization with third-party ERPs will make zero sense for a business and can negatively affect its usual performance.
In this article, IdeaSoft experts will share some key points for choosing the right third-party integration for your ERP solution, covering its types, characteristics and challenges. As a part of our discussion, we'll also explain the difference between third-party and custom integrations to uncover the potential value of each for your business. 
Table of Contents:
Third-Party Products for ERPs: A Quick Overview
Third-party integrations are applications designed by independent software vendors and manually implemented into ERP products. They are used to add required functionality or improve the efficiency and effectiveness of an ERP solution, resulting in better business performance and higher revenues.
The integration of third-party solutions is quite tricky, and the complexity of this process is often handled by specialized software companies. Based on your business needs and current challenges, experts will come up with a personalized and effective strategy for ERP integrations. For instance, IdeaSoft has developed a native mobile application for the Biteeu project based on the wide and extensive order book and fiat integration from Bittrex.
Why Is Third-Party Integration So Popular for ERPs Today?
Third-party integrations have become an excellent solution to boost the baseline functionality of an ERP system while customizing it to distinct business requirements and specific needs. A diverse range of options available today can cover nearly any aspect of a business, from customer service and human resource management to financial operations and regulatory compliance.
According to the new joint survey by Mulesoft and Deloitte, companies now use an average of 976 applications, which is 133 more apps on average than the previous year. Though this research was based on the experience of large enterprises only, it also uncovers the importance of leveraging the full potential of all the applications on board within a single system.
In enterprise planning software, system integrations are responsible for the coherent and effective performance of all the ERP components. Their successful implementation can bring a plethora of advantages to a business, including:
Smooth and effective data access
Real-time data tracking
Powerful data analysis & forecasting
Enhanced employee productivity and collaboration
Fast and easy document flow
Significant cost reduction
Thoroughly developed and implemented, all these pros of third-party integrations can contribute greatly to the performance of a business. Today, many companies use third-party integrations to improve their internal workflows, increase customer satisfaction and achieve the most optimal resource usage.
Main Features to Look for in Third-Party Integration Solutions
Once you've decided to power up your ERP system with third-party integrations, it's essential to first learn which one can be the best fit for your business needs. In fact, Deloitte's 2021 study showcased that poor integration is among the top issues that affect an app's efficient usage within a company's workflow.
When it comes to choosing the ERP integration solution for your business, we recommend considering the following features:
Flexibility. Opt for a versatile third-party integration that ensures the smooth and seamless performance of the desired systems and add-on services while offering excellent customization options as well. Typically, this implies using API solutions, which allows administrators to adjust systems in different ways to ensure they work as planned.
"Swapability". Pay attention to the options which can be interchangeable. Should the need arise, this option can save you a lot of resources and effort, facilitating component replacement and integration. At the same time, this helps minimize the negative effects on your business if any of the third-party components are unavailable.
Stability. In fact, one of the most common cons of third-party integrations relates to system maintenance. So, before you start implementing a third-party element into your system, it's critical to double-check whether it features strong technical characteristics and decent client support. For instance, you can ask vendors about the SLA agreements offered, or request feedback from other integration customers.
Customer Support & Documentation. Detailed, accurate and timely updated documentation can give you a huge boost across all the stages of third-party integration and its further usage within your system. Additionally, it's always good to have qualified support from your vendor if any issues arise.
Popularity Among Users. Popular integrations have lots of advantages over newly-emerging ones. First, they feature better security and larger functionality and are less likely to have technical issues. If any of such issues arise, they'll be quickly resolved.
Overall, these characteristics for integration are the most common ones that determine the component's reliability and its potential value for your business. From a long-term perspective, they can help you avoid a wide range of issues and challenges during the integration's implementation and afterwards.
Potential Challenges of Third-Party Integrations
Along with the key criteria for choosing a third-party solution for your ERP system, experts also suggest exploring the possible challenges you might face in the process. Some of the most frequent problems for business owners are: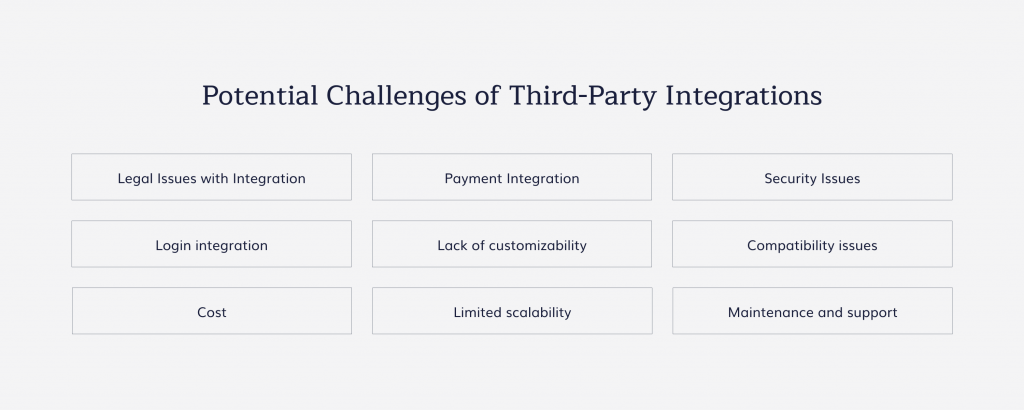 Legal Issues with Integration. First of all, third-party integration APIs must comply with a full range of legal requirements and local regulations to avoid any problems for your business in the legal area.
Payment Integration. While ERP payment gateways offer lucrative benefits for both companies and their clients, they also feature a much higher risk of fraud. Additionally, it's also essential to ensure the third-party payment portal of your ERP system is regularly updated and compliant with all the required regulations within your areas of operation.
Multi-factor authentication integration. Though the majority of ERP solutions offer a wide range of login options, only a few of those include MFA. Typically, it covers the login confirmation through the device, email, bank account, biometrics, one-time passwords and so on. A multi-layer user authorization helps in tracking suspicious activity and its timely identification, access management and so on. However, this feature has comparatively complex deployment and integration, yet requires high accuracy and expertise which is really important for its correct implementation and high-level performance.
Login Integration. Simply put, this aspect stands for a universal sign-on solution for user identity and authorization management, which features high security and simplified user journey. Some of the most frequently used examples include login options from Google, Twitter, Facebook, Instagram, AppleID, etc. The biggest challenge of login solution integration is their correct implementation which doesn't hit your ERP system security.
Security Issues. Third-party APIs often become the subject of various cyberattacks, mainly due to their insufficient security and infrequent system updates. Some other common problems that fall under this category include data breaches and its leakage, malware attacks, insider threats and compromised integrations, unauthorized access, access misuse, and so much more. Therefore, business owners should highly prioritize security across all stages of implementation, integration, and further use.
Lack of Customization. Often, the third-party integrations cannot provide the expected set of features all at once, thus making companies to adjust their business model to a particular integration, migrate to other solutions available or embed multiple solutions to fulfil all the needs. In most cases, this can hit both the daily workflow and overall performance, as well as reduce company revenues.
Compatibility Issues. A quite popular problem of the majority of third-party integrations is their compatibility with each other and the particular ERP system. As a result, not only it affects the integration efficiency and actual outcomes, but also greatly hits the integration process in general (for instance, in terms of its total cost, implementation timeline and resources involved).
High Costs. Usually, third-party solutions require significant costs for their implementation or add-on customization, which can overload the company's expected budgeting. So, companies spend plenty of time on market research to find the most relevant integration that fits their budget and needs.
Limited Scalability. The most common challenges that fall under this category include the functionality limitations tailored to the selected subscription plan and the complex migration processes which usually require lots of time and resources to be done.
Maintenance & Support. Off-the-shelf third-party solutions usually provide lower support compared to customized ERP integrations. For instance, if any of the features weren't working for some time and affected your revenues – vendors have zero responsibility for that. This issue becomes critical for payment system integrations, resulting in huge financial losses.
As you can see, there are lots of challenges to consider with third-party integration for your ERP system. Being aware of these can help businesses better prepare for the potential difficulties and plan a smooth and effective application of the selected third-party API.
Third-Party Integration VS a Custom Solution: Which Is Best?
Along with the currently available ready-made third-party integrations, there is a huge trend in custom solutions, which are specific to the use case of a particular business. Let's review the key aspects of both options to see which of the integrations would be the best ERP system for your company.
Third-party APIs
A ready-for-use solution that basically pieces together the system components to work coherently. They're affordable (or completely free of charge) but might have some limitations in the features offered and/or customization options.
Third-party integration APIs have a strong advantage in client support compared to custom solutions. Therefore, you're free to access learning guides and tutorials, or contact their support team when expert assistance is required.
One more thing to consider before choosing ready-made third-party solutions is whether they fulfill all the current requirements of your business and how long they will fulfill the requirements in the future. For this reason, try to analyze the API's usability from a long-term perspective including functions that will be needed in the future. It is best to opt for the one that is most likely to fit those future needs.
Custom Integrations
Designed from the ground up, these are built to fully correspond to the needs of a particular company or business. Though these take some time to develop, their functionality and specifications will be fully tailored to your requirements, yet can be easily rebuilt whenever needed.
With custom integrations, you'll need to handle the challenges and issues with your in-house team or alternatively hire well-qualified developers. Nevertheless, compared to ready-made solutions, custom third-party integrations offer more opportunities for system adjustment. So, if you have some unique operations to be optimized with the integration, in some cases it's easier to modify your custom solution rather than using an add-on API (if you can find the right one, of course).
How to Choose Third-Party Integration to the Project's ERP System: 10 Easy Steps
Having decided on the integration model and the features it should cover, it's now time to explore the best practices of its smooth and easy integration. Based on the expertise from our recent projects, IdeaSoft developers have designed a 10-step plan for the third-party ERP integrations implementation.
Let's now review it in detail to understand the key points of the efficient third-party ERP integration:
Point out the major needs and goals of your business. Before selecting a third-party integration, businesses must identify the specific needs of their ERP system. This includes evaluating the current system's strengths and weaknesses and determining which areas require improvement.
Research third-party integrations. Based on the identified needs, it's now time to explore the integration solutions available on the market. Businesses should thoroughly analyse the features, pricing, and customer reviews of each option and choose the one that better corresponds to their specific needs.
Consider security and compliance requirements. When selecting a third-party integration, security and compliance requirements are of the essence. Businesses should carefully evaluate the security protocols of the selected integration solution and ensure that it meets all relevant compliance regulations.
Test compatibility. To ensure a smooth and efficient performance between the ERP system and the third-party integration, businesses should thoroughly test their collaboration before the actual deployment starts. Usually, it means verifying the compatibility of the integration with other systems and software tools used by the business.
Evaluate the customization level. Businesses must analyze the customization potential offered by the selected third-party integration. This is particularly important for businesses that require unique features or specific workflows that may not be available in a pre-built integration.
Assess the level of support and maintenance required. When selecting a third-party integration, it's essential to check the support and maintenance opportunities needed to keep the integration running smoothly. Businesses should analyze the maintenance resources and expertise required, as well as understand the basic how-tos of resolving the typical issues that can arise with the tool.
Consider scalability: To ensure their easy and steady development, businesses should also study the scalability opportunities offered by the third-party integrations they're planning to use. This includes evaluating the integration's potential to grow and adapt as the business expands, introduces new systems or processes.
Estimate the total cost of ownership. Another essential concept to consider is the overall price for the third-party solution they use. This includes licensing fees, maintenance costs, as well as any other associated expenses.
Review service level agreements (SLAs). Businesses should carefully review the SLAs provided by the vendor offering the third-party integration to ensure they meet the business's specific needs and requirements.
Research vendor's reputation. Finally, it's important to assess the reputation of the development vendor of the selected third-party integration. This includes checking customer reviews, vendor track records, and overall reputation in the market.
Now, you're all set to find the ideal third-party integration for your ERP system!
Summary
As you can see, third-party integrations have become a life-saver for most businesses that need a quick and affordable upgrade to their systems. However, if none of these are a good fit due to their limited functionality, insufficient security, or low efficiency over the long term, it's also possible to develop a custom API solution for your business.
Whether you're going to use a ready-made or custom third-party integration solution for your business, IdeaSoft experts are here to help. Our team features a wide range of qualified experts that are ready to meet any challenges and offer an efficient and effective solution for your business. Should you need any help with the development or implementation process of your integration solution, feel free to reach out to our team anytime!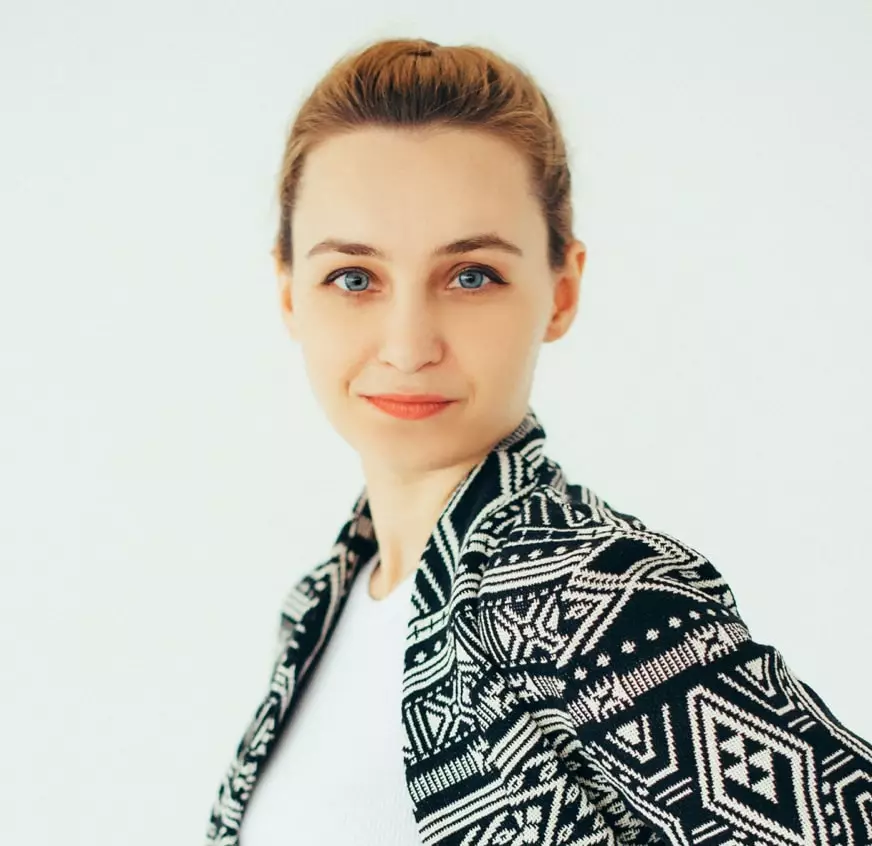 Yulia Shmitko
Business Development Officer