The crypto market continues developing and increasing. The upside potential and risk reduction in the crypto industry have attracted more attention from investors. There are several strategies and mechanisms for offering tokens to involve more investors. The latest iteration of token offering mechanisms is the Initial DEX Offerings conducted on decentralized exchanges. So, in this article, we will talk about the IDO mechanism as well as the Initial DEX Offering development.
Table of contents:
What is an Initial DEX offering (IDO)?
2020 was a phenomenally successful year for decentralized finance as the TVL (total value locked) in DeFi went from less than $1 billion in January to more than $16 billion in December 2020, according to Coindesk. And the current success of DeFi brings IDO to the fore.
Initial DEX offering or IDO is a fundraising method in which the IDO coin is issued via decentralized liquidity exchange that relies on liquidity pools by which traders can swap tokens. The liquidity pool is pairs of crypto assets and stable coins. For instance, USDT/ETH is a liquidity pair. Traders can swap between crypto-assets and stable coins based on market conditions. As the volatility of stablecoins is inappreciable, it offers a safe way for traders to manage crypto tokens and assets by swapping them with each other.
Any member of the community can choose IDO as a method for distributing tokens, and such tokens can represent any type of asset hosted on a decentralized exchange. IDO is attractive to exchange users with a more economical token sale model. For example, the available liquidity pools on DEX enable IDO to provide quick liquidity with minimal slippage. The examples of DEXs offering IDO services include Binance DEX, Polkastarter, and Uniswap.
Differences between IDO, IEO, and ICO
While in equity markets, IPO (Initial Public Offering) is the standard way to raise capital, things on the crypto market are more fluid. We had Initial Coin Offering (ICO) in 2017- 2018, Initial Exchange Offerings (IEO) in 2019, and Initial DEX offering (IDO) in 2020. So we can call it the evolution of the crypto market. The following chart compares the different characteristics between the ICO, IEO, and IDO models.
Characteristics
IEO
ICO
IDO
Fundraising
Crowdfunding by issuing selling via a centralized cryptocurrency exchange (CEX)
Crowdfunding by issuing utility token/coin through blockchain platforms
Crowdfunding by issuing selling via a decentralized cryptocurrency exchange (DEX)
Marketing&
Advertising
CEX responsible for all the marketing and advertising
Project teams take care of all the advertising and marketing
The team behind the project and DEX do the marketing and advertising
Trading&
Liquidity
Immediate liquidity and trading on the CEX. Exchange with a limited number of tokens traded on this exchange
The issuer is responsible for the transferring token. Immediate liquidity after launching in CEX
Immediate liquidity and trading on any DEX. Providing an exchange with an unlimited token stack
Trust
Investors who register with the CEX for the token sale have to go through KYC/AML
There are trust issues due to some token issuers providing misleading information
There are trust issues due to no KYC integration and no control mechanism
Security
Highly secure since a centralized exchange host does all transactions. High risk of identity and banking information theft.
Highly insecure as transactions happen on ICO project platform which could lack proper security measures
No risk of identity and information theft. Anonymous and highly secure transaction.
Fees
Exchanges charge issuers commission for launching and trading
There is no fee due to no intermediaries. Exchange fee after launching in CEX
No exchange fee. Only payment gas for the provision of smart contracts
Regulation
Regulated by CEX
Partially regulated (depends on the region)
Unregulated
The benefits of the IDO model
Open and fair fundraising

Fundraisers using the IDO model often don't have to rely on traditional private investments to kickstart their operations. The token sale goes public and investors buy many tokens at a lower price. They will resell these tokens to the general public gaining a considerable profit. Also, anybody can organize or participate in IDO, not just private investors, because there is no need for CEX and permission to start fundraising.

Immediate liquidity

With IDO, project tokens acquire immediate liquidity. The liquidity pool promises liquidity at every price level with no slippage. Many altcoins are only accessible through DEX, where transactions can occur without high trading volumes. IDO provides more opportunities for the distribution of project tokens and increases financial inclusion.

Instant trading

From the date a project launches its token, investors can start trading. Therefore, traders try to buy a new token as early as possible and later sell it at a higher price during the IDO. For example, in UMA protocol fundraising, the initial token price of $0.26 immediately jumped to around $2.

Lower costs

DEX functions on the basis of self-executing smart contracts. If a project uses DEX without an intermediary, they only pay the "gas" fee for deploying a new smart contract that controls the liquidity pool and the asset's token. And even so, DEX charges a low fee, around 0.3%, for exchanges like Uniswap.

Reliable transactions

Through smart contracts, DEX executes trades and records them to the blockchain, enabling reliable transactions. And since DEX doesn't hold your funds, they are less likely to be targeted by hackers.
How to launch an IDO?
Now let's talk about Initial DEX Offering development. So this is how it works. Projects appeal to the general public through launchpad or platforms specializing in IDO. Investors like you and me can, under certain conditions, buy the tokens before they are available on the market. The IDO token is launched on DEX. There are two different practices of public sale:

1. The issuer sets limit sell orders at various levels of increasing price.
2. The issuer conducts an auction, resulting in a demand-supply-driven sale price.

Listing is carried out on automated market maker (AMM) based exchanges such as Uniswap and Balancer. An issuer produces pool liquidity using its tokens and proceeds from sales to create a liquid secondary market for the token.
Liquidity incentivization is a referral to a wide variety of programs that the token issuer can run to kickstart product or service usage. Mining is very popular nowadays and can create strong incentives for people to support the platform.
The future of IDO
An IDO approach has been emerged to address the issues with its predecessor's ICO and IEO. With the DEX model, where there is no need for permission to organize the fundraising event, it does raise funds. As of now, only DeFi projects have raised money through IDO. However, there's no reason why projects from other areas of the crypto ecosystem couldn't raise funding this way. That said, these projects will have to attract existing DeFi users to invest in the project's tokens.
IDO is a more attractive capital-raising option for startups. Despite the fact that this model still needs improvement, IDO has a chance to take its place in the market. Besides, more and more cases confirm the performance of this model. IDO platforms with governance mechanisms and fixating prices in the liquidity pool can lead to an increase in the popularity of the Initial DEX offering. Therefore, if we continue with the Initial DEX Offering development, we will soon get even more effective IDO solutions.
How IdeaSoft can help you with Initial DEX Offering development
IdeaSoft has been providing innovative blockchain-based solutions for businesses since 2016. During this time, our team has implemented more than 250 projects in different domains. Blockchain is an extremely rapidly developing area where you always need to keep your finger on the pulse of market trends. This is what we do. Therefore, DeFi development is one of the most popular IdeaSoft services lately.
Having extensive expertise in software development, we can help you with creating and submitting an IDO token or building an Initial DEX Offering platform. Such a platform will allow you to attract users and fully benefit from IDO. Launching your own IDO platforms opens up opportunities for you to create your own community of fundraisers and investors, as well as form all the necessary conditions for the prosperity of your business. The IdeaSoft team will take over the entire technical implementation of your idea, using the best blockchain development practices. Feel free to contact us to discuss the details of your project.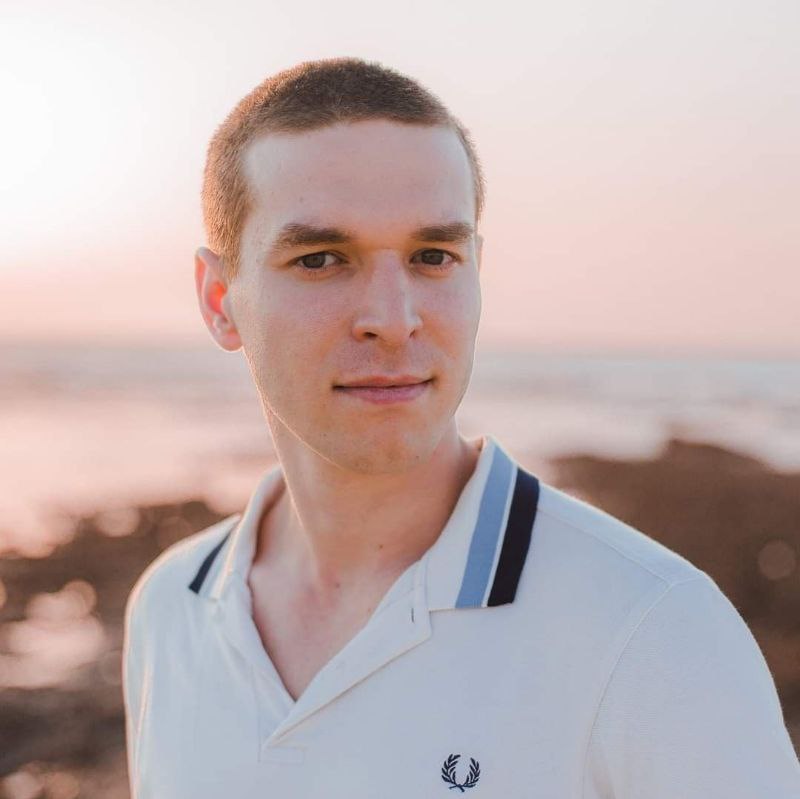 Arkadiy Kolomiets
Business Development Manager