Enterprise resource planning software, also known as ERP, has become an exceptional solution for automating business processes and centralizing data sources for all hierarchies. Integrating ERP software can give you a competitive advantage over other entrepreneurs while saving the company's resources and allowing you to react in a timely manner to a dynamic business environment.
However, before you consider integrating this software solution into your business, it's critical to evaluate its pros and cons to see its overall impact on your business performance.
In this article, IdeaSoft experts will explain the most critical insights about enterprise resource planning software and its potential value. Additionally, we'll discuss the difference between off-the-shelf and custom ERP solutions, which will help you make the best decision for your business.
Table of Contents:
Major Pros of Custom ERP Software Development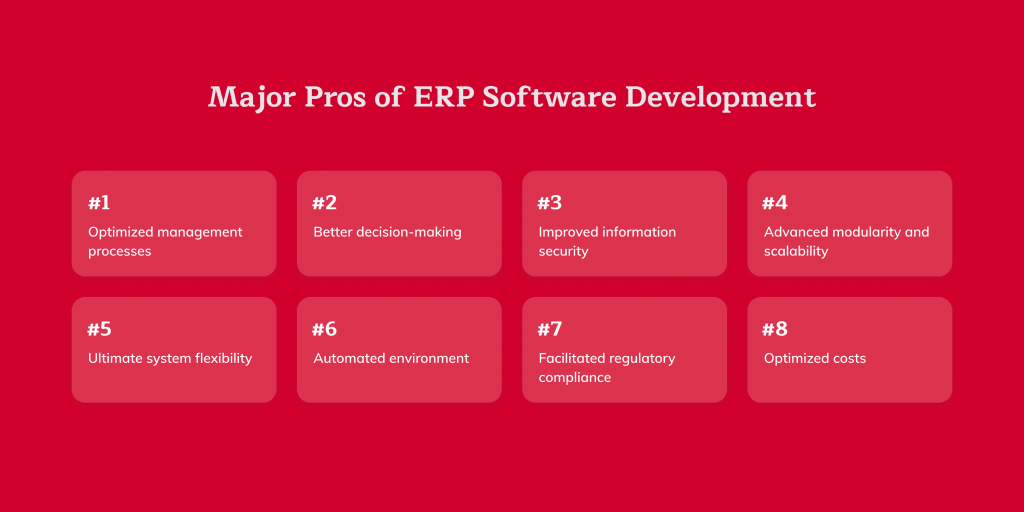 The key goal of an ERP system is to enhance the administrative and management processes, which helps businesses grow. By concentrating different types of data within a single system, the software provides greater flexibility and efficient resource allocation to the team while providing a better understanding of the company's processes.
Talking about the advantages of ERP software development, an effectively designed solution can benefit in multiple ways, which include but are not limited to:
Optimized management processes. The ERP software can improve business efficiency and effectiveness, mainly by covering various business-related data and addressing the most relevant items. In turn, this benefits a team's fruitful and more coherent collaboration.
Better decision-making. Real-time data tracking and its full availability have a positive impact on the organization's response time and readiness for different outcomes. What is more, knowing exactly what information is relevant enables businesses to more easily and efficiently perform data analysis, execute processes or administer documents.
Improved information security. Adjusted specifically to your system specifications, business goals and needs, a custom ERP solution offers a higher degree of security through centralized backups of critical and sensitive data. It also features restricted access to company data and helps with tracking user interactions to ensure its complete security.
Advanced modularity and scalability. The modular makeup of an ERP allows users to leverage multiple applications that can work together or be isolated, based on the current business needs. Additionally, this system can easily accommodate the company's growth, which is exceptionally important from a long-term perspective.
Ultimate system flexibility. One of the most important aspects of ERP software is its ability to adjust to the defined requirements and current business objectives in greater detail.
Automated environment. Periodic and repetitive tasks, such as reports, claims, follow-ups and many others can be done with minimal use of resources and make the tasks more productive.
Facilitated regulatory compliance. An ERP solution can aid in regulatory compliance while maintaining perfect accuracy with records and reporting. For most businesses, this is exceptionally important in the financial scope.
Optimized costs. Depending on the solution, ERP software can reduce investments into disparate systems, streamline redundant tasks and increase employee productivity, which have a direct impact on a company's profit. Additionally, leveraging a single ERP system saves lots of time and costs for onboarding and software integration processes.
Improved customer experience. Since ERP collects the basic client information, it can provide plenty of insights for understanding the customer preferences and needs. On the client side, ERP helps consumers to access the history of purchases, order tracking system and similar functions which positively impact the general impression and simplify the shopping experience.
In fact, these are only a few of the many advantages of ERP software. A properly designed and correctly integrated solution can bring a bunch of other improvements such as, customer service, collaboration and workflow, campaign planning and forecasting, competition and many more.
Possible Drawbacks of Developing ERP Software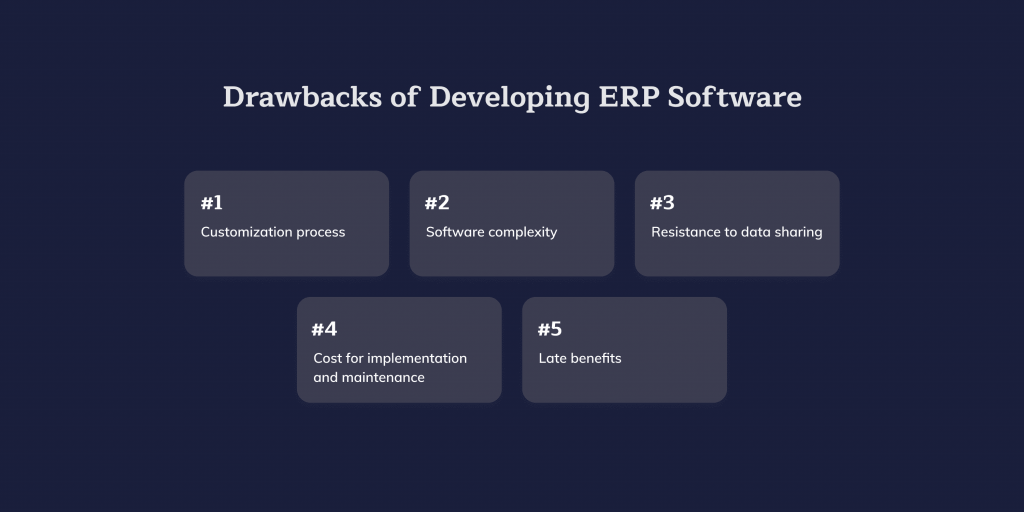 Along with the numerous advantages of ERP software solutions, there are some disadvantages to be aware of before integrating enterprise resource planning software into your business model. Some of the most common include:
Customization process. While featuring outstanding flexibility, ERP systems also require time, effort, expertise and funding to finalize and adjust the system to a particular business's needs. Sometimes, companies underestimate some or all of these aspects, which results in failing to complete the customization or exceeding the expected budget and/or deadline.
Software complexity. With different aspects covered within a single environment, ERP software can be quite challenging to learn at first. Therefore, the efficiency of your custom system will also greatly depend on the capability, expertise and motivation of your workforce. Lack of awareness of the system's functions, as well as its poor integration into a business can have a negative cost impact on the ERP's ROI.
Resistance to data sharing. ERP software is less effective when it fails to get information between business units or departments. That is why it's extremely critical to ensure the system is set up properly and your employees know how to properly use it for their daily workflow.
Cost for implementation and maintenance. Customized solutions are already a significant investment, but you should also be aware of the software integration and maintenance costs. It's likely to involve add-on IT profiles, ERP consultants and even costs for software training specialists to maintain stable ERP performance over the long term.
Late benefits. Once the ERP is integrated, its benefits do not show up on day one. However, from the ong-term perspective, the efficiency and effectiveness of the system become more and more viable and can later be compared to previous performance.
Being aware of all the pros and cons of ERP software, it becomes much easier to determine how to properly integrate one into your business environment. Next, let's review two segments of ERP solutions that are commonly used today and find out which one would be the right fit for your enterprise.
Third-Party vs Custom-Made Solutions: Which Are Better?
With a wide range of third-party risk management solutions and custom ERPs available, it becomes extremely challenging to determine which is the most efficient and effective for your business. Below, IdeaSoft experts have outlined the key aspects of third-party and company-specific ERP software to help you increase awareness of both and decide which is a must-have solution in your situation.
For those looking for a quick answer, below we've provided the key highlights of custom and off-the-shelf ERP solutions for different businesses: 
| | |
| --- | --- |
| Small Businesses | As a rule, small businesses, as well as those that have just started their development path, have limited budget capacity. So, once these decide to embed the ERP into their business model, they typically opt for an off-the-shelf solution. However, if the budget allows and these have a thoroughly planned long-term strategy, it's a great idea to invest in custom ERP software to speed up their development and growth. |
| Mid-sized Businesses | As businesses grow, they realize the importance of ERP system customization, which gives more freedom to their performance. Therefore, a majority of medium-sized businesses also prefer custom ERP development to gain a competitive advantage and continue their product improvement. |
| Large Companies | This category of businesses usually opts for an exclusive functionality, which is not always covered with ready-made ERPs. Investing in a custom solution is also more cost-efficient in a long run, which is an important criterion for the projects within this segment. |
Now, let's review in detail the actual value of each ERP option individually.
Out-of-the-Box ERP Solutions
Ready-made ERP software takes comparatively less time to be integrated while offering excellent efficiency at a reasonable cost. This software usually provides rapid response and issue management, so your business will always leverage the most updated solution. Additionally, third-party ERPs usually have detailed instructions and user guides, so it is easy to set up the system and complete employee onboarding.
On the other hand, finding software that fully meets your requirements might take a lot of time and effort. In most cases, business owners end up with the ERP option expected to closely match their needs.
Regardless of the wide selection of systems offered, they might still lack particular features. If those are critical, you'll need to either switch to another platform or implement the add-on software to provide the required functions.
One of the most critical concerns about third-party ERPs is their high dependence on its vendors. So, you'll have nothing to do if the price or technical specifications change. Additionally, out-of-the-box ERP software can become more expensive in the long run: a yearly subscription plan, extra customization functionality, and maintenance features can become way more expensive compared to the custom option.
Ready-made ERPs are also less flexible compared to custom solutions. Therefore, companies still need to adapt to the environment of the systems, which can affect the overall business model and its performance.
Finally, a majority of businesses opt for a custom ERP software development to get a secure and efficient system with an exclusive toolset, that is only available for your company.
Custom-Made ERP Solutions
Building new software from scratch is more complex compared to a ready-made solution. Nevertheless, we now see more and more companies thinking about developing their own software, and not without a good reason.
First and most importantly, it gives full freedom of decisions: you can cover all the features you need and easily scale your software as the business grows. You're free to choose from a variety of modules, which will be concentrated within a single software environment. And, if there are any modifications needed (for instance, to add or remove particular functionality), they can be done with minimum effort. However, avoid over-customization to avoid scraping all the efforts completely if they don't serve their main purpose.
Additionally, a custom ERP solution has a more robust knowledge of your system and greater control of its maintenance and updates yet ensures the advanced security of sensitive and important data. What is more, having initially invested in developing a custom ERP, it usually turns out to be more cost-efficient from a long-term perspective.
Realizing the potential of both, we can see that a custom software system is considered a more reasonable ERP solution for a business today.
The Cost of ERP Software Development
The overall cost of a custom ERP solution is highly volatile and depends on numerous factors. Nevertheless, it's worth dedicating some time on budget planning to prevent cost overruns, as well as to prepare for project development in general. Basically, the budget for the launch of an ERP covers the following aspects:
Vendor rates and the number of developers involved.
Delivery time.
Project complexity.
Implementation processes.
Employee training.
Software maintenance and upgrades.
Therefore, the total price of custom ERP software is usually calculated individually per each project. We recommended discussing this with your development vendor in advance to come up with the most relevant strategy and cost.
If you're looking for affordable ERP development, it's better to consider the offshore development model instead of in-house or nearshore. This allows access to the top talents across the globe at a lower cost without sacrificing the code's quality. Otherwise, you'll likely deal with costly development expenses (i.e., tax rates, equipment, onboarding, and more).
Summary
Regardless of a company's size, goals, and field of operation, choosing the right ERP software is nothing less than a challenge. However, having integrated this solution into your business model, you'll be surprised by the numerous benefits it can provide.
With years of operation in custom software development, we must admit that investing in personalized and flexible ERP software is not an option but a necessity. So far, IdeaSoft developers have helped launch over 250 projects across multiple industries, and they are always ready to meet new development challenges as well.
If you're currently looking for expert assistance with your ERP project, feel free to contact our team! Our professionals are ready to help with top-notch software solutions that will benefit your business from day one!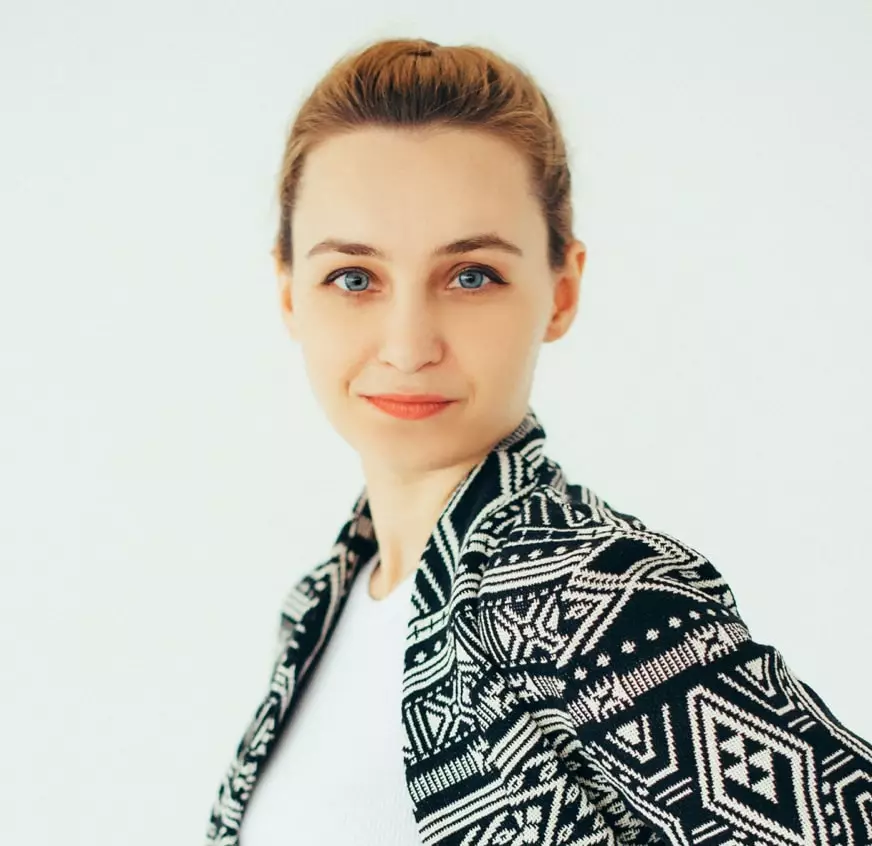 Yulia Shmitko
Business Development Officer