5G promises to be a major catalyst for the development of advanced technologies in the near future. There will be about 1.9 billion 5G subscriptions worldwide by 2024, according to Statista. Also in line with Omdia's research, the number of active 5G connections around the world has hit 63.6 million as of the first quarter of 2020. Many industries are already beginning to experience the 5G transformation. Since engineers gained access to a faster and more powerful next-generation communication standard, it became possible to implement tech solutions that would be unreasonable with 3G or 4G LTE. How is 5G technology transforming healthcare, one of the most fundamental industries? Let's find out!
Table of contents:
Why 5G matters for healthcare
Healthcare is one of those industries that has been waiting for 5G to start implementing its intended changes. Experts have long been talking about promising tech solutions for medicine, such as the Internet of Medical Things (IoMT), AI and VR-based tools, robotic surgery tools, precision medicine, and more. Look what happens now. There is a growth of devices and machines in healthcare that help deliver better, more efficient services, transforming healthcare facilities into smart hospitals. And even more, thanks to technology, we can monitor our health, contact doctors via the Internet and prevent diseases. Yes, technology made it possible, but the digital transformation of healthcare couldn't have fully taken place until the advent of 5G.
When it comes to such automation of medical services, the question immediately arises of the network's ability to process large amounts of data. Older networks couldn't provide the desired power, while 5G allows reliable connections to facilitate the data transfer that healthcare workers need. So, telecom software solutions for healthcare are becoming an excellent market for development in the near future, which promises us the implementation of long-planned medical innovations. According to the Ericsson Business Potential 5G report, the potential revenue of telecom operators from solving the digitalization issues of healthcare with 5G is expected to reach $75.7 billion by 2026. 
The main features of 5G technology
So how exactly is 5G addressing the digitization challenges of the healthcare industry? It is all about the characteristics and capabilities of the new network. 5G has a higher bandwidth than 4G technologies, resulting in faster Internet connections, large-scale communication systems between devices, and lower battery consumption. This allows 5G to quickly transfer large data packets without slowing down the network. Also, 5G technologies provide increased responsiveness, which means the ability to reach many devices connected to the network. Therefore, it is expected that 5G will become a driving force behind the development of the Internet of Things, allowing healthcare to create complex systems of smart medical devices.
5G Specifications:
Increased speed from 10 to 100 times over 4G network
1000x bandwidth per unit area
1-millisecond latency
90% reduction in network energy usage
The subscriber's movement speeds up to 500 km/h
The total number of connected devices is up to 1 million/km2
Thus, 5G is a faster network that provides increased data-transfer speed and allows the efficient connection of multiple devices. With these properties, 5G technology can maintain connectivity and quick data calculation. For medicine, this opens up additional opportunities, in particular, the involvement of artificial intelligence in decision-making in real-time, and leveraging other advanced technologies to improve patient care.
Benefits of 5G for medicine
The advent of 5G has catalyzed the implementation of many innovative technologies that require more network power and could lead to revolutionary new medical solutions. Here are the main directions that have taken a new round of development thanks to 5G.
Improved data management
Healthcare professionals not only work with a huge amount of patient data, what is more important this is sensitive data that must be stored securely. New concepts of healthcare services involve the storage of electronic data records and their fast and secure transfer. Now think about what the data storage should be to provide the content and transmission of such information. For modern medicine, processing speed is crucial, and some medical files, such as imaging files, are very large. 5G allows you to send data much faster, so clinicians can receive timely, high-quality image files created by MRI, CAT or PET scans that are critical to prompt decision-making. In this way, 5G enables rapid data transfer between doctors and hospitals, ensuring timely diagnostics and treatment. Improved access to data and the ability to manage them in real-time will have a positive impact on the entire healthcare system.
You can already find cases of 5G application in health data management. In early 2020, KT Corp., Korea's largest telecommunications company, and Samsung Medical Center (SMC) announced the testing of 5G-based healthcare IT solutions. The companies unveiled several apps and devices that use the next-generation network to assist doctors in operating rooms in real-time, as well as to quickly send images with analysis results at an average speed of 1 gigabyte per second.
Telehealth services
According to MarketsandMarkets, the projected market of the global telehealth/telemedicine is expected to reach $191.7 billion in 2025. The idea of ​​remote interaction between doctors and patients has become more relevant than ever, as the Covid-19 pandemic has spurred demand for medical services. Telemedicine, chatbots, and robots are used to collect information, treat patients, make diagnoses, which is especially important during a lockdown. 5G with faster network speeds allow doctors to remotely interact with patients without worrying about network outages, blackouts, or delays.
5G also enables seamless connectivity through the integration of medical devices into a single network. So, when technology is commonly used, patients will have access to a wider range of specialists and will be able to receive timely, quality medical services from anywhere.
AI-based medicine solutions
Artificial intelligence and machine learning have great potential for the healthcare industry. For example, AI helps diagnose diseases such as cancer, heart diseases, skin lesions, and others. AI algorithms can draw conclusions much faster, making diagnostics more accessible to the public. Also, machine learning is one of the ways to make medicine more personalized. As each person responds to the same treatment individually, algorithms can simplify the statistical collection and help discover which characteristics indicate that a patient will have a particular response to a particular treatment.
However, when it comes to AI-based solutions, the problem of large amounts of data used in real-time appears. 5G can solve this issue with high bandwidth. The combination of 5G and AI will create a network of smart devices that communicate with each other and together expand the background for decision-making. It also opens up additional opportunities for the development of the internal medical ecosystem. For example, doctors at Rush University Medical Center are trained using virtual and augmented reality (AR/VR) systems, with a complete picture of what is happening in a patient's body.
Remote health monitoring
Another challenge for medicine is a timely response to emergencies. Thanks to high-speed 5G, paramedics can send patient data directly from the ambulance, as well as connect an experienced specialist to provide emergency treatment in his/her online presence. This requires a high-quality uninterrupted connection. Experts also talk about using drones with real-time 4K video cameras, traffic monitoring, and rerouting systems. Also, uninterrupted remote patient monitoring will allow people with chronic diseases to promptly contact doctors, and doctors сan monitor the condition of their patients wherever they are.
The global market for remote patient monitoring will reach $2.14 billion by 2027, according to the Reports and Data report. The same study shows that approximately 88% of hospitals have invested in remote patient monitoring technology. The growing number of patients negatively affects the operation of clinics, and remote monitoring can help clinicians deliver more effective patient care in this situation.
Increased patient engagement
And last but not least, so many technologies are increasing patient engagement in monitoring their health. With easier access to medical staff and devices for checking our health, we will pay more attention to this issue, minimizing the occurrence of chronic diseases. For example, at the Medical University of Birmingham, Alabama (UAB), automated phone calls have helped increase patient appointments. This demonstrates the role of technology in increasing patient engagement with their health. And if patients can become more involved in health monitoring, they are more likely to adopt healthy lifestyles, improving treatment outcomes, and reducing health care costs.
Challenges of implementing 5G in healthcare
The prospects for using 5G in the healthcare sector look bright. But unfortunately, there are certain challenges that the industry is facing and that prevent the widespread use of these technologies. To fully leverage the power and advantages of 5G, we have a lot of work to prepare the base for this.
Among the main challenges are:
Most 4G smartphones are not 5G compatible, so we need to wait for the widespread adoption of 5G devices.
Work on installing 5G towers is still spinning, so we now have limited network coverage.
Most clinics need to update medical technologies and applications to work with 5G.
High cost of building a network.
Government regulation of aspects related to 5G deployments such as EMC regulations, infrastructure sharing and cybersecurity.
There is no doubt that the transition to 5G requires a lot of preparatory time-consuming work. Only then we will get new healthcare software solutions that will truly transform medicine in a promising way. But the fact remains, 5G technology can become a real driving force behind the development of the healthcare industry around the world. Step by step, starting with improving data storage, ensuring traceability, increasing the availability of medical services and other solutions, we can create a new progressive healthcare system.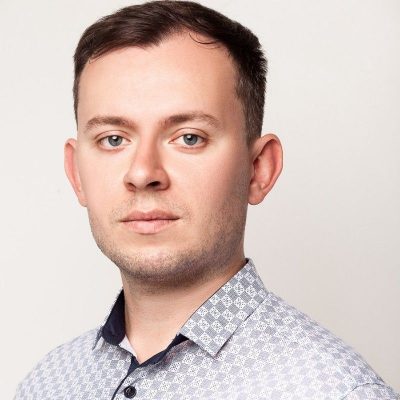 Viktor Legetsky
Managing Partner