Over the past 5 years, blockchain has gained tremendous popularity practically from scratch. Although this popularity has been overheated by the Bitcoin hype, blockchain remains a useful and in-demand technology. In addition to the financial industry, it can benefit other industries as well, especially healthcare. In this article, we will look at the use cases of blockchain in healthcare to understand how blockchain can transform this sector.
Table of contents:
How blockchain is changing healthcare
2.1 Electronic Health Records
2.2 Clinical Data Exchange & Interoperability
2.3 Claims Adjudication & Billing
2.4 Supply Chain Management
2.5 Precision medicine
Blockchain in the healthcare market overview
According to Verifiedmarketresearch, blockchain in the healthcare market was valued at 1,497.28 Million USD in 2020 and is projected to reach 7308.32 Million USD by 2028, growing at a CAGR of 76.30% from 2021 to 2028. The adoption of blockchain technology in healthcare could save up to somewhere between $100-$150 million by 2025 in the healthcare sector. How does blockchain help the healthcare industry?
There are a lot of use cases. For example, HMS Technologies Inc., the largest provider of health information technology to the U.S. government, has entered into a partnership with healthcare blockchain company Solve.Care. The company integrated Solve.Care's blockchain into its health information technology. It helped reduce government health care costs and improve interoperability and accessibility.
Another important healthcare contract was signed by the UN Office on Drugs and Crime. The UN division commissioned blockchain-based telemedicine and telepsychology solutions firm doc.com to expand basic free health services in East Africa.
Today, fewer and fewer organizations are asking about the potential for blockchain in healthcare because they have already started to realize all the benefits of this technology. Some are using blockchain for medical philanthropy. For example, the ALS Association partnered with the Tron Foundation to launch a blockchain-based charity campaign to raise awareness of amyotrophic lateral sclerosis. Tron provided blockchain technology to track the distribution of donations during the campaign. Let's dive deeper into the main scenarios for how blockchain can be used in healthcare?
How blockchain is changing healthcare
Blockchain is at the center of many current developments in healthcare. This technology offers new approaches to healthcare data storage and management models. All thanks to blockchain's ability to segment and protect information, as well as to organize the rapid exchange of medical data and services.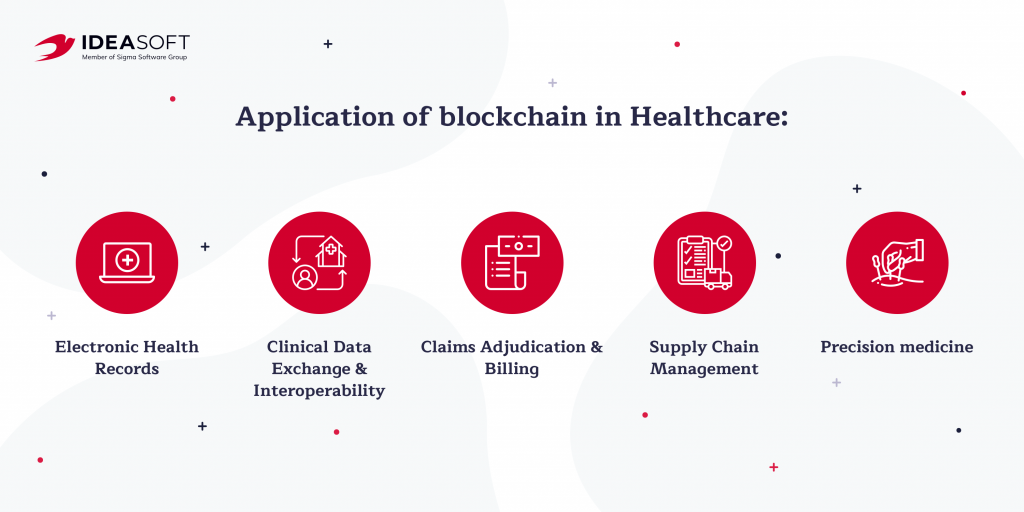 Let`s talk about use cases of blockchain in healthcare to understand how blockchain is changing the healthcare industry.
Electronic Health Records (EHR)
Electronic health records are one of the main applications of blockchain in healthcare. Blockchain allows for the authenticity of information and the control of its movement and changes. Blockchain is therefore suitable for storing medical data, such as patient medical histories, prescription reports, etc.
This technology also allows for control over the transfer of data between healthcare institutions. This could include public and private clinics, research centers, as well as pharmacies. In some countries, the exchange of customer data between institutions is prohibited without the consent of the customers themselves. For example, the European General Data Protection Regulation (GDPR) requires this. Blockchain helps control this process as well.
For example, a joint project between MIT Media Lab and Beth Israel Deaconess Medical Center called MedRec allows patients to fully control their data and independently determine who can access it. Also, Healthbank, Factom, Gem Health Network (GHN), HealthCombix, etc. are working towards this direction.
Thus, the application of blockchain for medical data provides the following advantages:
The patient has control over his or her data and determines who has access to it.
The data cannot be falsified or deleted, at least not unnoticeably and irretrievably.
Blockchain captures the source of the data, allowing it to be verified at any time.
Blockchain data is better protected from hacker attacks. Even if the database is compromised, it would be extremely difficult for an attacker to decipher the information.
Blockchain is primarily a database and because data in blockchain cannot be changed or deleted, it is a secure source for storing sensitive information. In addition, blockchain allows for better control over access to patient data and stores information more securely through data encryption.
Clinical Data Exchange & Interoperability
One of the main problems of the healthcare system is the lack of a unified system for identifying clients and storing their data. This greatly complicates diagnosis and treatment, as doctors cannot always get the necessary patient data promptly.
Blockchain as a means of dealing with data has enormous promise, and not only in healthcare. Private blockchains are secure enough to solve clinical data exchange & interoperability issues and create a unified ecosystem of data storage and transmission for healthcare providers. The ability to control the authenticity of the information provided by blockchain is a major advantage. This increases trust between companies and clients, which also reduces risk.
So, how can blockchain transform healthcare:
Blockchain allows for the integration of information distributed between companies, healthcare organizations, and customers.
All participants can quickly access the data they need.
The level of data protection from intruders is increased.
Blockchain's capabilities are not limited to storing, processing, and protecting data. Its algorithms can also analyze data and interact with AI and IoT.
Read also: "How 5G is Transforming the Healthcare Industry"
Claims Adjudication & Billing
Medical billing and claims are full of fraud, with billing taking the lead. Mediators in systems designed to review claims are reluctant to do their jobs and sometimes delay the performance of reviews and the delivery of their opinions on these claims. Claims take a long time to review and blockchain can solve these problems.
Blockchain can be solely responsible for both the billing process and the claims process. If the billing process is linked to the blockchain, the healthcare provider will easily track which services were actually delivered to the patient.
Claims management could also be improved. With blockchain, it can be reduced to minutes instead of months. This is because middlemen are no longer needed and automation is able to take control of the entire claims process.
So, this is how blockchain can transform healthcare with automated billing and claims:
Blockchain makes the claims process direct and transparent.
Protecting data from tampering will simplify audits and help identify fraud quickly.
U.S. health insurance giant Aetna has partnered with IBM to create a blockchain network tailored to the healthcare industry. The solution was supposed to improve insurance claims processing and payments.
Supply Chain Management
Counterfeit and substandard drugs are a major problem for the pharmaceutical industry. Blockchain can mitigate these risks by providing transparency at all stages of production, delivery, and sales of medical drugs.
The sale of drugs involves multiple parties: manufacturers, retailers, pharmacists, healthcare professionals, and patients. Using blockchain to control the supply chain will provide visibility into any tampering or attempted tampering.
Counterfeit drugs threaten not only the health of end-users but also the reputation and existence of the company as a whole. Putting all information on the blockchain will help solve this problem. Factories and pharmaceutical companies will be able to confirm the authenticity of data at any time, and patients will be able to verify that the medicine came from a trusted source.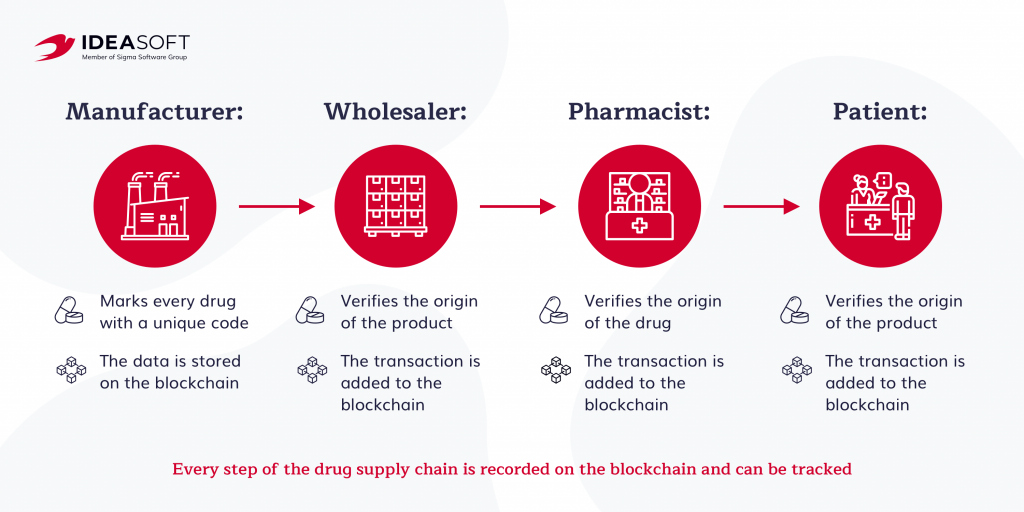 Blockchain makes it possible to track the entire lifecycle of drug delivery. Some technology and pharmaceutical companies are already working on innovative solutions that combine the digital labeling of pharmaceutical products with blockchain. This will make it possible to control the quality of delivered drugs and reduce the number of cases of fraud.
Precision Medicine
Precision medicine is an approach to the treatment and prevention of disease that takes into account the individual variability of each person's genes. To implement this approach, it is critical to rely on data. There should be a transparent solution that allows anyone to look at clinical reports and ensure that the results of the trial have not been tampered with. By combining all the previous case studies, hospitals can have an effective patient data system. This system will allow qualitative research to better understand the nuances of disease development in people with different genotypes as well as to detect biological markers that signal the risk of disease.
Clinical trials produce a lot of data. They include statistics, reports, surveys, medical scans, blood tests, and so on. The first challenge for the clinical trial team is to make sure that they take proper care of the data they collect. It usually becomes very difficult to manage the data, leading to mistakes that were not originally thought to have been made. Fraud occurs in the form of data manipulation. Some data remains hidden and never gets into the systems, while others are altered to achieve the desired result. The lack of information sharing during the critical stages of the trial means that changes can be made later in the test to achieve the desired results.
Blockchain can act as an environment to facilitate clinical trials. Since blockchain ensures data integrity, it can serve as a proof of concept for document authentication. Distributed networks ensure that data integrity is maintained and also ensure that no data can be changed without authorized access.
The simple idea of data integrity can change the way clinical trials are conducted. Blockchain is a system that offers a "proof of existence" concept meaning that data can be verified. It also uses first-class cryptography algorithms, to ensure that data cannot be altered and hacked by any third-party attackers. Some of the companies that are trying to solve this precision medicine problem with blockchain are Amgen, Pfizer, and Sanofi.
Tying it all together
I hope this article gave you a clear idea of ​​how blockchain can transform healthcare. Blockchain technology can eliminate many healthcare problems, such as cybersecurity, data interoperability, drug delivery, precision medicine, and issues with billing fraud. Also, blockchain provides opportunities to optimize existing IT systems, and implement new business models. More and more case studies are emerging every year. For the most part, the use of blockchain is now in the research phase, and as many of the concepts are proven to be effective, blockchain in healthcare will continue to evolve and improve medical systems.
As a blockchain solutions company, IdeaSoft can help you empower your healthcare project with distributed ledger technology. Our in-house team consists of skilled developers following the best industry standards to create innovative software solutions. The expertise of IdeaSoft has been confirmed by over 250 successfully completed projects. Feel free to check our Healthcare solutions page and contact us to discuss your project.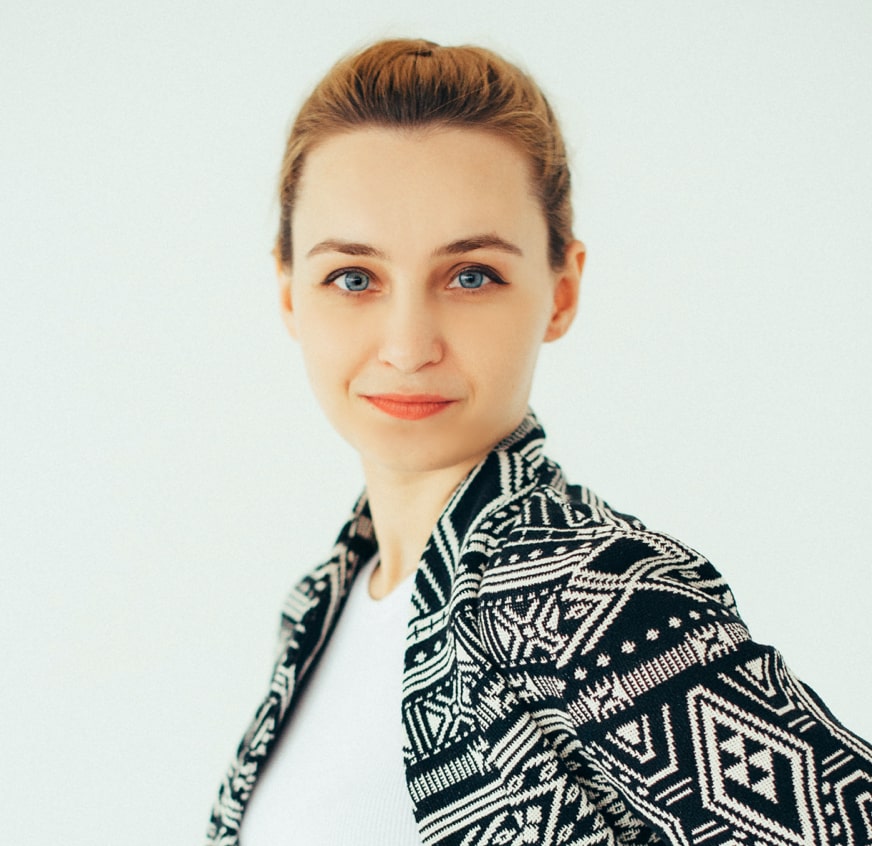 Yulia Shmitko
Business Development Officer