Today it's difficult to imagine an effective process of interactions with clients without a CRM system, which has long become the main tool for automating sales, marketing, and customer support processes. According to Grand View Research, the revenue of the CRM market is expected to exceed $80 billion by 2025. Many different CRM systems on the market offer different features, integration with other software, and even the ability to customize modules according to your requirements. This is true, but even so, often companies cannot find a product that would fully meet their needs. Each company has its own business processes, features of working with clients, and sales funnels, so it's much more profitable to create your own CRM system that would meet all the needs of your business. In this article, we will figure out how to prepare for the development of a custom CRM system to achieve success.
Table of contents:
When you need a CRM system
Let's start with the question of how to find out if you really need a CRM system. Any software is created to improve the efficiency of the company's business processes, so you need to start with a strategy for interacting with customers. CRM is a business philosophy that assumes that for a business to be successful, all internal business processes of a company, such as marketing, sales, and customer service, should be customer-focused. All information about clients is stored in a single database, where managers can find a detailed history of interaction with each client. Based on this data, you can offer each customer the most individualized products and services, taking into account his or her interests, habits, and intentions.
| | |
| --- | --- |
| You need a CRM system | You don't need a CRM system |
| You want to increase conversions without increasing the cost of additional marketing activities | You have no competitors, so customers come to you anyway |
| You have a huge number of customers and you need a single base for managing relationships with them | You don't have a sales team or a sales process |
| You want to increase your brand recognition through quality service delivery | You strive for one-time sales, not repeat sales |
| You want to effectively track the sales department | You are not interested in scaling your business |
Such an approach allows companies to build long-term relationships with customers, stimulate repeat sales, and not lose a single lead. This is necessary if you have many clients and want to work with them effectively. If these are exactly the goals that you are pursuing and you are ready to set up your business processes with a focus on the client, then you need a CRM system to automate these tasks.
Why custom CRM
Once you're sure that you need a CRM system, you need to decide whether it will be an out-of-the-box solution or a product specially designed for you. Why, despite the abundance of software on the market, do companies invest in the development of their own CRM systems? For the most part, there are 2 reasons: the complexity of implementation and the overestimated costs. Standard CRM systems can have many different features, but you may not need all of them.

Setting up the program is also fraught with difficulties since each company has its own peculiarities of working with clients and business processes that the software product must comply with. Thus, you overpay for functions that you don't need and spend money on adapting CRM to your requirements. Also, most providers offer a pay-per-user model, which means you either have to pay a lot of money to provide managers from different departments with a CRM system or limit the number of users, which is unlikely to lead to the desired efficiency gain. Developing a personalized customer relationship management system can be cheaper and, most importantly, you get a product designed to meet your business needs.
Here are some more advantages of a custom CRM system:
You get software tailored to your workflow. As I mentioned before, a software product should be adapted to your workflow, and not vice versa. This is the only way you can benefit from using a CRM system since your team doesn't have to change their work process and spend time on additional training in using the tool. Unfortunately, ready-made CRM systems are created without taking into account the specifics of a particular business; it's more profitable for providers to make them universal. Developing a custom CRM system, you get a product that fully matches your workflow and that your team can start using effectively immediately after release.
High performance. Any CRM system is designed to automate processes within the company. This product helps a marketing department to nurture leads, provide an effective content strategy, and track the most effective customer acquisition channels. CRM enables a sales department to perform a larger volume of tasks, to build effective cooperation with each client, from processing a request to issuing an invoice. Also, CRM software allows a customer support department to quickly respond to requests and provide personalized support services. Finally, as a manager, you can easily track the performance of all departments. For everything to really work so efficiently, you need a custom product that will automate these processes, and therefore streamline them.
Full control and data security. With your own product, you don't have to trust your data to third party software. You yourself control what happens inside your company, ensure the safety and performance of the system. You can work with databases in a way that is most convenient for your team. You decide when and what updates to release. You work with a flexible CRM system that is specially designed for your business. Also, in a custom product, you can include all the necessary CRM system integrations with other software products to create an internal automated ecosystem for the company.
I think the above benefits convincingly prove that you get a lot more power with a custom CRM system than with an out-of-the-box solution.
5 steps to consider before building your CRM system
So, where to start building your CRM system? There are actually several steps you need to go through before you start working with the development team to get started on the product that is truly the best solution for your organization. When developing your own CRM system, you can take into account all the features of your workflow and create the perfect product. Take this chance with all responsibility.
Define your business goals
As with any business, it all starts with a goal. A CRM system can simplify the work for many departments, this tool has great potential and wide functionality, but you should know why you need it. What business problems do you want to solve with this tool? Who will use it? Maybe you need a CRM system to improve the efficiency of your sales department and close more deals. Or you want to establish effective interaction between a sales department and a marketing team to know which leads are converted into customers and which acquisition channels are the most effective. Then you need a software product that includes both modules for sales and marketing activities. Or you want to see clear analytics of work with clients, to find out the efficiency of each manager and department as a whole. In this case, you will be implementing various analytical functions in your CRM.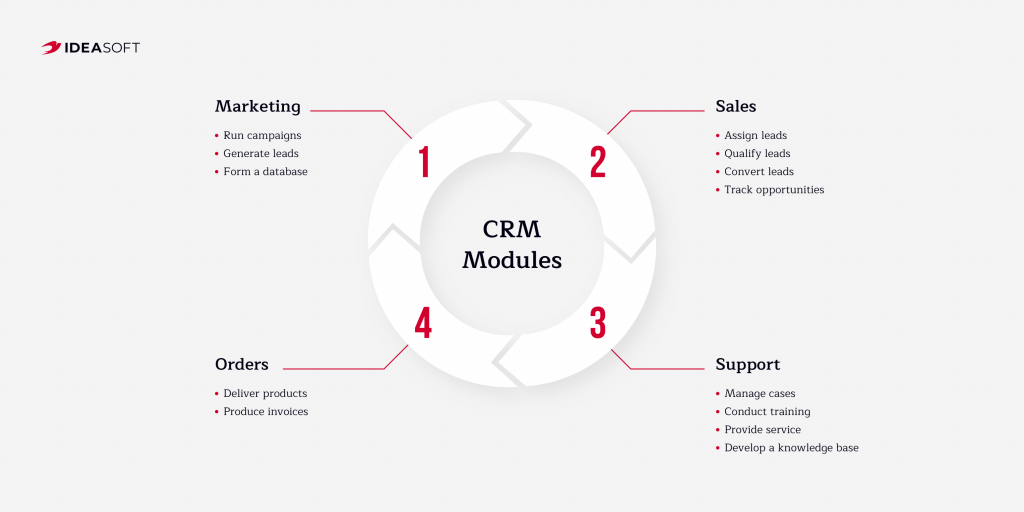 The traditional CRM system includes 4 modules: sales, marketing, order management, and customer support. Based on your business goals, you can determine which modules your company needs. Later, this will help you choose the right type of CRM system and write a list of all the necessary features.
Analyze your workflow
Once you know what company processes you want to automate with CRM, you need to analyze your workflow to determine what exactly you expect from the software. A detailed analysis will let you compile a list of necessary components and not spend money on developing those that you don't need. Review each step of the customer engagement process to figure out what actions need to be automated to optimize the workflow.
In the process, you will also need to select roles and permissions for your employees, which will allow you to give or block access to certain data. For example, junior managers may have access to viewing contacts, while experienced managers have more functionality using contacts, adding new ones, and issuing invoices. Or you want deep analytics of the department's work to be available only to you. It's better to think out these questions in advance to provide the development team with a complete list of requirements.
Choose the right type of CRM
There are several types of CRM systems, depending on the purpose they serve. Once you know your business goals, you can choose which type suits you best to move in the right direction. There are 4 types of CRM systems: strategic, operational, analytical, and collaborative.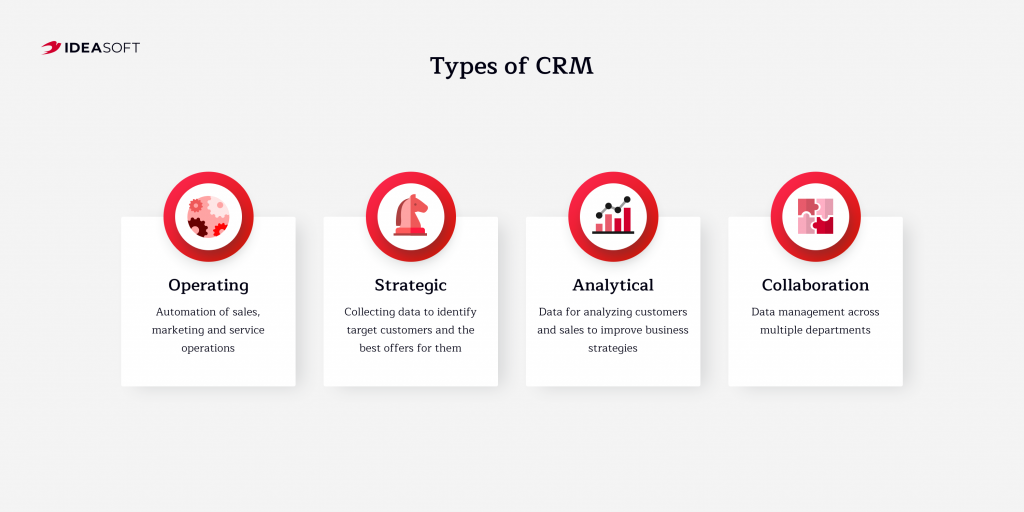 Strategic CRM systems are designed to collect information about customers and further predict their behavior based on this data. Companies use this software to build a production and promotion strategy based on what their customers really like. You should choose this type of CRM if you want to increase your market share and provide the most relevant services for your clients.
Operational CRM systems help streamline daily tasks of the marketing, sales, or support department. The main goal of such a software product is to increase the efficiency of departments: process leads faster, send follow-ups quickly, interact with the client using various channels to boost repeat sales, and increase loyalty. This is exactly the type of CRM system that will allow you to automate internal processes.
Analytical CRM systems are created to manage customer-related data. You get insights into the effectiveness of different channels, which let you draw conclusions about the best ways of attracting and retaining customers. This type of CRM system helps you get deep analytics at the marketing and sales levels.
Collaborative CRM systems are an excellent solution to the issue of interaction for large companies that have many different departments influencing the process of interaction with customers. It can be both internal and external teams, like partners. Collaborative CRM opens up a more convenient way for these types of businesses to communicate in a single system. So, instead of email, phone, and various instant messengers, your teams can use chat rooms, web forums, Electronic Data Interchange, and others that become an alternative to traditional communication channels.
Another plus of custom CRM system development is that you can combine different types and create a unique product for your business that will contain all the necessary modules.
Create a list of features
After you have made a list of what operations you need to optimize and what goals you want to achieve using CRM, as well as selected the type of software you need, you can start describing the functionality of your future product. To be aware of what is happening on the market, study the presented ready-made CRM systems of the type you need. This way you can find some additional features that you would like to implement in your CRM system or understand what functionality is unnecessary for you.
List the features of your future product in a tree of functions or user flow format. Below you will find some most common features for a CRM system, add your own to get a detailed project plan.
Contact and lead management
Task management
Dashboard and reports
Pipeline view
Invoicing
Sales forecasting
File storage or file exchanger
Custom reports etc.

Find a development team
The best way to create a custom CRM system is to enlist the support of a development company that already has experience in designing similar software. You need to be sure that you get a product that will meet all your requirements and will work properly. When choosing a software provider, pay attention to the following factors:
Expertise. Take the time to study the expertise of the team you intend to work with. Talk to technical specialists, ask them to tell you about the company's achievements. Even if you are not good at technology, you can easily understand whether you are communicating with professionals or not.
Delivered projects. Study the projects of the company, especially evaluate the development of CRM systems. Perhaps a company has its own product that you can test. Check how well the team did product development.
Reputation. Find out what is said about the company, find customer reviews on Clutch or GoodFirms, mentions in the media. A good company cares about its reputation, and you can be sure of the quality of the services provided.
Business process. Ask a company representative about the development process to understand if it will be comfortable for you to work like this. Specify how many meetings per week you need to discuss the project and how deeply you want to participate in the development of the CRM system.
Legal part. Pay attention also to the legal part of the cooperation. First, whether you want to sign an NDA. Second, make sure that you contractually own all rights to the product.
Choose a development partner based on the factors most important to you. At IdeaSoft we have flexible processes that allow us to build effective interaction for each of the parties.
The process of building CRM
To realize what you will face during the development of a CRM system, I have prepared a brief overview of the stages of the development process. Having studied them, you will know what actions will be required from you and what the development cost is.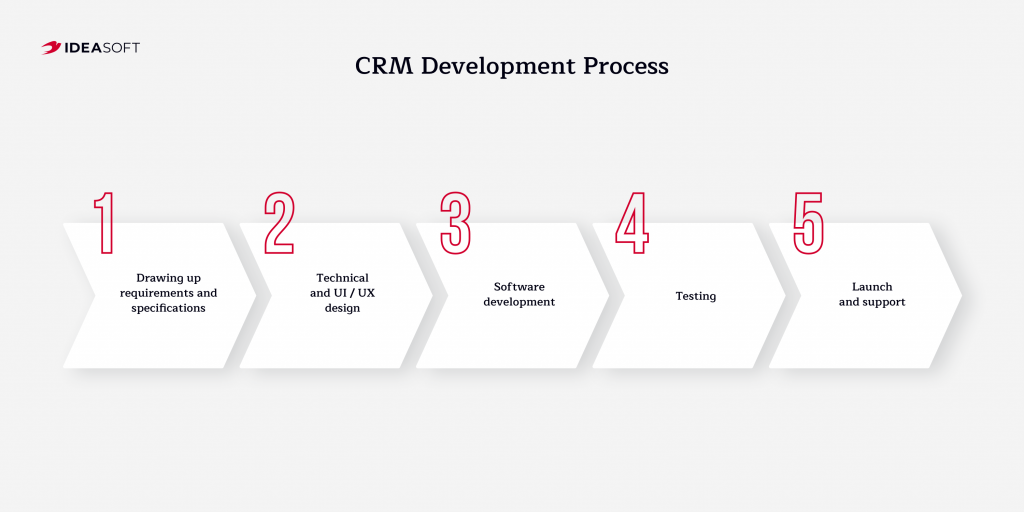 Like someone said, "Without requirements or design, programming is the art of adding bugs to an empty text file.". At the very first stage, a business analyst or project manager can work with you to help you draw up clear requirements for the development of a software product if you haven't already had them. This process is very important, because the more clearly you describe what functions your CRM system should have, the faster and easier a development team can create it. We advise you to involve a business analyst at this stage, who will help to identify and translate your wishes into specifications for developers.
The design part can include both technical design and UI/UX. At the technical design stage, specialists create the logic of user interaction with a product so you can get a prototype of your CRM system and make adjustments. The development of the UI/UX part is especially important for your CRM system because the tool should be intuitive for your managers to work with it really efficiently. Your CRM system should have good visualization, if we are talking about the analytical part, so you could perceive information easily in the form of charts and diagrams. Pay attention to choosing an experienced designer who can think over the interface to the smallest detail.
Software development process
Once a development team receives the requirements and design, they can begin to combine the interaction logic with design and build the back end part by choosing the right technology stack. Talking about CRM development, this process can look different depending on the methodology that a team applies. For example, in Scrum, product development takes place in stages, each stage has a fixed length and is called a sprint. If the development methodology is an important factor to you and you are comfortable working according to a certain scenario, discuss it with your team in advance to create a process in which everyone will feel comfortable.
Testing is a crucial stage in the development of any software product that should not be ignored. Agree, it's better to identify errors right away and fix them than to find that something is not working correctly when you have already launched CRM into work. CRM systems can have several modules designed for different types of employees. They are connected to a single database and have a functional binding, so each module needs to be tested and this is quite a big job.
Why test software products:
Saving resources – identifying problems in the early stages is easier and cheaper for you to fix them
Improving the quality of the code, and therefore increasing the efficiency of the product
Make sure that a product works as stated in the requirements and all functions are designed correctly
Quality control of the created product, for which a development team is responsible
Verifying that the software can be installed and run in the intended environment, and achieves the desired result
After the launch of the CRM system, it's important to study the user experience to optimize the product in the future. You can't foresee everything and starting to work with the system, you may find that some functions are missing, while others you really don't need. It's also important to keep CRM up to date. Then you really get your perfect customer relationship management tool.
How much does it cost to build a custom CRM system
Of course, you are wondering how much it costs to develop a custom CRM system. There is no definite answer, as you probably guessed. The development cost depends on many factors, including the complexity of a project, the number of features, and developer rates. Also, the final price is influenced by additional services, such as design, support. Below you will find approximate prices for the development of different CRM modules for 2020. If you have a list of requirements for your future product, contact our manager through the form below to get a free project estimate.
Module

Features

Approximate cost

Sales
– Contacts, Tasks, Accounts, Opportunities, Pipelines, Dashboard
– Analytics
– Planning and Forecasting
$30,000 – 40,000
$6,000 – 10,000
$8,000 – 15,000
Marketing
– Customer Analysis
– Marketing Campaign Management
-Marketing Analytics
$8,000 – 10,000
$8,000 – 15,000
$7,000 – 10,000
Customer support
– Support & Agent Console
– Knowledge Base
– Service Analytics
$20,000 – 30,000
$5,000 – 6,000
$8,000 – 10,000
Read our new article How to reduce software development costs
Wrapping up
The development of a custom CRM system requires preparation and an in-depth analysis of the company's business processes to create a tool that can really increase the efficiency of these processes. However, this work is worth the results. By creating a custom product that meets your business goals and requirements, you will get a CRM system that will help you streamline your operations and gain insights about your customers. No out-of-the-box product can do this for you.
IdeaSoft team has extensive experience in developing CRM systems. We create custom products that help to improve the efficiency of a company by combining the latest technologies and progressive ideas. Data security is key to the CRM development process, so you can be confident in the reliability of your product. If you want to discuss a project or get an estimate, don't hesitate to contact us using the form below. Together we will find the best software solution for your needs.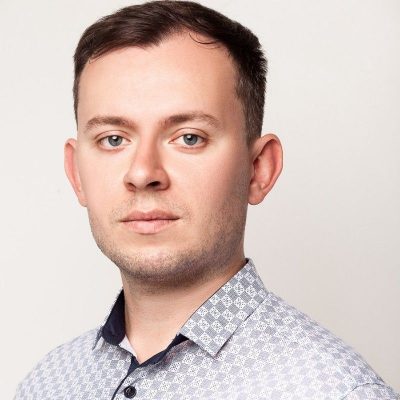 Viktor Legetsky
Managing Partner