We have all realized that digital solutions, innovations and technologies are no longer our future, they are our present. That is why each and every business today tries to pass its competitors by adopting the latest tech solutions which can improve their performance, services and of course revenues. One such trend that has been widely adopted across various niches today is cloud migration – a practical measure of partially or completely moving a company's digital resources into the cloud.
We won't beat around the bush: if you've landed on our page, you've probably heard of this concept and know all the potential benefits cloud migration can bring to your business.
But what about building a cloud migration plan? Typically, business owners make the following assumptions:
It is expensive and time-consuming
It requires advanced technical expertise
It won't work for my business or there is no difference between it and on-premise environments
Despite the trivial stereotype that cloud migration is a complex process that requires lots of time, effort and resources, we'll try to convince you of the opposite. So, in this article our IdeaSoft developers have revealed the major secrets of setting up a successful cloud migration campaign that is sure to benefit your business as a whole. However, if you're looking for expert help in cloud migration or need some more information on how to set one up for your business – feel free to reach out to the tech crew at IdeaSoft.
Now, let's dive in!
How to Set Up a Cloud Migration in X Easy Steps
Overall, a cloud migration plan consists of three major phases: preparation, planning and migration (some developers also allocate review and optimization phases, which results in a total of five). However, to make this process clearer and easier to implement, we'll introduce some step-by-step instructions for cloud migration that are sure to work for businesses of any size and industry. Below you'll find a brief overview of the key steps in a cloud migration process.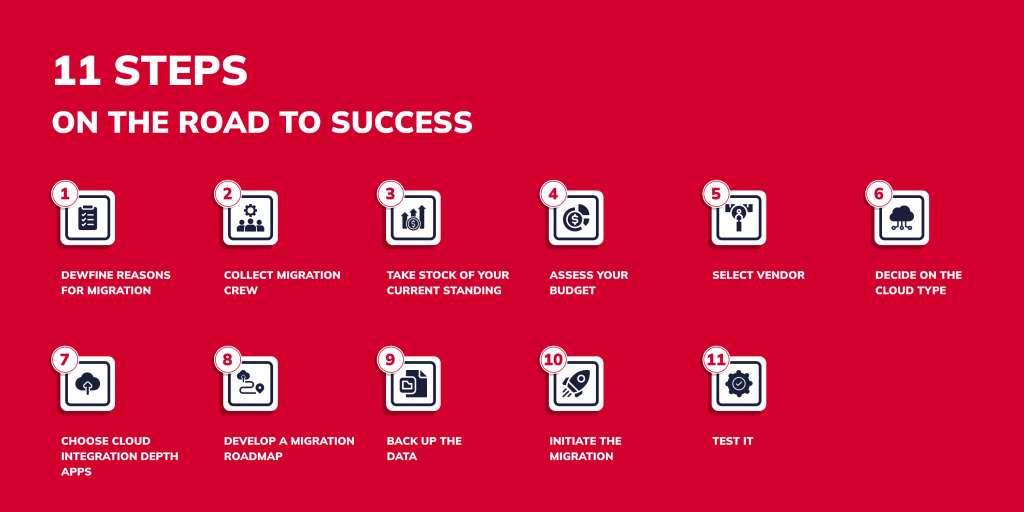 Step 1: Discover the Reasons for and the Goals of Migration
The first step in your cloud migration journey usually starts with understanding why you're doing it in the first place. Nope, an answer like "everybody does it, so I also need to adopt a cloud solution" won't fit. It's important to identify the potential gains of migration for your business. In fact, there are plenty of those. To do some or all of the following for instance:
Streamline and optimize workflows
Improve data storage, management and analytics
Provide access to new features and solutions and ensure their quicker adoption
Improve business scalability
Reduce operational costs
Enhance the customer experience
Remember, cloud migration is going to impact the functioning of the business as a whole, and not just its technical performance. That is why it should completely align with the key objectives and policies of your company.
Furthermore, the goals you set will help guide further choices related to the provider, cloud type, resources and functionality, and many other aspects.
Step 2: Define the Budget for the Cloud Migration
The next step in your cloud migration journey is the cost assessment. Since cloud migration is quite a big-ticket journey, we recommend creating a financial migration plan. This document will help you better understand the expenditure items as well as the overall budget of your business migration.
Similarly, a cloud migration assessment can provide a detailed analysis of the cost-efficiency of your existing infrastructure, compared to the estimated cloud-based performance and define the value of a cloud solution for your particular business.
So, as a result you'll get an overview of the most relevant migration models and identify the one which ideally works for your project.
Step 3: Find Your Perfect Cloud Migration Crew
You don't need to be a tech-savvy expert to launch your migration today, but getting a professional migration crew can significantly facilitate cloud migration. Based on our experience with hundreds of projects either built on or moved to a cloud environment, hiring an expert migration crew has plenty of benefits. For instance it:
Helps to better organize the process and build a strong strategy
Adds benefits in securing your business model
Enables access to the required skills, knowledge and expertise
Allows for the implementation of the latest innovations and best practices in cloud migration
Helps to customize the cloud environment to meet your business needs and objectives
Having a strong migration crew is one of the key points that heavily impacts the results of your migration. At IdeaSoft, we recommend hiring a team that includes a project manager, a business analyst, an infrastructure/application specialist, a security expert, and a migration architect. They are your must-have experts that ensure a timely and smooth transition of the required business resources to the cloud.
Step 4: Create an Infrastructure Portfolio
Allocating your business goals and hiring the right team are only a few components that matter in a successful cloud migration, so don't hesitate to move business assets once you get them. Before relocating anything, you must learn what there is to move.
For this reason, build a comprehensive inventory of all your digital assets, services, databases, IT resources and software. It can help a lot in understanding the structure of your business and how these components integrate with each other to make the entire system function properly.
So far, we've worked on hundreds of different projects and can definitely say that not all businesses can move each and every resource to a cloud environment. For instance, some applications simply may not work on the cloud due to their architecture specifics or can have much lower performance compared to an on-premise environment.
Fortunately, with a professional cloud migration team, you can make a complete inventory of infrastructure and stay aware of all the tricky aspects which can affect the migration cost or its value.
Step 5: Build a Migration Strategy Document
A data migration strategy document is the "backbone" of a cloud migration. It covers the current state of a business, its goals and pains, expected state architectures, project assumptions and many other relevant details which matter in organizing a successful migration to a cloud environment.
In other words, this document will work as a go-to tool for all the stakeholders and can really come in handy during compliance audits. Some of the key components to consider in cloud migration documentation include:
Asset Tracking – which of the digital assets will migrate and which have to remain on-premise.
Deliverables Timeline – outlines the step-by-step migration journey with clear deadlines for each
Event Schedule – identifies the team meetings, reporting, KPI reviews, workshops, compliance audits and many other events scheduled during and after the migration process.
Tech Stack – details the required technologies and skills, migration model and selected cloud environment for your business or its particular products.
Focus Points & Key Decisions – highlights the insights and ideas of the migration to be counted during the asset relocation to the cloud.
Disaster Recovery Plan – helps to evaluate the potential risks and security controls to effectively react if any problems come up.
Cost Estimations – allocates the overall budget, as well as the separate components. This helps gain a better picture of the financial migration plan cost.
As you can see, there are a lot of things to consider in cloud migration documentation, from organizational to financial, to technical aspects. Feel free to modify or add the required components to your documentation depending on your business specifics, its focus points, goals and needs to maximize the efficiency of your cloud migration strategy.
Step 6: Define the Cloud Migration Vendor & Cloud Strategy Type
Another component which cannot be overlooked in cloud migration is the cloud hosting platform. You might have already heard of the most popular services, such as AWS, Google Cloud Platform, IBM Cloud and Microsoft Azure. If not, then it's the right time to explore their plans and the scope of services promoted.
The functionality and parameters of your cloud vendor will directly impact your business performance, so it's super critical that your migration architect carefully inspects the business infrastructure and structure of its projects/components.
Apart from choosing your vendor and the hosting plan, your team will help you consider the most efficient form of migration that ideally fits your plan. Some of the most popular here include standard relocation, cold migration, live migration, re-platforming, repurchasing, reprovisioning from scratch, refactoring, retaining, and many more.
Moreover, some businesses might prefer working with several cloud providers opting for multi- or hybrid-cloud solutions, and that's where an expert crew of DevOps professionals can really help. Typically, they're always in the loop regarding the latest cloud migration practices and providers, which helps them come up with the most effective options for each individual client.
Step 7: Conduct a System Back Up
Don't move a single piece of data unless you have a copy of it stored in a safe place! Overlooking the data backup procedure is one of the most common mistakes in cloud migration which may lead to data loss.
Even if performed by professionals, you cannot be 100% certain of your data's safe relocation to the cloud. There are still lots of risks of technical issues which might occur in the process. Performing a data backup before the migration also helps ensure not a single file is lost if anything goes astray.
Step 8: Execute a Pilot Migration & Test Its Performance
Due to its complexity and cost, it's highly recommended to perform test checkups of your new system. Such a process can help you prepare for the business migration, identify uncover the specifics of the process, and uncover the majority of bottlenecks that might occur.
Depending on the type of components you're going to relocate to a cloud environment, you may want to perform the following testimonials:
Application migration
Database migration
Server migration
OS migration
In this stage, you can also check whether the cloud system supports the functionality and features, user interfaces and their connection, as well as test various test cases and test scenarios to ensure everything works as expected.
Step 9: Launch the Migration & Review the Functionality
Finally, it's time to initiate the migration by extracting the data from the on-premise system to the cloud environment. Usually, cloud migration experts recommend moving the data in batches, starting with low-requirement projects with a small number of dependencies first. Then, check their performance in the cloud. If any issues are detected, make adjustments to fix not only the migrated items, but also the ones which are to be moved to the cloud later.
Once all the required elements are allocated on your cloud system, make a comprehensive audit of their functionality, ensuring each of them works smoothly and complies with the key points of your migration project plan. This will help you timely address any existing performance issues. Next you can handover the guides and technical documentation to your team to help them leverage the full potential of the cloud environment for your business.
Step 10: Optimize & Scale Your System
Apart from the discovery of each application's infrastructure and its testing in the new environment, there are many aspects to consider in terms of post-cloud migration. Here are some of the key challenges to prepare for once the asset relocation has been completed:
Organizational and operational change management challenges
Optimization and scalability challenges
Security challenges
During the final stage of cloud migration, make sure all your employees, teams and departments have adapted to the new platform and can perform their day-to-day tasks. If needed, conduct the proper messaging, education and ongoing training to help your workers switch to the new model. Additionally, continue to track the security of your environment and look for ways to maximize its performance for your business.

Wrapping Up
Yup, cloud migration is much simpler than it seems at first! Without any exaggeration, we are completely sure that migrating to the cloud is one of the easiest ways to enhance your business performance, streamline the workflows and bring more revenue right from the first days of its adoption.
However, it does take some time and effort to ensure that everything works properly, so creating the proper cloud migration plan is one of the key points that can help you succeed. When entrusting your cloud migration to professionals, you'll be sure that your business leverages the full potential of the selected cloud platform and is guaranteed to get expert support at any stage of its adoption and further utilization.
Looking for a professional cloud migration team? Contact IdeaSoft experts to get top-notch assistance in cloud adoption for your business.
Anton Kovalenko
Head of DevOps Department