When you're starting a blockchain project and you're not a developer yourself, the process of hiring tech specialists can be a really challenging task. Blockchain is a relatively new technology and you need to find experienced developers to implement your idea in the best way. In this article, we'll tell you how to hire remote blockchain developers in 2021, where to find experienced specialists, and what is better: outstaffing or outsourcing. Let's get started.
Table of contents:
Required blockchain developer skills
So what knowledge and skills should your ideal blockchain developer have? Of course, a lot depends on the type of project. Working, for example, with DeFi projects is a serious and long-term task. In this case, blockchain developers must be disciplined, able to cope with tight deadlines and stressful conditions, and have high development skills.
Blockchain developers fall into 3 main categories:
Blockchain engineers. These are the people who create the software shells and implement complex algorithms. They are the ones at the "cutting edge" of development. These are the most experienced people in the blockchain sphere. Blockchain engineers need proven experience with C and Java languages, an understanding of the software and hardware architecture on the global level, and a good knowledge of the applications` server side.
Blockchain programmers. These are creators of client products and web interfaces that use blockchain technology. There is a big variation of requirements here – it can be knowledge of basic web development languages, such as Javascript, Python, Ruby, and more exotic, such as Go, Rust. Also, they need experience with Node.js or MongoDB.
Smart contract developers. This group of specialists is directly involved in drafting and maintaining smart contracts, as well as solving applied problems that arise during the operation of a blockchain service. This is where Javascript and Python skills, as well as full-stack web development experience, come to the fore. Smart contract developers need to know popular programming languages, libraries, and frameworks.
Also, despite the programmer's specialization, he or she must be at least familiar with Solidity, the programming language for smart contracts on the Ethereum platform. Most blockchain-based solutions operate on smart contracts, which allow you to automate processes and exclude third parties. So if your project is related to the Ethereum network, Solidity will be one of the must-have requirements.
Speaking about programming languages, it should be noted that C and C++ are important for blockchain developers precisely because the lion's share of projects are written in them. A smaller part of blockchain projects is written in Java, although theoretically, as programmers say, it is possible to build chains of transaction blocks in any language.
Blockchain is a combination of familiar, long-existing technologies (e.g. hashing). Together, they provide new features that open up huge prospects for blockchain-based products. In this regard, experience with distributed databases, knowledge of modern cryptography, especially asymmetric cryptography, encryption, and hashing are useful.
The level of requirements for blockchain developers is generally high. A huge number of software specialists are not yet working with blockchain technology, but are interested in it. So, where to find remote blockchain developers?
Where to look for blockchain developers
Really good professionals in blockchain development can now choose from several dozen or even hundreds of offers. The market of blockchain projects is constantly increasing, as well as the amount of investment in it, so blockchain developers today are in short supply. If you want to hire the best remote blockchain engineers you should know where to look for them.
In addition to Google, there are several ways to find blockchain developers. One of them is business directories, where companies create their profiles, tell about their services, and publish customer reviews. The second one is freelance sites, where you can find both company representatives and independent developers. It is should be noted, that a blockchain development company gives more guarantees and control over the quality of services, so we recommend working with a company rather than with freelancers.
Business directories
You can find many different directories with software development company profiles. Most companies represented in such directories have been on the market for a very long time, so it is quite easy to find an experienced partner to develop a blockchain project. The list of the most popular business directories include:
Clutch. It helps business owners to find reliable blockchain development companies and entrust particular tasks to them. This service has more than 200,000 agencies in more than 500 categories. Clutch helps business owners to be confident in the quality of the services provided by blockchain development companies.
GoodFirms. It is the right place to start searching for blockchain specialists after Clutch. GoodFirms has information about more than 60,000 software companies and more than 30 000 reviews about them. It offers visitors comprehensive, detailed, and free research of outsourcing companies.
Techreviwer. It helps companies of all types to choose professional development partners from more than 20,000 offers. Techreviwer is one of the most popular sites for searching for dedicated software development teams.
Freelance sites
Freelance sites are in high demand among small businesses that don`t need big development teams. Most specialists on freelance sites have been on the market for a very long time, so it is easy to find an experienced freelance developer by examining reviews and completed projects. If you decide to hire remote blockchain developers on a freelance basis, you should consider the following resources:
Toptal. This site helps different businesses find the right developers. It offers a risk-free trial version and only sends a bill if the project tasks are completed successfully.
Freelancer. There are a lot of blockchain developers that are looking for projects. It is a very popular website where potential employers hire remote blockchain developers.
Upwork. Upwork helps startups find the right specialists to meet their business needs. It is among the most efficient freelance sites in terms of being an intermediary between a client and a remote developer.
Ukraine is one of the best countries to hire remote developers
When looking for remote developers for your project, pay attention to Ukraine. This is a country with reasonable prices and high quality of blockchain development. Ukrainian software companies show great expertise in big data and AI, DeFi development, blockchain, and cryptocurrency projects. The reasons to hire remote blockchain developers in Ukraine include a strong work ethic, convenient time zone, European mentality, attractive rates, strong skillset.
According to Upwork statistics, Ukraine ranks first in Europe and fourth worldwide in the number of freelance programmers. More than 82% of orders carried out by Ukrainian specialists are related to software development. The majority of orders come from English-speaking countries such as the USA, UK, Australia, and Canada.
The pool of IT specialists in Ukraine is huge. At the moment there are more than 1,000 IT companies that provide outsourcing services. Every year the IT market of Ukraine grows by 20%, according to statistics. So if you looking for a remote blockchain development team, Ukraine can be one of the greatest options.
Outstaffing or outsourcing: what to choose
Now let's talk about two of the most common models of collaboration with remote blockchain development teams. Outstaffing or outsourcing: what to choose?
Outsourcing means that a customer entrusts a development team with the creation of a software product and expects a certain result. Having provided a list of requirements, the client can track the progress of the development, but he himself is not involved in the process and can focus on other business tasks.
| | | |
| --- | --- | --- |
| Criterion | Outsourcing | Outstaffing |
| Type of projects | Small or one-time projects | Large or continuous projects |
| Who is responsible for code quality | Vendor | Client |
| Client control over development | Little management effort | Full control |
| Project start | Takes time to collect requirements and build a team | Quick start |
| Budget | More expensive than outstaffing, cheaper than in-house | Flexible with the costs |
Outsourcing vs Outstaffing
For example, you conclude a contract with an outsourcing company for crypto exchange development, and it is important to you get your project ready in time and of high quality. The outsourcing company evaluates the situation and decides how best to implement your idea. Your crypto exchange will be ready in time and you don't need to figure out all the technical details. This option is suitable for you if you want to completely entrust the development of your project to other specialists.
Outstaffing, on the other hand, means that the client is given certain personnel for an agreed time. The client himself determines how to organize the work of the developers, as well as the whole development process. If you are looking to expand your development team and just need individual specialists to do this, outstaffing is the perfect option for you. In this case, you lead the development process.
How IdeaSoft can help you
IdeaSoft is a software development company that offers both outsourcing and outstaffing services. Our in-house development team consists of more than 120 developers. We can provide you with a full cycle of software product development: from business analysis, design to programming, testing, and support. Thus, you can completely entrust us with the development of your blockchain project. If you are looking to hire remote blockchain developers to expand your team, we can offer you the services of experienced developers of different seniority levels and technology stack.
Why innovative companies choose IdeaSoft:
Huge experience. IdeaSoft has gained a reputation as a reliable and proven outsourcing development partner for innovative companies all over the world.
Wide range of services. We can quickly assemble a team of software development specialists for you that meets the requirements of your project, including designers, developers, QAs, business analysts, DevOps, and others.
High-quality blockchain development. We are proud to have a lot of positive feedback from our clients. The expertise of IdeaSoft developers has been proved by more than 250 successfully implemented projects.

The IdeaSoft blockchain development team will be happy to help you with your project. If you are looking for developers, take a look at what we do, and feel free to contact us.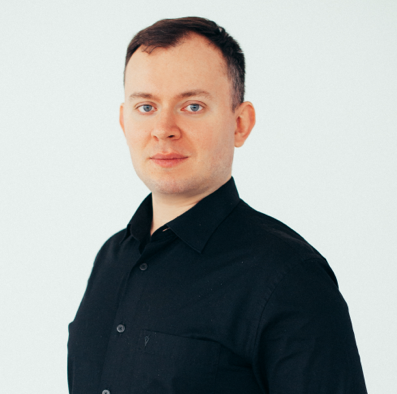 Viktor Legetsky
Managing Partner