Introduced in early 2008, blockchain solutions have been evolving a lot over the past few years. According to Globe Newswire, the Global Blockchain Technology Market size and share revenue was valued at nearly $4.8 billion in 2021, and is expected to reach an impressive $69 billion by 2030.
With more and more market giants entering the industry, we can now see dozens of new blockchain technologies being introduced in the market. Sui and Aptos are among them.
In this article, IdeaSoft experts have compared both ecosystems, covering their architecture and basic features and the perks and downsides of each in order to help you better understand their potential and prospects for your upcoming projects.
Table of content
Aptos & Sui Ecosystems: A Snapshot Comparison
Before we start getting into a detailed review of each, it will be good to get an overall idea of Aptos and Sui blockchain solutions. So, let's quickly take a look at the key features of both ecosystems to get a better idea of the similarities and differences between the Aptos and Sui's blockchains respectively.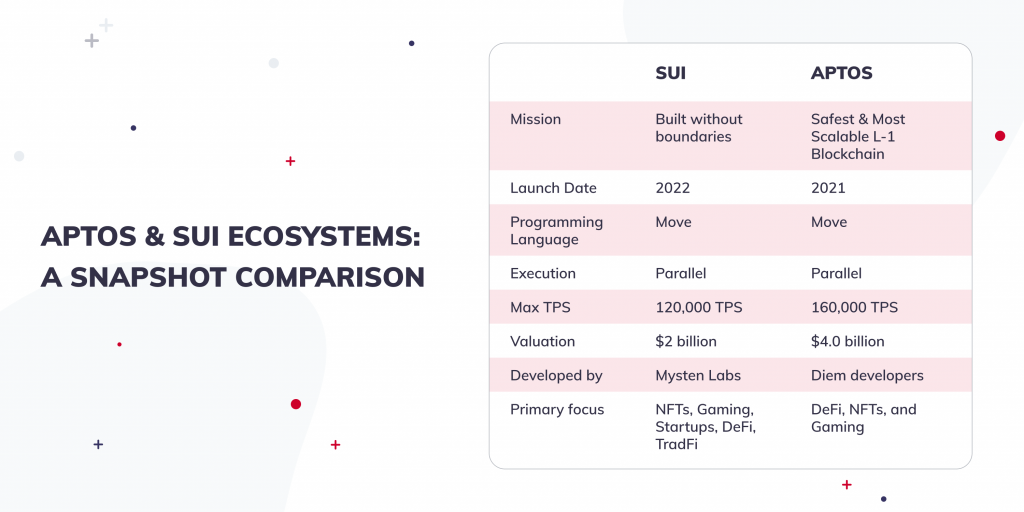 These are the basic characteristics of the Sui and Aptos environments, so now we'll review the specifics of each ecosystem in detail.
Sui Ecosystem: A Complete Overview
Sui is the first permissionless Layer 1 blockchain solution designed for the development and creation of different expertise levels for launching innovative crypto solutions for billions of users. One of the most notable features of Sui is horizontal scalability, which enables efficient dApp development at a lower cost.
Overall, Sui's architecture is known for its instant settlement and high throughput, rich on-chain assets, and outstanding web3 experience.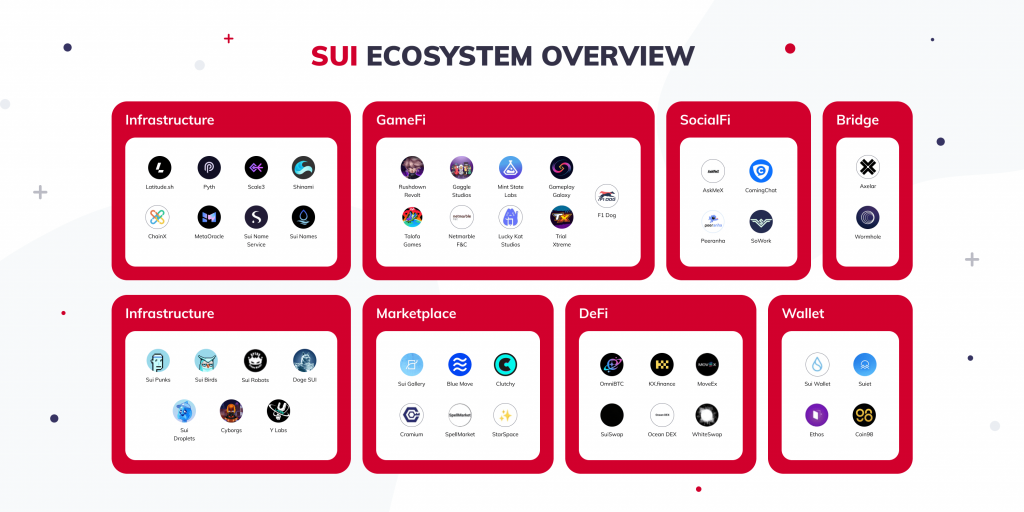 How Does Sui Work?
The blockchain operates at a speed and scale previously thought to be unattainable. Unlike some of its alternatives, Sui enables transactions to be run in parallel, providing low latency due to its requesters or proxies proactively reaching validators to successfully complete transactions. Finally, the support of Move-based smart contracts greatly benefits its security, scalability and more understandable programming model.
The architecture of Sui Blockchain
According to Sui's architecture documentation, the ecosystem consists of three major components:
Programmable Objects – built and managed by smart contracts on the Move programming language, which also act as objects themselves. Additionally, all the objects are classified into variable data values and invariable packages.
Transactions – record any changes or updates within Sui's ecosystem.
Validators – enables users to read the stored assets, historical records of the transactions processed and so on. Basically, that's the backbone of Sui's network.
Additionally, ecosystem Sui features the Sui Consensus Engine with Narwhal (which ensures the availability of the submitted data) and either Bullshark or Tusk solutions (responsible for setting up the ordering of such data).
Programming Language
The Sui ecosystem is based on the Rust-based Move programming language, the specific open-source bytecode language which is mainly used for the development of customizable transactions and smart contracts. Additionally, this language is highly valued for higher safety and security levels, as well as facilitating a smooth transition from Web 2.0 to Web 3.0 – the last one is extremely important for blockchain, cryptocurrencies and token-based solutions.
Basic Features of the Sui Ecosystem
Software development on the Sui blockchain can bring a variety of benefits, including a simplified coding process, reduced risks of errors in the initial stages of development and building applications regardless of the infrastructure specifics.
Talking about the features of the Sui blockchain, it's worth mentioning the following aspects:
Enhanced productivity and lower latency. Sui can handle a large number of transactions per second (TPS) – 120,000 (based on the ​​testimonials data on an 8-core M1 Macbook Pro device)
Parallel execution. With the data organized into separate objects, Sui supports parallel agreements on causally separate transactions.
Horizontal scalability. The network can also scale horizontally due to its parallel agreement on causally independent transactions.
Different participation options. In Sui, participants come in three categories: Users, Token Owners and Validators, which opens up a wider range of transaction-based actions.
Lucrative rewards and loyalty programs. Sets up large-scale airdrops, reaching millions of crypto users through low-cost transactions.
Realizing the potential benefits for business of the Sui blockchain, the technology has been intensively used across a variety of scopes. In particular, it has been implemented in complex games and business projects, on-chain DeFi and TradFi primitives, asset tokenization services, decentralized social media networks and many more.
Possible Drawbacks to Consider
Knowing the potential drawbacks of Sui will help you explore and get ready for the major pitfalls which might occur during the development process. Overall, there are three aspects to keep in mind:
Design complexity. Sui's design is based on two protocols – a protocol based on Byzantine Consistent Broadcast (for simple transactions) and a consensus protocol (for transactions with shared objects). Therefore, developers will require a much larger programming codebase.
Sequential writing. Though this benefits the transaction speed, Sui users can only send one transaction at a time.
Complex total queries. At Sui, total queries can be more difficult than in traditional blockchain solutions, as it does not always impose the total order of transactions.
Also, it's worth highlighting that Sui's proprietary programming language is Move, which was introduced in 2020. This means there are relatively few developers with deep expertise in Move coding, which can potentially help you make the most of the Sui ecosystem.
Who Invests in Sui
So far, Sui has raised $36 million in Series A funding, which was led by over a dozen market giants, including Andreessen Horowitz's a16z. Other participants in Sui's funding include Redpoint, Lightspeed, Coinbase Ventures, Electric Capital, Samsung Next, Slow Ventures, Standard Crypto, NFX, and Scribble.
The Sui blockchain has recently completed its $300 million in Series B funding, with major investments from Binance Labs, FTX Ventures, Jump Crypto, Circle Ventures, a16z and Andreessen Horowitz. It's also worth mentioning that its creators have recently announced the upcoming launch of the SUI token, designed mainly for gas fees and staking.
Aptos Ecosystem: A Complete Overview
Similar to Sui, the L-1 ecosystem Aptos is based on the Move language, which ensures low latency and zero downtime for block commitments. It's also worth mentioning that Move was initially designed to support the Aptos blockchain, providing excellent safety, predictability and interoperability.
Overall, Aptos blockchain enables smooth access to all the advancements of decentralization with cutting-edge technologies and advanced research, which has made it extremely popular across DeFi and gaming projects. Impressively, this solution has become the 52nd largest cryptocurrency by market capitalization.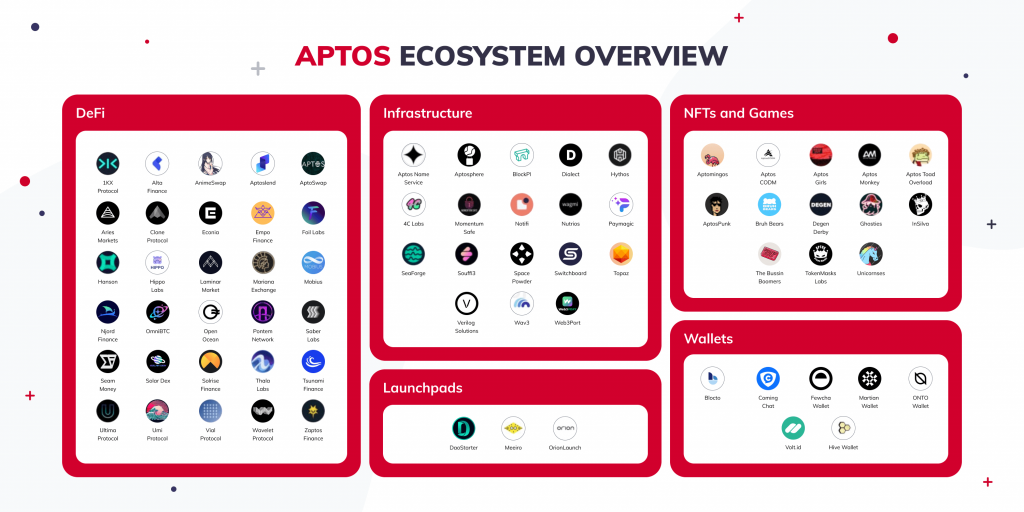 How Does Aptos Work?
As of the time of this writing, Aptos provides extremely high TPS performance that theoretically reaches up to 160,000 transactions without sacrificing its security or reliability. Similar to the Sui ecosystem, this blockchain works by storing information as a resource, which potentially makes it more secure and faster in processing. The parallel execution model reduces the latency and cost of transactions while increasing their speed.
In addition, Aptos leverages the Byzantine fault tolerant (BFT) engine, which is used to analyze the individual states on-chain and automatically update validators per need.
The architecture of Aptos Blockchain
Aptos architecture has been developed over the past three years and includes a variety of innovative technologies and novel solutions in many aspects. First, the blockchain features a robust design of smart contracts, advanced system security, performance and decentralization.
Additionally, the unique feature of Aptos is the ability to leverage two protocols Proof-of-Stake and AptosBFT – the Byzantine fault-tolerant protocol that can continue to operate normally even if some of its members turn malicious or go offline, without any human intervention. Finally, its architecture allows private key recovery, which enables regular changes of private keys to make them more secure.
Programming Languages
The programming language in Aptos software is Move, the same one used as a base for the Sui ecosystem. One of its most important advantages is the ability to perform transactions at improved speed and with better security.
Additionally, Aptos comes with a formal verifier – "Move prover" – a Move-based solution for smart contracts, which can potentially strengthen the security of contract invariants and behavior. In turn, this can also help developers secure the Aptos-based dApps from a different range of cyber threats.
Basic Features of the Aptos Ecosystem
Before you start considering the Aptos-based software services, let's review some of the most foundational features of this blockchain solution. This will help you better understand the development specifics, as well as the overall potential of Aptos blockchain for your business.
Data Model. The data model in Aptos enables flexible key management and hybrid custodial options. In addition, this blockchain ecosystem also has improved transparency before signing and lightweight client protocols, which significantly speeds up the data flow and provides a more trustworthy user experience.
High Transaction Execution Speed. The development company claims Aptos network processes 130,000 to 160,000 transactions per second, which results in low transaction costs for its users.
Scalability and Decentralization. Aptos highly prioritizes heterogeneous validators (constrained CPU and/or constrained storage). Additionally, the blockchain provides reduced barriers to running code and lower hardware requirements compared to alternative options.
Parallel Execution Engine. Similar to Sui, this feature allows simultaneous execution of multiple transactions, which reduces the risks of delays. Moreover, the transactions that fail are aborted and re-executed with advanced STM (software transactional memory) libraries, designed to timely address the conflicts.
The combination of these technologies has made the software development on Aptos blockchain extremely efficient and profitable. So far, it has become the ultimate solution for over 30 DeFi projects, covering exchanges, lending protocols, and liquid staking.
Possible Drawbacks to Consider
Apart from the advantages, it's also important to take into account the possible drawbacks of Aptos. Overall, these include the following aspects:
Time-consuming deployment. The most confusing aspects here are tricky compiler errors and devnet error responses which are quite challenging to manage.
Tricky setup process. In some cases, it might be more tricky to set up the system rather than code. Additionally, it might take some time to adjust to the language and environmental specifics.
Who Invests in Aptos
As of the time of writing, the total funding of Aptos is valued at $350 million, with the latest investors in the blockchain solution being Andreessen Horowitz, Jump Crypto, Superskrypt, Franklin Templeton Investments, FTX and more. In September 2022, Binance joined the list of Aptos investors in the Series A round, but the amount of input wasn't published.
How Do These Blockchains Impact the DeFi Market?
At present, both blockchain solutions – Aptos and Sui – have successfully raised big sums of capital over less than two years since their official releases. However, considering there are a lot of similarities and only a few key differences between these ecosystems, it is definitely difficult to determine which one will be more successful in the emerging decentralized finance market.
One of the most common use cases of Sui in DeFi is the asset denomination for the Sui platform, where a token is required for paying gas fees for transaction-related processes. It is also applied across various applications to perform the basic features of money (storing value, conducting payments and so on). Additionally, Sui's architecture specifics allow its use in the proof-of-stake (PoS) mechanism, the tool aimed at securing a blockchain to help it maintain accurate information.
According to Fortune, Sui is currently targeting three killer apps: finance, digital commerce, and gaming. In particular, a few South Korean game giants have implemented this blockchain into their projects to build gaming apps with token economics.
Talking about the Aptos blockchain, the token is currently used for performing transaction fees on networks and enables network users tyo elect and vote for delegates to legitimize the block using the delegated proof-of-stake mechanism (DPoS). Also, similar to Sui, Aptos can be applied for on-chain community governance.
The key point about Aptos in the DeFi market is its ability to build various tech solutions on its blockchain. Currently, there are over 30 examples of its successful implementation into projects. One such example is Aries Markets – an Aptos-based decentralized margin trading protocol.
Launch Your Blockchain Solution with IdeaSoft
To sum up, both blockchain ecosystems have advantages. Regardless of the selected blockchain ecosystem, Sui or Aptos, the success of the project also heavily depends on the developers' expertise. At IdeaSoft, we have years of experience launching multiple blockchain solutions that can boost your business performance and enhance its profitability as well.
So far, we have been intensively cooperating with world-class companies and high-profile technical partners, helping them tackle various challenges in mobile and web development, blockchain solutions, AI and Machine Learning and so much more. In our portfolio, you can find over 250 projects across a diverse number of industries, including fintech, agtech, logistics, healthcare, retail and others.

Do you already have a project for us? Reach out to our professional team and discover the lucrative opportunities of Aptos and Sui blockchain solutions for your business today!
Wrapping Up
Having listed the most notable features of the Sui blockchain, as well as the structural specifics of the Aptos blockchain, we can summarize that both blockchain ecosystems can become powerful solutions for numerous software development projects. Both blockchains are built on Move, a new smart-contract specific programming language that features advanced security and privacy for its users.
However, it's difficult to understand which will perform better in practice, Sui or the Aptos token. While the first one offers more room for development, the other one is highly valued for its continually evolving design.
No matter which token you decide to implement into your project, IdeaSoft will have you covered. Our team has been delivering high-end software services for businesses of different scales and industries, helping them enhance their performance and revenues over time. Contact us today and discover the best solutions that ideally meet your project's objectives and needs!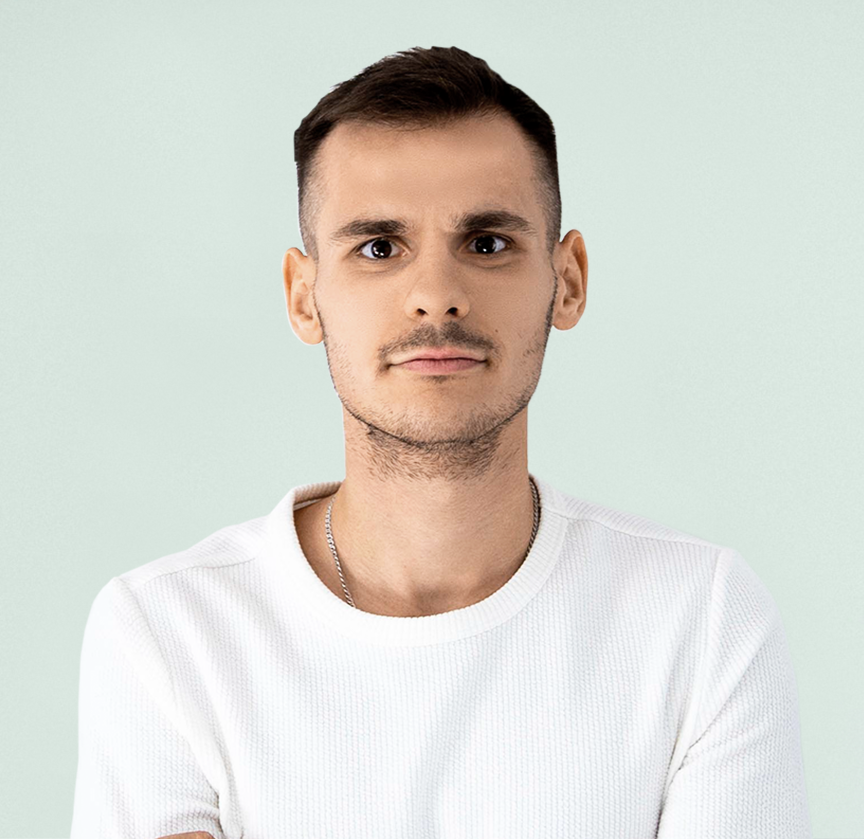 Rostyslav Bortman
Head of Blockchain Department