With the development of mobile technology, our lives are changing for the better. Mobile applications provide a huge number of possibilities for both users and creators. Using a smartphone, we can learn, communicate, buy, have fun, and make money. However, experts assure us that this is not the limit and we should expect more. Recent events have made mobile development experience new transformations. So, what are the trends in the mobile app development market right now, and what's the next big thing in mobile technology? Find the answers in this article.
Table of contents:
Is mobile app development still in demand?
Mobile development is in demand as never before. The number of smartphone users is growing every year, and the lockdown associated with the coronavirus pandemic has only enhanced this trend. Various studies confirm this. According to Statista, there were 218 bn global mobile app downloads in 2020. As of the first quarter of 2021, around 2.22 million mobile apps were available in the Apple App Store and over 3.48 million mobile apps were available in the Google Play app store.
The golden rule is that demand generates supply. The number of mobile applications is growing. Developers are looking for new ways to meet the needs of society adopting new technologies, and companies are trying to make their services more accessible and strive to reduce the distance between a company and customers thanks to mobile apps. So, despite the economic crisis, the mobile app development market was not affected and according to Statista, worldwide mobile app revenues will grow to $935.2 billion by 2023.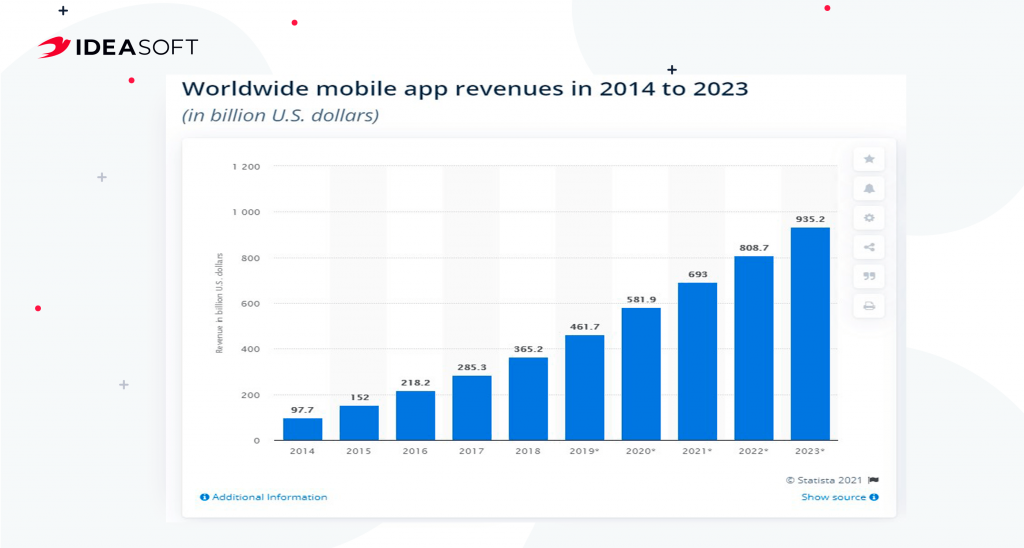 The hottest mobile app trends of 2021
In 2021, the popular technologies of recent years have continued to evolve. The unexpected pandemic and related events shifted the focus of industry development, but in general, it created favorable conditions for the emergence of new innovative software solutions. Here are the hottest mobile development trends in 2021.
AI/ML-based apps
AI and machine learning have become major trends in many industries in 2021. AI-powered features are doing more than just increasing engagement with stickers and filters. They also enable the capabilities of detailed analysis of users and predicting their future behavior to deliver more personalized services. For example, chatbots allow you to provide uninterrupted real-time communication with clients. By analyzing data about a user and the history of his interaction with the app, a chatbot can come up with the best solution within minutes. Also, voice and face recognition are becoming integral security features in mobile apps. According to eMarketer, nearly 92.3% of smartphone users will be using voice assistants by 2023.
Even more, smart technologies help not only protect data but also improve security in the real world. For example, we used AI and V2V technologies to build Nexar. This is an AI dashcam app for iPhone and Android, that instantly detects dangers on the road and provides "watch out" life-saving warnings.
AI-powered mobile solutions also provide an improved user experience by adding interactivity and innovation to mobile applications. Recognition of speech, text, and pictures, voice assistants, location-based app suggestions, automated photo classification, and this is not a complete list of options for using artificial intelligence. That's why AI and ML are used to create educational, financial, medical, entertainment, travel apps, and more. According to Statista, revenues from the AI market worldwide will reach $3061 billion by 2024. So we will definitely hear about new AI-powered mobile solutions in the coming years.
Cloud-based applications
One of the main challenges of mobile development is to create a functional application that wouldn't take much device power. By downloading apps you take up memory and use the system resources of your smartphone. Cloud-based apps help the situation. They use cloud computing technology instead of the device's hardware, so all data is stored and processed in the cloud.
Cloud applications are cost-effective and reliable. This is one of the best options for building a cross-platform app. It is also easier to manage such an application. All you need to do is implement a cloud management platform (CMP) solution. CMP allows you to manage cloud apps and services deployed across multiple cloud environments. To do this, CMPs use an extensive catalog of APIs to extract data from the entire cloud environment and transfer it to an integrated system. Soon, increased use of 5G will strengthen this trend by providing new power for the development of cloud computing. According to Report Linker, the global cloud computing market is expected to reach $623.3 billion by 2023.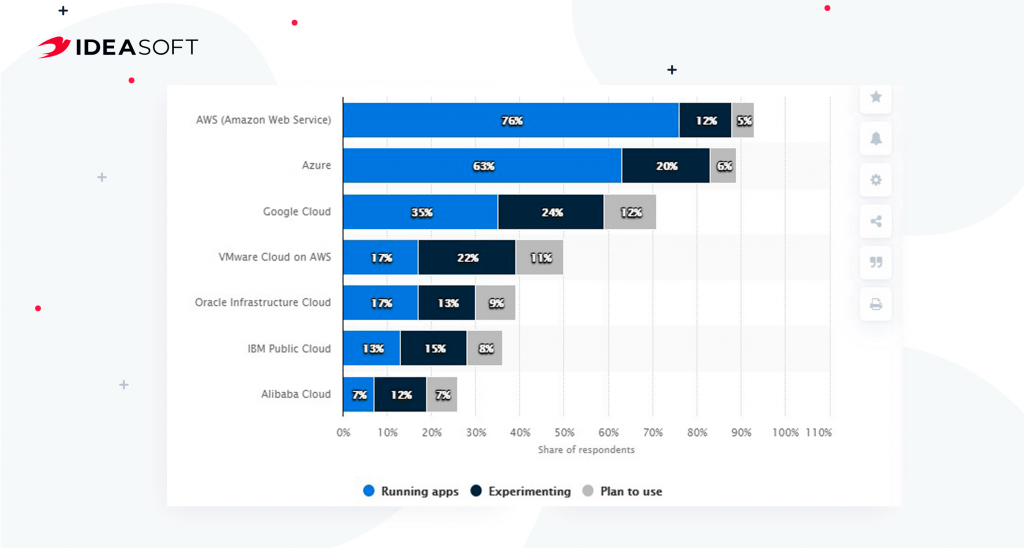 M-Commerce growth
Selling and buying products via mobile apps is gaining popularity. Until recently, smartphone purchases were available through web applications, but native apps are more user-friendly, which increases the likelihood of a purchase. Unsurprisingly, m-commerce has become the preferred direction for merchants. According to Business Insider Intelligence, mobile commerce will reach 44% of e-commerce in 2024.
49% of consumers use their smartphones for shopping, as reported by BrizFeel. Why do users choose mobile shopping apps? First, they make it easier to browse products. Secondly, apps provide an improved user experience. For example, an application collects data about a user, which means you can create customized offers for each customer. Also, such apps remember transactions and allow them to be carried out faster when buying again. Sellers are also encouraging customers to buy using mobile apps by offering special pricing and terms when shopping in apps. Together with such solutions as AI, cloud computing, 5G, and mobile payments apps m-commerce has a great future ahead.
Mobile payment apps
Full-fledged purchases using mobile apps are impossible without payment applications, therefore, with the growth of e-commerce, the number of digital wallets is also growing. The secure transfer of funds from one account to another without involving third parties is called a peer-to-peer transaction. P2P payment apps development is one of the main trends of the fintech industry. According to eMarketer, the value of P2P mobile transactions will reach $612.23 billion by 2023, and according to Statista, the total revenue driven by transactions over mobile phones is expected to hit $423.24 million in 2022.
Mobile payments are convenient for both users and merchants. Users can quickly and easily pay for a product or service using electronic money, and sellers receive payment directly to a card or account, no matter what the distance between them. There are several types of mobile P2P payment apps, including the following:
Bank-based apps, which involve a bank as a party to the payment.
Social media platforms that have built-in payment features to help transfer money without leaving an app.
Mobile OS systems, built-in mobile features of operating systems such as Apple Pay, Samsung Pay, Android Pay.
Standalone services are independent providers offering their own payment systems.
The development of their own payment apps helps companies to improve the quality of services for customers, and also allows them to save on fees and international transactions. Some companies are even introducing cryptocurrency payment functionality, expanding payment options for their users. Xion is a great example of such an application.
Blockchain and decentralized apps
Blockchain is another promising technology of recent years that has been widely used in various areas of development. Companies are adopting blockchain to create a secure, distributed database that provides transparency and system reliability. In a blockchain, all data is stored in blocks linked to each other by cryptographic methods, which ensures the immutability of the database. No one can change or delete information from a blockchain unnoticed, all data remains in the system.
Blockchain is an effective technology for creating cross-platform applications. Since it doesn't have a centralized hub that stores and controls data, users interact with each other, coming to a consensus, and transactions are approved. DApps, decentralized applications, are a great example of this. DApps work on the principle of smart contracts, but their applying is wider. One of their main advantages is the high level of user trust. Plus, they are easier to develop as developers don't have to re-create the app structure, they adapt ready-made properties to project requirements. This makes an app easier, and the development time is reduced several times. According to a report by Daap Review, in Q1 2020, the total transaction volume on 13 blockchains was $7.9 billion, an 82.2% increase over the first quarter of 2019.
Beacons technology
According to Statista, the beacon technology market will reach approximately $56.6 billion by 2026. Another Grand-view study claims that the Bluetooth beacon market will be worth $58.7 billion by 2025. While beacon technology is not new, it is still an effective way of communicating between a brand and customers using mobile apps. With beacons, merchants can optimize the online and offline presence of their companies, better understand user behavior, and deliver the most personalized messages possible. Let's remember how it works.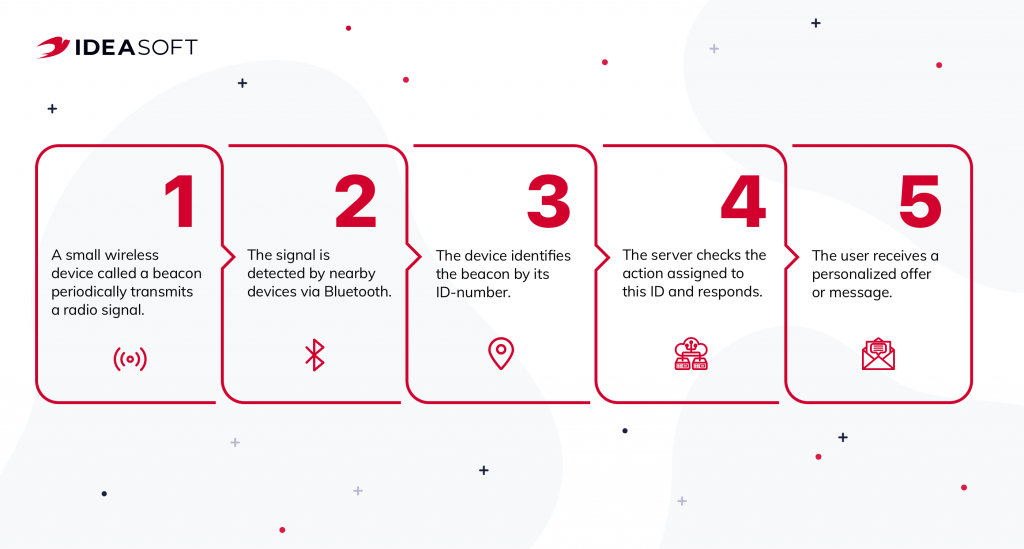 Beacons are of great value for the marketing and promotion of mobile apps. As soon as beacons are connected to users' devices, they can activate mobile apps and send information tailored to users' interests and preferences. Beacons are also used to welcome visitors to retail outlets, which increases the level of customer loyalty. Plus, they can locate consumers and guide them to points of sale. This is a great way to increase user engagement. Experts say that beacons are really an effective way to increase sales, so this technology continues to be actively used in the development of mobile applications.
In 2020, Google and Apple announced the COVID-19 contact tracing system, which uses Bluetooth to help reduce the spread of the virus. Nearby mobile devices with iOS and Android will exchange beacons with each other via Bluetooth, which include IDs, and then check them against information on the server about beacons of devices whose owners have tested positive for COVID-19. If a match is found, a user will receive a notification that he or she has been in contact with a new coronavirus patient, as well as advice on what to do next.
IoT-enabled mobile apps
The emergence of smart technology, including smartphones, smartwatches, smart home devices, has led to the idea to connect devices to create a system of information exchange and more efficient operation. Therefore, the Internet of Things is a popular topic today.
By connecting IoT with smartphones, we get a convenient tool for managing the entire smart network. With a network of interconnected devices, we can control the entire system using a smartphone remotely. Accordingly, the demand for IoT-enabled apps will grow with the increasing popularity of smart devices. Statista predicts that the global Internet of Things (IoT) end-user solution market will grow to about 1.6 trillion by 2025.
Mobile app trends to watch in 2022
With a high probability, we can say that the listed trends will be relevant in the coming years, and here are some extra trends for 2022.
5G Technology
5G has already become a reality, but a wide use of the 5G standard is still coming. The increase in Internet speed and traffic capacity opens up new opportunities for creating software that requires more power than what was previously available. For example, 5G is expected to become a new driving force in the development of IoT, as well as enhance AI/ML capabilities and ensure data security. So, mobile app developers should be prepared for 5G to become the standard that apps must meet.
Instant apps
Instant apps are a great way to showcase an app without having to download and install it. Such applications are launched without taking up a large amount of device memory. They were first developed by Google in 2016 and have received positive feedback from both developers and users. In 2020, Apple also rolled out an instant apps-like feature called App Clips in iOS 14. More and more mobile app developers are adopting the instant app feature because it helps increase conversions by offering a better user experience.
On-demand apps
On-demand apps have become a lifeline for busy people. You don't need to waste time looking for a particular product or service, and you can simply use your smartphone to quickly order what you need now. On-demand apps connect users and service providers. For example, Uber is one of the most successful cases of such applications. Also, you can find on-demand apps for food delivery, car rentals, personal health services, and so on.
Lockdown associated with the Covid-19 pandemic only increased the popularity of such apps, allowing users to order services from the comfort of their homes, and sellers have an additional channel to attract customers. According to Statista.com, U.S. consumers are spending $57.6 billion in the on-demand economy to cater 22.4 million users annually.
Protecting the privacy of user data
Apple announced that 'nutrition labels' will hit the App Store in December 2020. These labels give users an idea of ​​what data an app collects and for what purposes before downloading it. Nutrition labels are part of a series of new privacy features that Apple intends to implement to ensure the safety of its users.
Everyone wants to know that their data is securely stored and an app doesn't collect more information than it needs, especially when it comes to sensitive information in financial and medical applications. Regulation of this issue is in progress, and a step towards user safety taken by such a giant as Apple will definitely accelerate this process. So, data security and privacy protection will certainly become an important topic for mobile app developers in 2022.
Wrapping up
The mobile app market continues to grow despite everything. This is one of the most promising areas of development that adopts the latest technologies to create new progressive mobile solutions. With the increasing level of digitalization, we are getting more interesting and functional mobile apps that allow us to manage many aspects of our lives using smartphones.
In the coming years, mobile development will still be the epicenter of cool tech ideas for both developers and users. If you want to catch this wave and create an app for your business, we will be happy to help you. Visit our mobile development page to find out more about our services.
Also, we recommend reading How to Hire a Great Mobile App Developer by Toptal. Good luck with your project!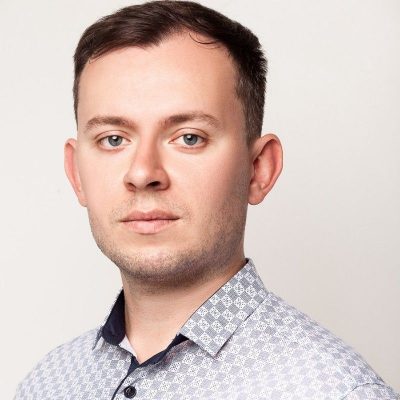 Viktor Legetsky
Managing Partner