Companies around the world continue to experience digital transformation with more and more businesses outsourcing their IT projects. Ukraine is becoming an increasingly popular outsourcing destination for those looking for software development partners. According to PwC, the Ukrainian IT market has grown 2.5 times recently. Many world-famous projects such as Grammarly, Depositphotos, Jooble, Nimses, Terrasoft were created by Ukrainian developers. In this article, we will look at the main reasons why outsourcing to Ukraine is in such demand.
Table of contents:
Ukrainian software development market
Let's take a look at the facts about the Ukrainian IT market that will help you understand why many companies have started outsourcing to Ukraine.
The outsourcing industry in Ukraine has been growing at a stable rate since the early 2000s. Despite the coronavirus global pandemic, so far in 2021 Ukraine's IT industry has grown 20%, and it's predicted to reach the $8.4 billion U.S. dollars of industry volume by 2025
In 2021, The British Global Sourcing Association named Ukraine the best country for outsourcing in its annual nomination. Other IT sector reports indicate Ukraine as one of the top 25 most attractive countries for software development worldwide and one of the top 20 outsourcing hubs in the EMEA. According to statistics, more than 100 of Fortune 500 companies have selected Ukrainian IT services for their business.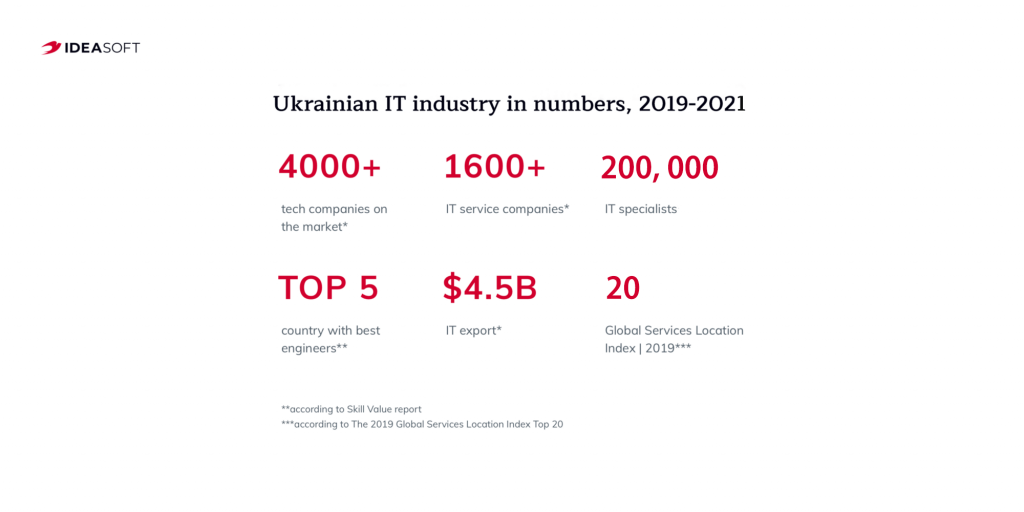 The Ukrainian IT market is an ever-growing business environment. In 2021 the number of software developers in Ukraine has grown to over 200,000, and by 2025 this figure is projected to approach 250,000.
5 reasons for outsourcing to Ukraine
If you're looking for the best outsourcing destination, you should know why IT outsourcing to Ukraine has become more popular in recent years. Let us consider the 5 reasons why so many global IT companies choose Ukraine to outsource their projects to.
Favorable economic environment
The country's GDP growth is around 3.5% per year, and since 2015 Ukraine has gone 20 positions up in the World Bank's Ease of Doing Business rating. The IT industry accounts for an estimated 10% of Ukraine's GDP, and therefore in recent years the government has implemented reforms that have created more attractive conditions for outsourcing to Ukraine. In particular, Ukrainian legislation allows IT companies to work with self-employed specialists who only pay 5% of their income and a monthly unified social tax, which is 22 percent of the minimum wage.
Time zone and culture
Compared to some alternative outsourcing destinations Ukraine is located in the center of Eastern Europe. Working with Ukrainian professionals will be comfortable as they adhere to many of the same values ​​that are reflected in Western work culture and mentality, including dedication and discipline.
Ukraine's time zone GMT+3 is convenient for nearshoring, given that it is only 1-2 hours ahead of most European countries, and for the USA the difference is usually between 7 to 10 hours. You can use this time difference for non-stop product development. In addition, Ukrainian companies often work on flexible schedules, so it will be easy to establish a stable workflow and communication process.
The country has a favorable geographical location for IT development outsourcing and business trips. A flight from most European capitals to Ukraine takes about 2-3 hours, and travel is mostly visa-free. Citizens of 64 jurisdictions, including all European citizens and the citizens of the USA and Canada can enter Ukraine visa-free and stay for up to 90 days in a 180-day period.

A large pool of skilled developers
More than 20,000 tech students graduate from Ukrainian universities annually. Many of them are taking internship programs at IT companies in order to receive a job offer afterwards. Around 75% of Ukrainian developers have a higher education degree, 6.3% have two degrees, and 1.5% hold an Sc.D, according to statistics. Also, in the IT Skills 2021 report, Ukraine ranks 6th among countries whose developers have received the highest scores in coding tests. In addition to traditional education, there are a large number of IT courses. There are about 120+ courses in programming, QA testing, and UI/UX design in Kyiv alone.
Ukrainian developers work with a wide range of technologies that meet the needs of the market. According to DOU, 2020 was the first year JavaScript had outrun Java and became the number-one programming language in the Ukrainian development community. Over 18% of software engineers used it as their primary language in 2020, and more than 41% named it as an additional programming language. When it comes to frameworks and libraries in use, React.js, Node.js, and Angular.js are the top three in the popularity chart.
Industry growth
The quantity of IT outsourcing services export in Ukraine has grown steadily over the last few years: 29.3% in 2018, 31.4% in 2019, and 20.4% during the worldwide pandemic in 2020. The main areas in which the Ukrainian IT market is developing are Telecom, FinTech, MedTech, Artificial Intelligence, Blockchain, security, SaaS, enterprise software development, mobile apps, and games.
Often, software development companies in Ukraine that work for Western clients grow into fully-fledged R&D centers whose creators know why outsourcing to Ukraine is a great option. Ukraine hosts more than 100 R&D centers for global tech giants: Apple, Microsoft, IBM, Samsung Electronics, Skype, Ericsson, Oracle, Boeing, Siemens, Magento, and more.
The number of software companies in Ukraine has increased from 1,050 in 2011 to 1,650 in 2020, and 18 Ukrainian IT companies are featured in the world's top 100 best outsourcing companies. There is a large pool of Ukrainian software outsourcing firms of any size that provide specialized services for any business domain, from small teams to companies with 7500+ employees.
Also, there is Ukraine's strong startup community with over 4,200 startups in the country. The total venture capital investment reached $258 million in 2017 and $510 million in 2019, according to Deloitte, and has been growing steadily.
Cost efficiency
Reasonable developer rates are also one of the main reasons why outsourcing to Ukraine is booming. Companies can reduce their software development costs by 2-3 times by outsourcing their projects to Ukraine, getting the same product quality. We prepared data on the average hourly rate for software developers in different countries. According to YouTeam, the landscape of software development rates looks like this: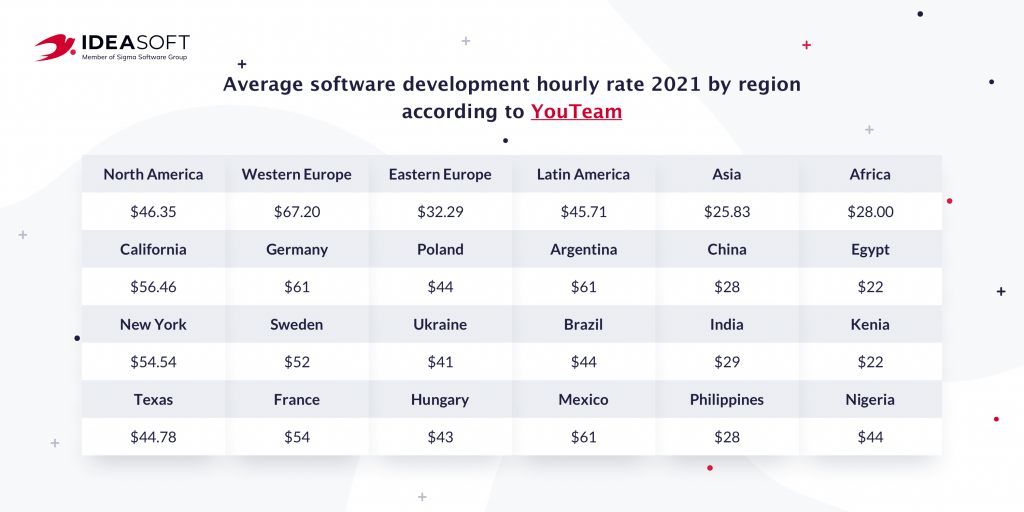 Which cities in Ukraine are the best for outsourcing
The IT industry is actively developing throughout Ukraine due to a large number of universities and an ever-growing amount of new software development companies. To better understand which cities in Ukraine are the best for outsourcing, consider the 5 biggest Ukrainian IT hubs.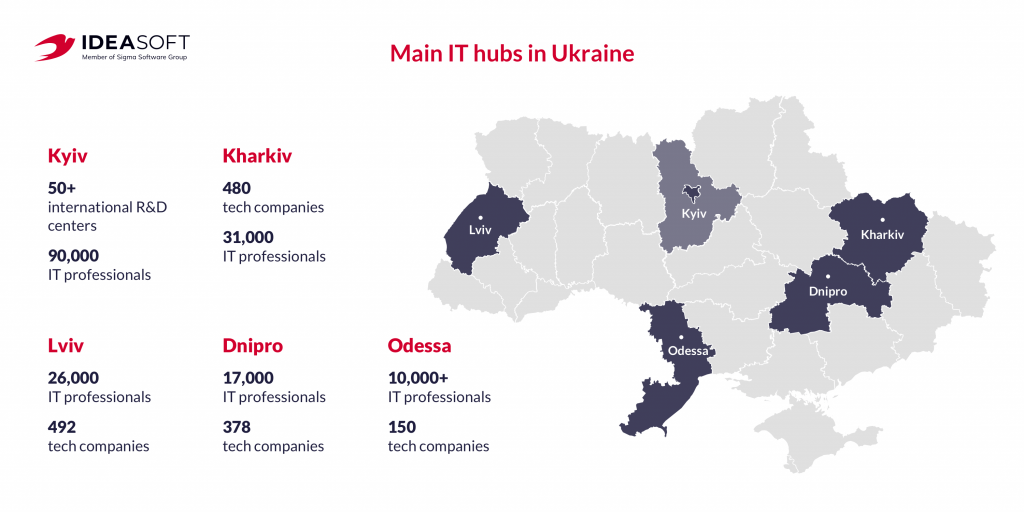 Kyiv
As the capital of Ukraine, Kyiv is a central administrative, cultural, and scientific hub of Ukraine. Many global enterprises such as Samsung, Huawei, Ericsson, NetCracker, and others have R&D centers in the capital. About 40% of all Ukrainian developers work in Kyiv. There are more than 78,000 IT professionals. This percentage is motivated by the high quality of local technical universities and the huge number of IT job openings. The most prominent sector here is IT outsourcing, presented by a huge number of software development companies.
Kharkiv
Kharkiv is the second-largest city in Ukraine with 1.5M citizens. It is one of the most industrialized places in the whole country and is home to many prestigious technical universities, graduating more than 2,000 technicians annually. For most market-leading software development companies, having an office in Kharkiv is a common practice.
The city is home to over 31,000 tech specialists and around 480 IT service providers. Many Kharkiv software development outsourcing companies cooperate with clients in the U.S. to a large extent, and the U.S. market accounts for nearly 65% ​​of all IT exports. Kharkiv developers are skilled in popular programming languages ​​and frameworks. Therefore, it is not surprising that Kharkiv is the birthplace of GitLab, the first Ukrainian unicorn.
Lviv
Lviv is the biggest city in Western Ukraine, as it houses more than 800,000 people. Lviv specialists have more of a Western mindset and are used to communicating with foreign customers. According to data gathered by DOU, the city takes third place in Ukraine by the number of programmers - over 26,000 developers are employed in the IT industry. Over 450 IT companies have offices in Lviv and 90% work in the IT outsourcing sector. More than half of all the outsourcing enterprises distribute their services to the US and Canada, 35% to European countries and the UK.
Dnipro
Dnipro is the fourth most populous city located in the Eastern part of Ukraine. It has over one million citizens. There are about 370 IT companies in Dnipro employing over 17,000 IT professionals. In addition to the specialists who are currently working, the number of developers is expected to double by 2025 due to graduates of local universities.
Odesa
Odesa is located on the seaside of the Black Sea, and it is one of the fastest-growing Ukrainian startup hubs. As DOU reports, Odesa is home to around 150 IT companies engaged in various industries with an IT talent pool of over 10,000 IT professionals.
IdeaSoft outsourcing software development services
Now that you know why outsourcing to Ukraine is in demand, let us tell you how we can help your business grow.
IdeaSoft is a Kharkiv-based software development company providing a wide range of services from business analysis, UX/UI design to programming, testing, and support. In 2021, IdeaSoft became part of the Sigma Software Group, one of the biggest IT companies in Ukraine. With a skilled in-house development team and deep expertise in blockchain, our goals are to deliver outstanding products, modernize systems, and implement emerging technologies to ensure better business outcomes. The company's clients include more than 250 international startups and enterprises from the USA, Germany, UK, Canada, Israel, Australia, Argentina, and others.
We provide the following services:
IdeaSoft is featured in the ratings of Top Blockchain Development Companies, Top Mobile App Developers, Top B2B Companies in Ukraine, Top Global Development Companies, and Top Custom Software Development Companies.
If you are looking for an outsourcing software development partner, feel free to explore our services and offers. We will be glad to become a part of a new promising project and will do our best to help you achieve your business goals. Check out our portfolio or contact us directly to discuss your project.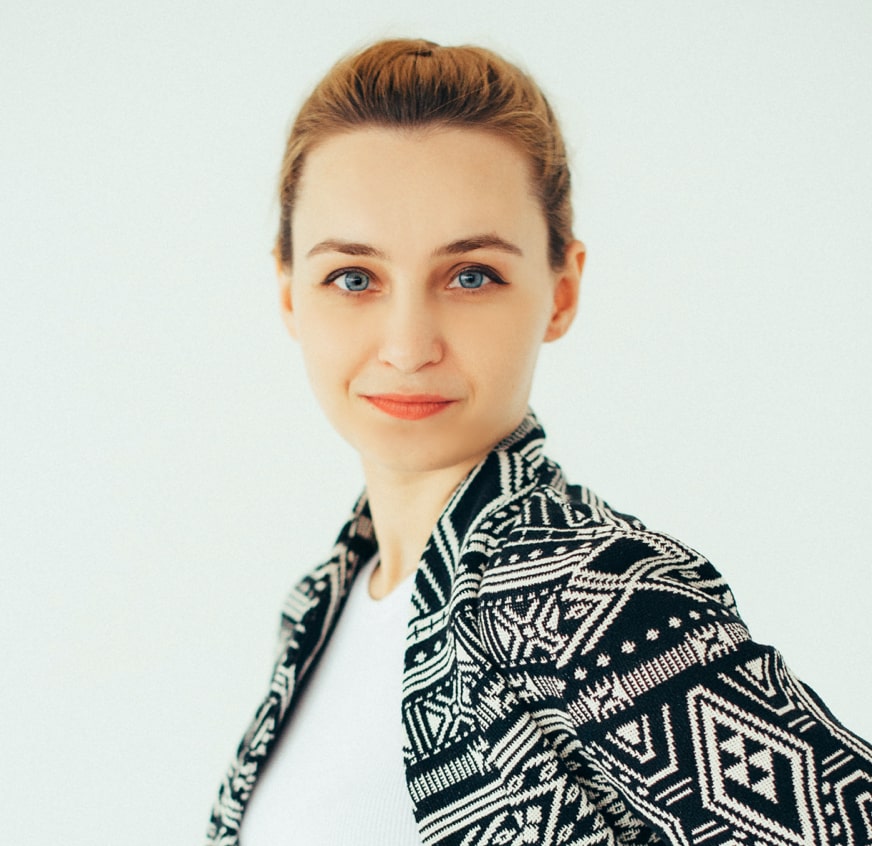 Yulia Shmitko
Business Development Officer