One of the most exciting things about Fintech is the rapid development of the industry despite economic and regulatory challenges. This is probably the main reason why the number of Fintech projects is growing every year, bringing new progressive solutions to the financial sector. But to implement a good business idea, you need not only advanced technologies, but, more importantly, a talented development team capable of creating a high-quality and law-compliant software product, and in this article, we will tell you how not to make a mistake when choosing a Fintech software provider.
Table of contents:
Fintech market overview
The Fintech market has been actively developing since 2018. The emergence of innovative Fintech projects positively disrupted the entire industry, offering completely new efficient financial systems. Even economic challenges only strengthen the development of Fintech. Look what happened last year. Not only did COVID-19 not harm the industry, but it has accelerated changes in how people interact with financial services, increasing the demand for digitizing finance. Digital payments, digital savings, and WealthTech have become the main fintech trends in 2020. Fintech companies themselves are also experiencing changes. According to a joint study conducted by the Cambridge Center for Alternative Finance (CCAF) at the University of Cambridge Judge Business School, the World Bank Group, and the World Economic Forum, 60% of firms surveyed reported launching a new product or service in response to COVID-19, and another 32% plan to do so.
Industry growth is predicted by other studies as well. According to The Business Research Company, the Fintech market is expected to grow to $191,840.2 million in 2025 and $325,311.8 million in 2030. Along with tech companies and traditional financial institutions transforming their services to meet customer needs, investors are also active players in the market. As reported by CB Insights, $24.6 billion was invested in the development of Fintech projects back in 2019. For the implementation of projects, companies most often turn to outsourcing. And this is not surprising. Fintech product development requires extensive expertise, which will take you a lot of time and money to grow it within a company. Outsourcing helps provide cost-saving and faster outcomes.
Where to look for a Fintech development team
By turning to outsource, you open up a huge world of software development where there are no geographic boundaries. You can choose a Fintech software provider from any corner of the world based on the price and terms of cooperation that are acceptable for you. So where to start looking for a development team? The easiest way is to google it. You will find many sites of software providers in the search results. You can draw them out and find out more about the activities of the companies. However, the owners of Fintech projects need more guarantees, since the development of a financial project requires experienced specialists and an understanding of Fintech regulation. Specialized sources will make it easier for you to find a development team providing you with company profiles on independent sites.
So we can highlight 3 groups of resources to find Fintech software developers.
The first group is the directories of companies providing business services. On such sites, you will find full company profiles with examples of projects, developer rates, links to corporate sites, customer reviews. The advantage of such directories is that they are independent. Representatives of the platform moderate all reviews, so you can be sure of their reliability. Also, such sites have simple and convenient search navigation that lets you filter companies by type of service, region, rate, etc. Finally, many directories create their software provider ratings to make it easier for business owners to choose a development partner. Examples of directories are Clutch, GoodFirms, CrunchBase, TopDevelopers, Techreviewer, and others.
The second group is freelancer websites. Usually, independent specialists who are ready to work on a project are registered on such sites. However, there you can also find representatives of outsourcing companies promoting their services. If you have your own development team and just want to expand, then this is a great option for you. But if you want to completely outsource the project, then it is better to look for developers on sites from the first group. Examples of freelance platforms: Toptal, YouTeam, UpWork.
The next group is business forums and Q&A platforms. On such sites, specialists from software companies often share their experiences and lead their columns. You can create a request, describe your requirements and wait for someone to respond to your question, or find the right people in answers to similar questions already posted. The most popular examples of Q&A platforms for the software development industry are Reddit and Quora.
The resources for finding Fintech development companies are not limited to the above list. For example, you can add LinkedIn here as one of the top networking platforms. Any site will provide you with a huge number of options, and more importantly, you will need to choose the best provider from these many to ensure the success of your project.
Features of a Fintech project
Each industry has its specifics. Fintech is no exception. It is a fairly dynamic and innovative industry that offers new approaches to financial management. Based on this idea, many Fintech project owners put the tech stack at the center of the development team's selection. For example, technologies such as blockchain, artificial intelligence, machine learning, cloud computing, which are used in Fintech, require developers with extensive expertise and vast experience in their implementation. However, the bar is raised even more when other features of Fintech projects are added to the selection criteria for the development team.
Security
Security is a key feature of any Fintech product. Financial companies work with sensitive customer data and so they are the number one target for fraudsters. Loss of data is a threat to the loss of reputation and customer trust. Therefore, companies are forced to pay special attention to ensure the security of transactions and protect the customers' data. Your development team needs to understand this perfectly to make security a priority. When starting a conversation with an outsourced software development provider, immediately discuss what security features the team can offer you. Make sure they take this matter seriously.
Traditional ways to protect Fintech applications include encryption sensitive data, tokenization, multi-factor authentication (SMS confirmation code, or biometrics (fingerprint, face, etc.), integration of multi-step approval processes for key actions, run time app self-protection, compliance with security protocols, and more. You can implement AI technologies for operational tracking data and finding patterns of unauthorized transactions to prevent them in the future.
Regulatory compliance
Compliance is the second crucial issue for a Fintech project and it is also a security element. You should keep in mind that there are no universal rules and standards that apply everywhere. Therefore, before proceeding to the development of a Fintech project, study the legal framework of the region where you are going to promote your product. Regulatory compliance will reduce the risks of your clients by increasing their level of trust, as well as protect you and your reputation as it allows you to meet industry standards.
For example, in the European Union, you have to comply with the GDPR, which means that you can only work with personal customer data for a specific purpose and inform your customers about it. Fintech projects must also comply with anti-money laundering (AML) laws. AML compliance includes the development of documents and procedures to ensure that the company's activities comply with current legislation, protection of information flows, and counteracting fraud and corruption.
Implementing KYC (Know Your Customer) is another very important step in reducing risks and increasing the effectiveness of control because it will allow you to be sure that you are working with respectable customers who don't break the law. If your project is related to cryptocurrencies, study blockchain regulation in the region you intend to work. It is better to implement all the necessary features required by state standards at the stage of product development to launch a fully relevant product on the market and gain user trust. Make sure that your development team knows how to do this.
Criteria for choosing a development team for a Fintech project
There are many criteria for choosing a software development provider. You probably have the ones that you use when researching outsourcing companies. However, based on the specifics of Fintech projects and the high requirements for developers of such projects, we advise you to first of all pay attention to the following criteria.
Expertise
So, we mentioned that the development of a Fintech project requires a lot of expertise. Your team should not only be able to write code but also be well versed in the specifics of the industry to build the right architecture and make the product fully compliant. Of course, no one tells you that all developers on your team must have a master's degree in finance, but a team lead or lead engineer should have experience working with financial products. The easiest way to check the expertise is to study the company's projects, but we'll talk about it later.
The main key to success is choosing a team with relevant experience for you. You don't necessarily need the most top-notch company on the market. You need a company with experience in developing Fintech products and the technical stack you need.
Therefore, to begin with, we advise you to make a detailed list of requirements. Describe the features you want to see in your application or platform to understand which developers you need. Choosing an experienced provider will help you minimize the risks associated with creating a new product and achieve cost-effectiveness. Read our article How to reduce software development costs to find out more about it. 
Delivered projects
The company's delivered projects are the main indicator of its success. When choosing a software development partner, ask for the company's Fintech projects portfolio to find out what types of products the team worked with. Probably, you can find projects similar to yours in the portfolio and assess the level of their implementation. When a company has experience with a wide variety of projects, its expertise grows. Engineers not only know how to implement this or that feature but can also bring fresh ideas based on what they have learned from past projects.
Obviously, software development companies can't talk about some of their projects. Fintech is an industry where clients often ask for NDAs. If this point is also important to you, do not forget to request an NDA before starting to discuss your project.
Cybersecurity requirements
As we already said, security is a priority for any Fintech product. However, to implement the necessary security features and protect you and your customers from data loss, a development team must take this issue seriously. Make sure that the development process in the company you are going to work with meets all cybersecurity requirements.
Proper software security practices can prevent many future security problems. Therefore, your development team must comply with coding standards, especially if it works with complex programming languages ​​that allow wider interpretation and do not have built-in mechanisms for detecting errors. Also, if open-source software is used for product development, the development company must ensure that the open-source software complies with the company's security policy. Most importantly, the team must be aware of their role in mitigating risks and ensuring security.
Clients reviews
You may or may not believe reviews, but it's best to study the customer feedback about the company you intend to work with. This will help you to know the strengths and weaknesses of your potential development team. You can find reviews on independent sites like Clutch or GoodFirms if you don't want to read the ones posted on corporate sites. For example, Clutch asks users to provide detailed feedback on a company's work, including details of the development process, impressions of collaboration, and results achieved. Moderators verify all reviews to make sure they are from real people. For example, here's what IdeaSoft's profile on Clutch looks like.
Company capacity
The size of your development team can change at different stages of the development process. Make sure that the company has the necessary pool of engineers and other IT specialists capable of covering the tasks of your project. Your developers must have the appropriate expertise and seniority level.
We also recommend choosing a company that provides a full cycle of software development services from market research and design to coding, testing, and support. Working with one team throughout the entire software development process has a lot of advantages. Firstly, you will work with people who know your project with all its features from the very beginning. Secondly, within the same company, different departments have experience of working together, it is easier for them to maintain communication and transfer your project from one stage to another. For you, working with one team will be more cost-effective and more comfortable.
How IdeaSoft can help you with your Fintech project
IdeaSoft has extensive experience in the development of Fintech projects of various complexity levels. We use the latest technologies such as blockchain, AI, ML to transform financial systems and create innovative Fintech products. Our expertise has been proven by over 250 successful projects over the past 5 years. Working with Fintech projects for different regions, the IdeaSoft team is well versed in the specifics of providing Fintech services in different countries. Security, multidisciplinary professionalism, a combination of new and proven solutions are the foundation of our approach to software development. So we can help you create any kind of modern Fintech software. 
Feel free to check out our delivered projects and contact us to speak with a technical specialist.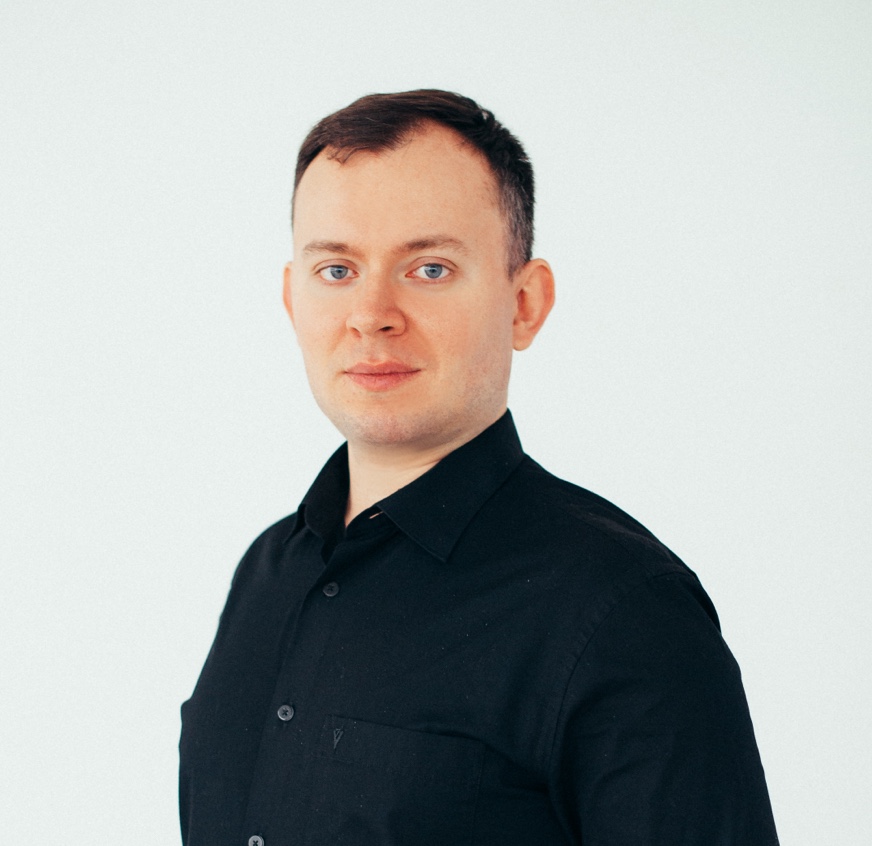 Viktor Legetsky
Managing Partner