The insurance industry has changed significantly in recent years, taking a step towards digitalization. Improving agility, customer focus, the introduction of advanced technologies, and the emergence of new market players made it one of the high-growth industries in the world. Research by CB Insights confirms this by claiming that insurtech funding has increased by 60% in the US over the past 3 years. But where will this budgeting go and what to expect next? Let's figure out what the future holds for insurance and what are the key insurance technology trends in 2022.
Table of contents:
Insurance technology trends that are shaping 2022
2.1 Implementation of AI-based solutions in insurance
2.2 DLT and blockchain in insurance
2.3 New user experience with mobile apps
2.4 Cybersecurity insurance
2.5 Predictive analytics in insurance
2.6 The rise of InsurTech
COVID-19's impact on the insurance industry
Covid-19 has burst into our lives and changed our reality. However, at the same time, the lockdown accelerated the digitalization efforts of companies and forced them to take a closer look at the needs of their сustomers. The insurance industry is no exception. According to Bain&Company's survey, digital adoption in insurance grew 20% globally over the past year.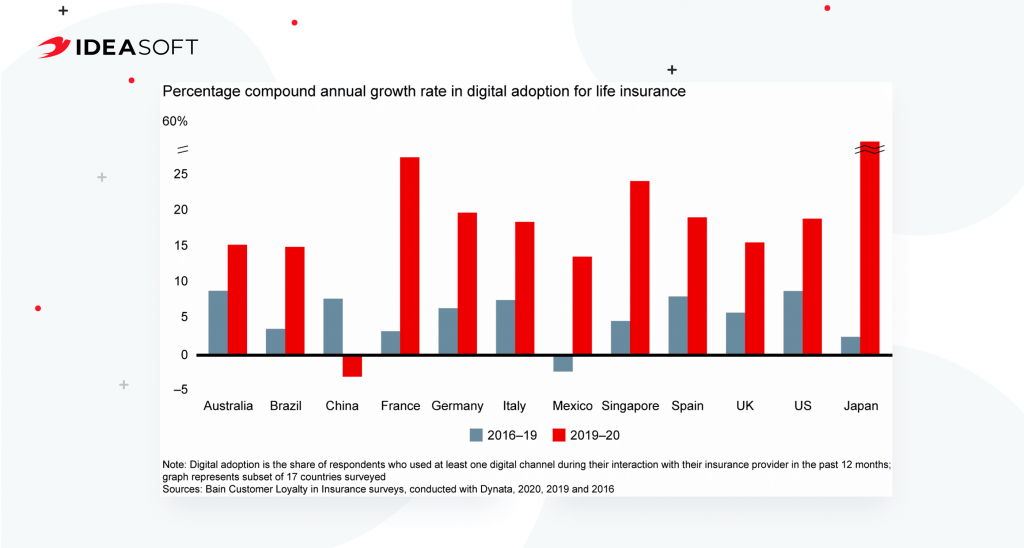 Digitalization has affected the entire insurance policy cycle, from filing claims to servicing digital policies. A TransUnion poll showed that almost half of respondents prefer issuing policies and communicating with insurance providers using online tools such as websites, mobile apps, and email. Plus, under lockdown, insurance companies were forced to look for new digital ways to stay in touch with their customers. Both parties are positive about technology engagement, as digitalization improves many processes for both insurers and the insured. For example, automatic status updates reduce inquiry calls, and digital apps reduce the number of incomplete forms. Automation will also enable companies to lower costs and offer customers more streamlined and personalized services.
Insurance technology trends that are shaping 2022
Insurance tech trends have a lot in common with fintech trends, since both industries are related to providing financial services. Technologies such as artificial intelligence, blockchain, mobile are becoming the basis for creating the most advanced insurance software solutions.
Implementation of AI-based solutions in insurance
When we talk about the main technology trends of our time, artificial intelligence comes first. Usually, businesses use AI to conduct operations in a faster, cheaper, and more accurate way. In insurance, this technology has the potential to make almost anything from customer service to fraud prevention more efficient. According to Juniper, total insurance premiums generated by AI will reach $20.6 billion in 2024.
Today's insurance companies are using AI to better analyze data and deliver more personalized services based on it. With this technology, a company can gain access to customer data through smart devices, location-based sensors, site sensors, and geographic information systems. This way insurance companies can take into account the characteristics of each individual client and create flexible contracts that meet the needs of the client. For example, by analyzing vehicle telematics data with machine learning algorithms, insurance companies use AI-based solutions to create personalized risk profiles for drivers. Chatbot implementation will also enhance the user experience by making it possible to process submissions, check details, and perform other common operations much faster.
According to AllTheResearch the global artificial intelligence in the insurance market ecosystem is expected to reach $4.5 billion in 2026. Leading insurance companies already use AI technology for insurance claims, payments, claims analysis, asset management, risk calculation, and more.
DLT and blockchain as one of the insurance technology trends
Blockchain is another widely debated technology. Its advantages such as transparency, security, and immutability make it attractive to many industries. For insurance, blockchain is an excellent tool that can help insurers reduce the administrative costs associated with handling claims and verifying payments made by third parties. Blockchain provides data sharing and at the same time strong protection against fraud. All information in the distributed ledger is recorded as blocks linked to each other. This provides traceability, which helps simplify inspections. Cryptographic protection methods make the technology highly reliable for data storage and transmission.
Accenture reports that the global market for blockchain technology in insurance will grow to $1.39 billion by 2023. According to MarketsandMarkets at this time, the distribution of blockchain solutions by directions will be as follows: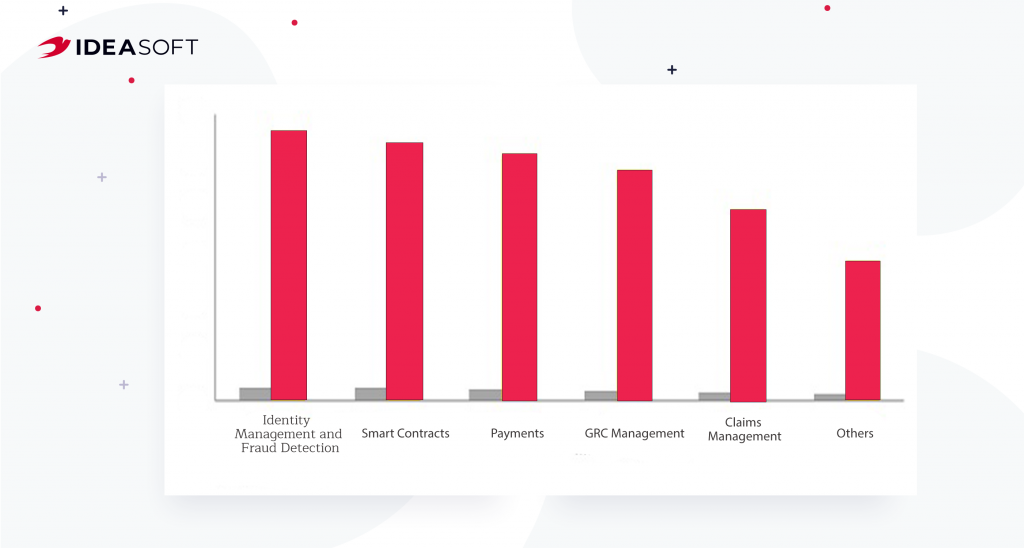 The medical industry uses smart contracts on the blockchain to quickly verify reinsurers and insurance history, thereby reducing frequently asked questions and lower administrative costs. Self-executing contracts can also provide peer-to-peer insurance where it is much easier to receive claims and where the return of all remaining funds to the pool members is guaranteed at the end of the coverage period. Companies like Lemonade and Guevara already offer similar systems to their customers. New approaches to insurance based on blockchain technology will help to meet growing customer expectations for increased privacy, more innovative products, and competitive pricing from their insurers. Therefore, blockchain development is in great demand among insurance companies.
Better user experience with mobile apps
A modern person cannot imagine life without smartphones, as this is a convenient way to solve many issues, from communication to shopping and making payments. According to Statista, global mobile app revenues will grow to $935.2 billion by 2023. With such rapid growth, the insurance industry simply cannot ignore mobile apps. J.D. Power's study shows that 74% of insurers have a mobile app that allows policyholders to access and manage their policies and claims information on the go. Moreover, customers who use mobile apps have been shown to experience greater satisfaction than those who use desktops or mobile browsers to interact with their insurance companies.
Mobile app development for insurance is especially popular for the last couple of years. With the help of a mobile app, clients can independently issue an insurance policy in a few clicks or receive an online consultation. Plus, mobile applications provide continuous communication with customers, allowing the collection of information about users and offering them personalized offers. For example, companies such as Allstate Drivewise and GEICO have created mobile apps that make it quick and easy to submit a claim, pay and manage bills, and manage claims using a smartphone. Allstate Drivewise also enables clients to submit a quick photo claim and speed up the request review process.
Cybersecurity insurance
Unfortunately, the past year of uncertainty and isolation has created favorable conditions for the growth of cybercrime. Coalition, one of the largest cyber insurance providers in North America, saw a 260% increase in ransomware attacks among policyholders in the first half of 2020 alone. As a result, cybersecurity insurance received more demand for covering a business's liabilities in the event of a data breach involving sensitive data. According to P&S Intelligence, the cyber insurance market will grow from $5,573.2 million in 2019 to $70,671.9 million by 2030. Munich Re also expects the global cyber insurance market growth and predicts it to reach a value of more than $20 billion by the year 2025.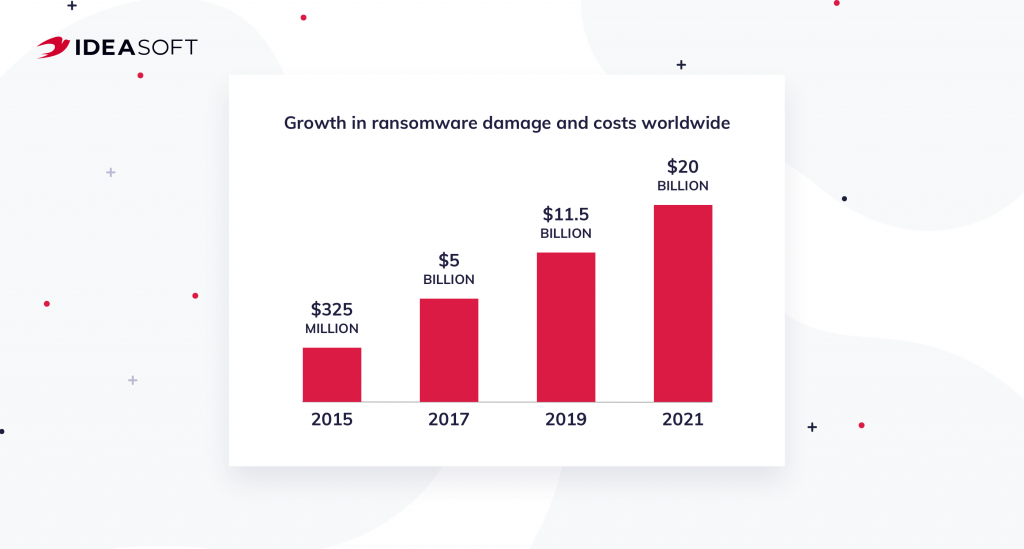 According to statistics, the greatest demand for cyber insurance comes from the most attacked industries such as IT, healthcare, manufacturing, financial, and service companies. In addition to investing in cybersecurity insurance, experts also insist that companies develop their own cybersecurity programs to prevent fraud. Therefore, overall investment in cybersecurity software solutions will also increase.
Predictive analytics
The development of predictive analytics systems is on the rise. By collecting customer data, insurance companies better understand their customers' needs and can provide better services to them. Along with increased user satisfaction, this approach allows companies to achieve more accurate risk assessments and stable profits. Insurance companies can collect data from customer interaction systems, telematics, agent interactions, smart homes, and social media to better understand and manage customer relationships. COVID-19 has shown insurers that the ability to predict changes can help them effectively identify and enforce rate changes and new products.
Identifying customers at risk of cancellation, determining claims that don't meet requirements, predicting the risk of fraud, identifying potential sales markets, providing a personalized user experience are the benefits that a company gains with effective analytical tools. In this context, AI becomes an excellent solution, as it allows you to quickly process large amounts of data and provide the best solutions for customers.
The rise of InsurTech
The development of InsurTech is worth mentioning separately. According to ResearchAndMarkets.com global InsurTech market revenue is expected to reach 10.14 billion by 2025, growing at a CAGR of 10.80% during the period 2019-2025. While traditional insurance companies are working hard to digitize their services, they find it difficult to quickly transform established systems and introduce new technologies. Against this background, the emergence of young tech startups looks more progressive. Especially in isolation, when insurers are focusing their efforts on digitalization. So it's not surprising that according to the World InsurTech Report 2020, 67% of insurers want to collaborate with InsurTechs.
Most of the insurance industry will move to InsurTech in 2022, experts predict. All retail insurance products, whether life insurance or other products, will be digital, and auto insurance will have technologies that will dramatically change the current landscape. According to Deloitte, InsurTech investments in the first half of 2020 look as robust as they did last year when raised funds hit a record high. So this year we can expect a rapid development of the industry.
The bottom line
Covid-19 has largely created favorable conditions for the development of the insurance industry, accelerating the process of technology adoption and digitalization of insurance services. Experts predict an active transition of insurance companies to InsurTech in 2022. Technologies such as AI, blockchain, mobile will be on the rise. To stay competitive in the market, insurance companies will apply them to personalize their services and meet the needs of customers. It is difficult to say how quickly the insurance industry will be able to transform and meet the requirements of the new normal. Probably 2022 will clear things up. One thing is certain, modern insurance companies need effective innovative software solutions that will help them grow.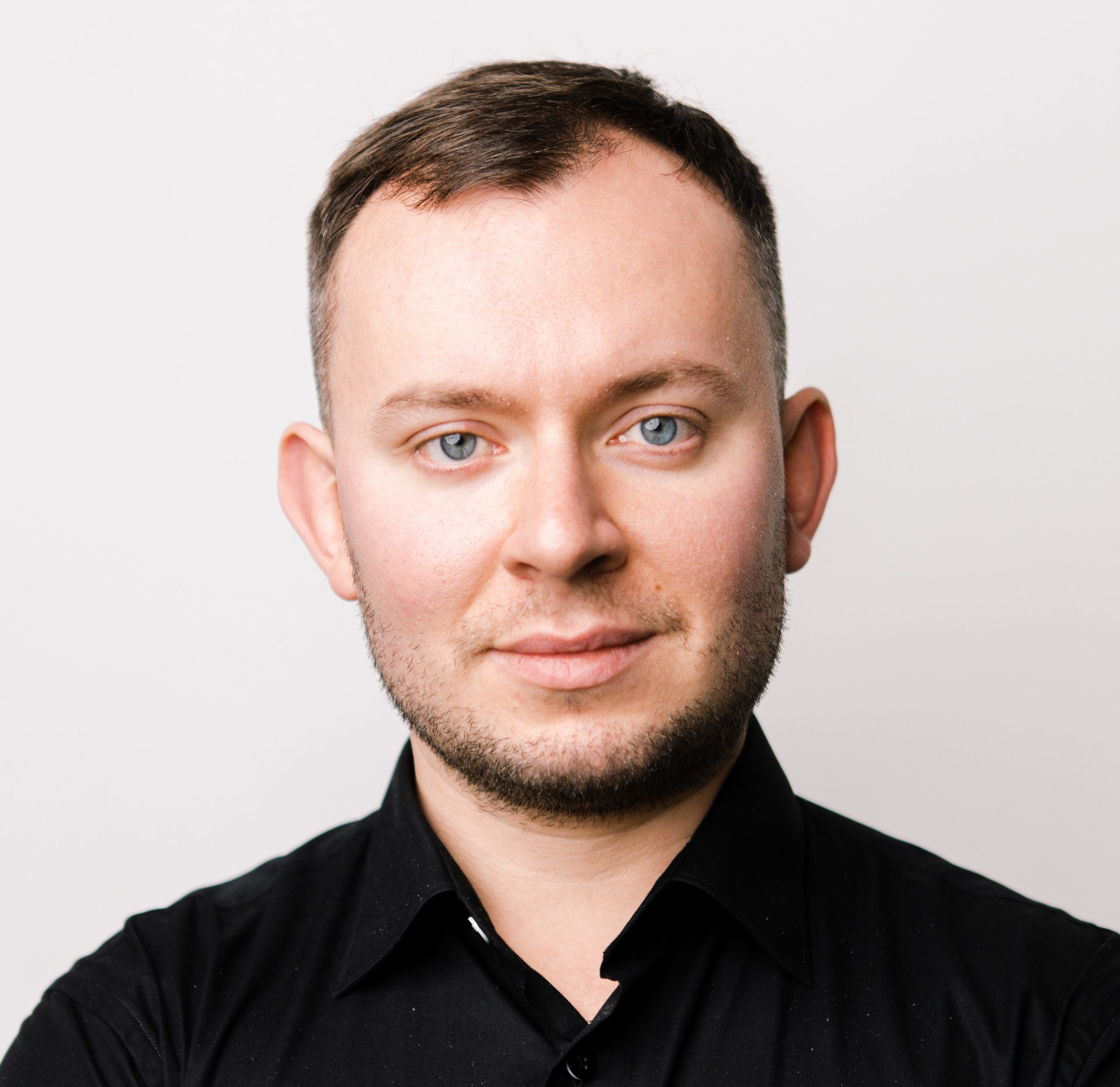 Viktor Legetsky
Managing Partner