QR-code payment is not new, but a simple and safe solution, which has gained a new wave of popularity during the Covid-19. And the forecasts of experts say that this is not the limit. According to AksjeBloggen.com, global payments via QR codes are expected to reach $2.71 trillion by 2025. This is why more and more businesses think about QR code payment system development. In this article, we'll talk about how QR-code payments work and how to create a high-quality QR code payment system.
Table of contents:
What is a QR code payment system and how does it work
The times when stores needed a terminal to accept cashless payments from customers are over. Now it's enough to set up QR code payments. This way, sellers save on acquiring while customers without wallets or cards pay for goods with their smartphones.
QR codes were invented in 1994 at the Japanese car factory Denso Wave, a subsidiary of the giant Toyota. They were developed to increase the speed of component scanning in auto parts factories and distribution centers (with conventional barcodes, productivity was low). Until 2002, QR codes were used only in this industry. But everything has changed when the first cell phone with a built-in QR code scanner hit the market. Codes began to appear on goods in stores, in TV commercials and magazines, in museums and tourist sites, and even in cemeteries.
Today, people can pay for purchases and accept payments through QR codes. It works quite simply. QR codes encrypt the details, amount, and purpose of payments. A buyer simply opens a banking app or any other, scans the code with a smartphone camera, confirms the payment, and receives a receipt by e-mail. That's it.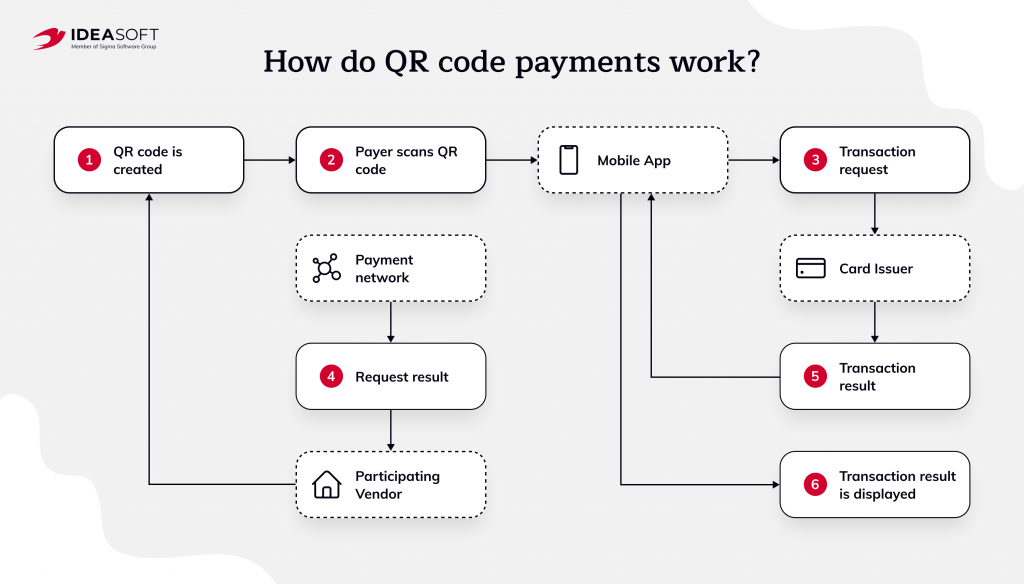 QR codes for retail and online stores are generated by the bank where the merchant has a bank account. There are three types of QR codes:
Static (reusable). When a code contains only a merchant's details, it's static. The desired amount is entered by a buyer before payment. The QR code can be printed and posted next to the cash register or goods, and it is created once.
Dynamic (disposable). This type of QR code has both the amount and payment details. It is displayed on a screen or printed on a check. For example, in some coffee shops and restaurants waiters show visitors the QR code from their smartphones so they can scan it with their devices. Dynamic QR codes are created for each specific purchase.
Customer-presented (individual). This QR-code can be generated by a buyer himself and presented to a seller. In this case, the seller uses a scanning device to read the code. After this, the specified sum for purchase is sent to the seller`s bank account from the buyer`s bank account.
Payments with QR codes for business are rather a step towards customer convenience. Although, if every second visitor will choose this method of payment instead of a bank card, owners of stores will also be able to save on acquiring costs. The main advantage of QR codes for offline business is that it is easier and cheaper than purchasing a payment terminal:
You don't need any additional equipment – an app on a smartphone will be enough.
Instant crediting and refunding (in acquiring, withdrawal of funds may take several days, but here it takes seconds).
Lower transaction fees.
Many businesses see great potential in QR codes and order QR code payment system development. In addition, the restrictions associated with Covid-19 returned QR code payments to the list of the main banking trends for 2021.
Advantages of QR code payment systems
QR codes are becoming a part of our everyday lives. Experts say that this way of payment will compete with contactless payments via NFC for a long time. The obvious competitive advantages of QR-payments for merchants are the following:
Savings. Merchants save some of the profit they spend on acquiring and terminal maintenance.
Easy connection. QR payment suits both retailers and online sellers. It can be connected to special tax regimes. It's enough to set up QR-code payments once. No need to buy additional equipment or create a new online store site.
Quick money transfer. When transferring via QR codes, money is credited to a merchant's account in 1-3 seconds after a buyer scans the code and confirms the payment in the QR code mobile app.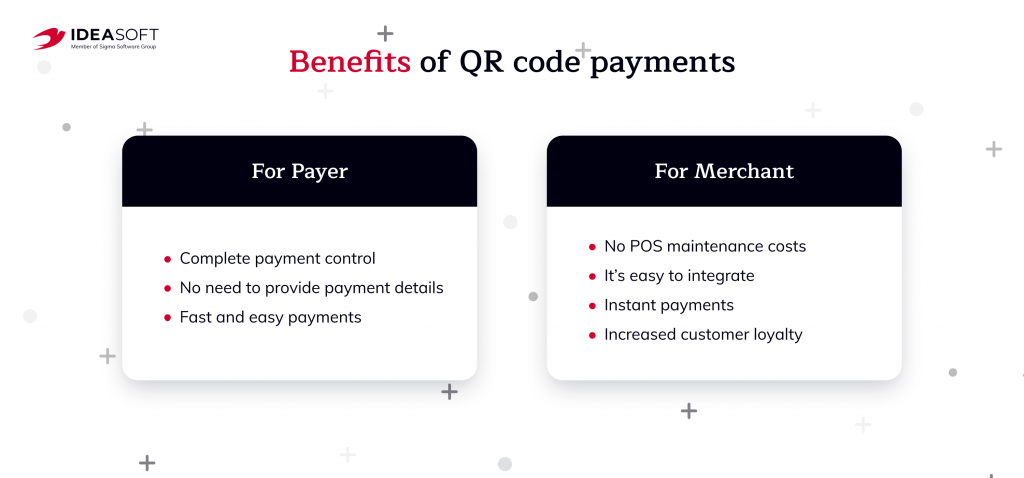 The obvious competitive advantages of QR-payments for buyers are:
Accessibility. Any smartphone with a camera and a banking app can make QR payments. This method is more accessible than a contactless payment which is not available on every device.
Security. To pay with a QR code, you don't have to enter bank card numbers, like with Apple Pay or Google Pay. This means that buyers will be confident that their data is safe.
So, as we can see QR code payments are a more convenient, secure, and easy alternative to the popular ways of payment. Some businesses are using this type of payment for more than 10 years and don't plan on giving it up.
QR code payments use cases
In Europe, QR codes are already widely used in the following industries:
Marketing and advertising (a person can scan a code from a product package and get a discount).
Education, tourism (by scanning a code from a ticket, a person can get a link to additional information, for example, about an excursion).
Banking (payment of taxes and payment for services at retail outlets).
In 2012, Bank of America launched QR Code payments. This works as follows: a retailer produces a receipt with a QR Code while a customer scans the QR Code to complete the transaction.
In 2015, Walmart launched a QR code-based mobile payment app, Walmart Pay. To make a payment, users log in to their Walmart Pay app and scan the QR Code shared by the cashier. In 2017, one of America's leading retail stores, Target also launched its own payment app, supporting QR-code payments.
QR code payments are very popular among restaurants. For example, Split Bread restaurant has a QR code placed on each table. Guests can scan the QR code to view the menu and place their orders. Besides this, guests can also make payments for their meals via this QR code.
QR code payment system development
If you want to diversify the methods of payment for your goods and services or want to create a payment application that supports QR-code payment, you have many options to do this. For example, you can order QR code payment system development from the IdeaSoft team.
Here are examples of how you can implement the QR code payments feature for your business.
Develop an integrated QR code-based mobile payment system that connects a user's bank account to your payment wallet.
Build integrated systems that allow users to get different services in one system.
Move your financial services infrastructure to the cloud.
Develop an attendance management system. In this way, QR codes will track visitors' movements and collect statistics so that you can see where the most visitors are in the store.

The process of payment application development consists of several steps:
Discovery phase. At this step, a development team identifies the goals and features of a project, creates clear requirements. This step is necessary to optimize the budget and to make sure that the customer and the development team have the same understanding of the desired result.
UX/UI design. Whether an application is simple or complex, it should be user-friendly and attractive for users. UX/UI specialists will help you to create an efficient user interface that will show all the advantages of your app.
Development. The choice of the right technology stack suitable for the project requirements and implementation of the conceived features is a crucial step. This is why it is important to work with a development team, which has experience in creating QR code payment solutions and realizes how important the security of mobile payments is.
Testing and support. Testing is one of the most important parts of creating a QR code-based payment system. Timely testing will allow you not only to make sure that the app works as intended but will also allow you to identify QR code payment system vulnerabilities and ways to improve them.
IdeaSoft experience
Now when you know more about QR code payment system development, let me tell you how we can help you. Since 2016, IdeaSoft has been providing a full cycle of software development services. We work with different industries, but historically, most of the company's projects are related to the Fintech area.
IdeaSoft has developed more than 250 projects including digital wallets, exchanges, banking solutions, and payment applications. Our in-house development team knows how to achieve increased security while maintaining functionality. Combining our experience and your business ideas, we can achieve great results together.
Feel free to check our Fintech solutions page and contact us directly to discuss your project.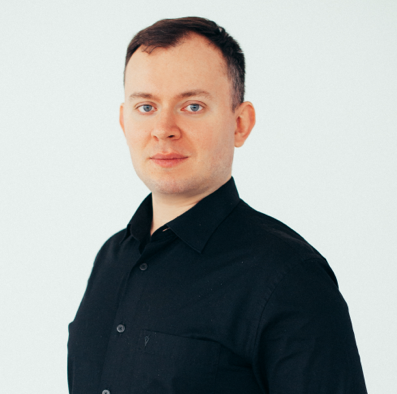 Viktor Legetsky
Managing Partner