We have almost finished 2022, so many companies have started planning projects for the upcoming year. Since you've landed on this page, you surely want to find out what features will help your projects succeed in 2023, and the IdeaSoft team is here to give some insights into the coming top tech trends in mobile development.
Regardless of the app's target niche and its audience, exploring new technical innovations and approaches in mobile app development are of the essence. It can provide a better vision of your product's concept and functionality, as well as explore the best opportunities for its improvement. Thus, there are more chances for your business to outperform competitors within your niche with brand-new solutions in the mobile app market.
So, here we will introduce the most prospective mobile tech trends for 2023 and beyond, giving you a comprehensive analysis of their potential and real-case examples of how they can be implemented in practice. We will also explore the importance of embedding innovations for mobile and the potential gains these can bring to your business right from day one.
Are you ready to get started with your project and need any sort of help with development? Reach out to our tech-savvy experts who will surely help bring your top-notch mobile app idea to the market!
Table of Contents:
Major Mobile App Trends in 2023 and Beyond
To stay on top of competitors, it's essential to be the first to introduce great innovations to the market. Don't lose precious time and uncover the key technologies which are sure to help you succeed below!
5G
Rolled out in 2019, the Fifth-Generation wireless cellular network (5G) has been gradually conquering the technology world. According to a GSA report, as of June 2022 nearly 70 countries had 5G-powered networks. And by 2023 this technology is anticipated to reach 1 billion users after only 3.5 years of market presence. To compare it to its predecessors, 4G and 3G mobile technologies took 4 years and 12 years respectively to reach the same number of users.
But what makes it so valuable for mobile app development?
The fifth generation of cellular networks has an excellent advantage in speed and reliability, thus, giving a huge boost to numerous technologies. These include: AR/VR, self-driving cars, the IoT and other solutions. Some other great advantages of 5G for mobile are resource-efficient battery usage, and geo-targeting and geofencing, which improve data accuracy and app usability in general.
Another reason why you must consider launching 5G-compatible apps for mobile is its regional coverage. According to Statista, over 70 countries have partially or completely switched to the next generation telecom standard, including North America, European countries and some of the major tech players in Asia.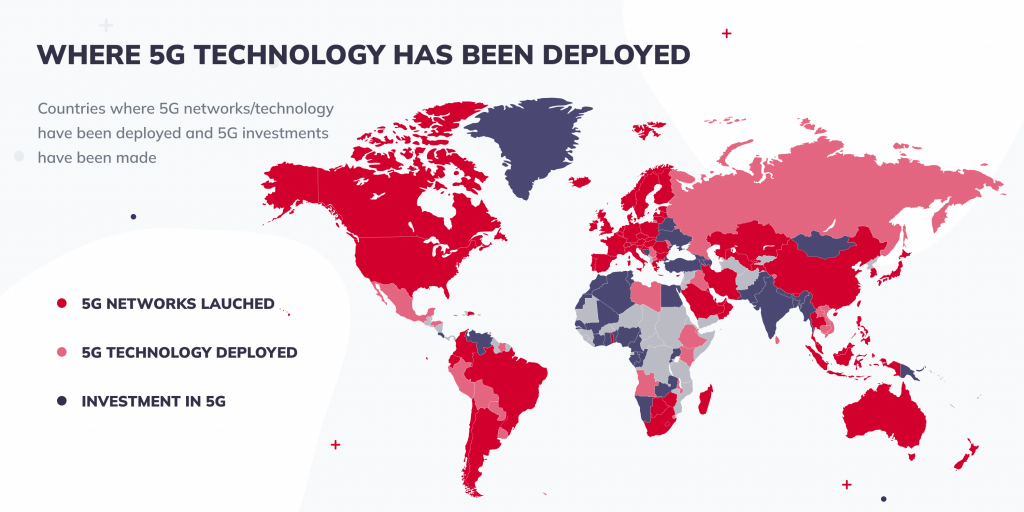 Source: https://www.statista.com
5G Mobile Applications
Thanks to its advantages, 5G is now widely used across different industries, including automotive vehicles, farming and agriculture, construction and smart cities, oil and gas, sports and leisure, and so on. One of the most impressive examples that showcase the power of 5G is the Liverpool 5G Health & Social Care Testbed.
This project aims to test health and social care products and telehealth services with the embedded 5G technology network. Some of the key impacts of this tech solution are the ability to reduce the cost of health and social care services, improve the quality of patients' lives and increase the ability to manage their own health. They can also prioritize and categorize the services covered.
Having learned the basics of 5G, you can now see whether or not it can be used to target your project needs!
Blockchain
Another disrupting technology for the mobile app development segment you may want to implement into your application is blockchain. This solution has already revolutionized plenty of industries, including healthcare, finance, real estate, and education, and is believed to become a powerful alternative to traditional fiat currencies.
The popularity of blockchain is usually explained by the features it provides. First, it has first-class data security through its centralized architecture, which reduces the chances of data leakage and system breaches. Secondly, it is more transparent and tamper-proof. Thus, your application will be better secured from fraudulent transactions and fictitious information.
Additionally, the technology is easy to implement and features a plethora of accessible tools, which significantly facilitate the development of mobile apps. Finally, blockchain allows us to securely conduct in-app purchases – a must-have monetizing feature for nearly any mobile application today.
Blockchain Technology in Mobile Applications
Similar to 5G, blockchain has been intensively embedded across multiple areas, including business and government, management and IT, and of course, the finance and banking industry.
An excellent example of a blockchain-powered mobile application is the Santander One Pay FX, the world's first money transfer service offering a fintech app based on this technology. Launched in 2018 by Banco Santander, it features an automated blockchain environment to make same-day or next-day international transactions. Some of the essential advantages of blockchain are its ability to decrease the cost of transfers and increase the security and speed of various transactions. All of which are essential for both banking institutions and their clients.
Internet of Things (IoT)
Being surrounded by a bunch of smart devices, from kettles, wearables, and vacuum robots to fully automated vehicles and smart home systems, you surely realize how important it is to have a well-built app environment for all your devices. The viral trend of IoT applications for mobile is predicted to stay with us for decades, not just in 2023.

While IoT technology supplies consumers with smart devices, the mobile apps designed for the IoT enable smooth communication and effective interaction between the device and the user at all levels.
IoT-based Mobile Apps
Here we won't talk about the trivial vacuum robot apps or smart lighting systems for your home. As an example, let's review an IoT solution in the retail and supply chain management industry. This is probably one of the first industries to become "smart." Amazon GO No Checkout Store gives shoppers a seamless buying experience through the use of cameras, sensors, and the store's mobile app.
You might think it's impossible: to shop with no lines and cashiers, huh? However, to shop in Amazon Go, you only need to scan the smartphone at the electronic gates in the foyer, pick up the preferred shopping items and walk back out through the turnstiles. Yup, it's that simple!
Or what if we told you that your fridge could help you order your favorite foods while you're out? Samsung has already introduced a mobile app solution that allows tracking food storage remotely, playing films, and getting missing ingredients delivered via online ordering services. And no food delivery apps are needed!
These are only a few of the hundreds of real-case examples of how IoT applications can reduce the barriers between humans and IoT devices.
Augmented and Virtual Reality
The pandemic outbreak in 2019 has significantly stimulated the development of AR/VR technologies, urging more and more companies to invest heavily in new projects and app solutions within this field. According to Statista, the global augmented reality (AR), virtual reality (VR), and mixed reality (MR) markets reached $28 billion in 2021, and by 2028 it is expected to rise to over $250 billion.
What makes augmented and virtual reality so ripe for mobile app development? One of its key advantages is the ability to deliver a memorable, personalized and comfortable user experience, thus improving sales and revenues. Additionally, it provides enhanced communication and collaboration, which is extremely important for large-scale projects and international partnership programs. Augmented and virtual reality integration also greatly benefits companies in consumer behavior analysis, helping them to effectively target customers and increase their competitiveness in the market.
AR/VR Technologies in Mobile App Development
Do you think that you've never heard of any AR/VR technologies in mobile application development? No way, you've undoubtedly heard of the viral AR game Pokemon GO played by millions of people around the world!
Another example from our recent publication is the IKEA Place mobile app, which enables customers to try 3D models of IKEA items in their rooms. Besides testing different patterns and materials, clients can calculate the labor costs and model the design blueprints to see how their prospective homes might look.
Cross-Platform App Development
Yeah, we know that this mobile tech trend is familiar today. However, many companies still miss an excellent opportunity to launch a functional application that can run across Windows, iOS, and Android platforms. Instead, they tend to leverage the native app development solution to launch an app on a particular platform and later invest in the other versions of their app developed from scratch.
The whole point of the cross-platform trend is the opportunity to use one app's code on different platforms. Also, a cross-platform application has low development costs, easy-to-main code, and high responsiveness while providing identical functionality and user experience for different audiences. So you can improve the time-to-market and ensure a consistent design. It is easy to set up cloud integration, which is essential for any mobile application, regardless of the target platform.
Cross-Platform Mobile Applications
To get an idea about cross-platform applications, just try any popular mobile application found on the App Store or Google Play. Yup, the apps you're likely using on a daily basis such as Instagram, LinkedIn, Facebook or YouTube are all cross-platform.
Cloud Computing Applications
One more technology we simply cannot leave out is cloud-based applications, the solution that has basically resolved the problem of developing apps for various platforms and devices. Cross-platform cloud apps can run through web browsers, providing similar functionality and taking up minimum space on a smartphone. This is because all the data and required functionality are kept on a server and are accessible through the Internet.
Fortunately, cloud apps today have similar speed and performance compared to pre-installed solutions and can be accessed at any time and from nearly anywhere. Moreover, they also feature lower risks of data loss due to an app crash, which is really important for mobile users.
Cloud Apps in Mobile Development
There are numerous use cases of cloud computing examples across different areas. You can find lots of mobile-based apps in SaaS, IaaS, PaaS segments, Big Data analysis, data governance, file sharing and data storage solutions and so on.
You could probably use cloud applications like Dropbox or Google Drive, which are in fact some of the most basic examples of cloud computing in mobile applications. Some other examples of mobile apps where cloud computing is heavily integrated are Netflix, AWS, DigitalOcean, SalesForce, Forcepoint and so on.
Artificial Intelligence (AI) and Machine Learning
Talking about tech trends for mobile, it's impossible to overlook AI and machine learning solutions. Industry giants like Facebook, Microsoft, Amazon, and Google have already leveraged these solutions. They invest billions of dollars in solutions and startups aimed to improve existing technologies and create new tech solutions across various areas of use.

In particular, these solutions can enhance the user experience by making it more personalized and customer-specific. Users can get relevant product recommendations, find desired items through visual or voice searches, and receive first-class service without reaching out to an actual human.
AI and Machine Learning in Mobile App Development
Some of the most typical examples of artificial intelligence and machine learning technologies have been introduced in the mCommerce app segment. For instance, the Starbucks mobile commerce app. Apart from the standard feature of in-app ordering, it can provide personalized recommendations, help users find nearby stores and their business hours, as well as creating a takeaway pre-order without waiting in line at the physical store.
Develop Your Innovative Mobile App at IdeaSoft!
Knowing the mobile tech trends for 2023 will help you create an amazing application for large audiences and get ahead of your competitors. However, to leverage the potential of mobile app trends in full, it's essential to get started with your mobile application today.

Do you need any help developing an app for the mobile software industry? Contact the IdeaSoft team to get a dedicated team of experts that can turn your idea into reality!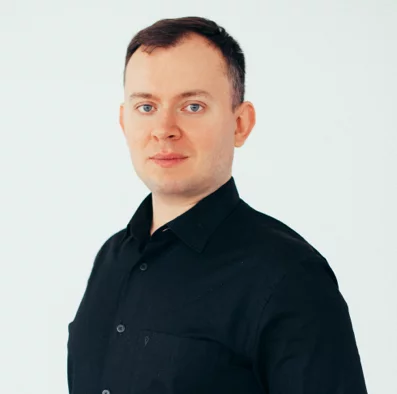 Viktor Legetsky
Managing Partner