Collecting, verifying, and managing user identities is essential to the functioning of the online economy. Whether it's financial transactions or medical records, systems must ensure that only authorized users can perform actions on certain data. As users, we also want to be sure that our personal information will not fall into the hands of third parties. However, most of the data are now stored in centralized databases and on centralized servers, increasing the risk of these data being leaked or stolen. There is no doubt that data breaches can have dire consequences for banks, governments, and healthcare institutions. Therefore this encourages companies to invest in the development of new, more secure, and more efficient digital identity management solutions. Blockchain is one of the promising technologies for achieving these goals.
Table of contents:
What is digital identity
A digital identity is personal information that exists on the network and proves your identity. For example, digital ID enables us to verify our identity when logging into an email account or making transactions online without the need to provide physical ID documents such as a passport or credit card. To do this, a user is usually assigned an individual identifier that allows systems to find him on the Internet. For example, you get your own digital identity when registering on a social network, creating a username and password. Or when you consent to the processing of data in your browser and allow a site to collect cookies, the site generates your tracking ID. Thanks to this identification method, we can safely store and manage our personal information and perform banking transactions, open bank accounts, have access to our medical data, and the like.
As you can see, digital identity speeds up many processes in our lives, from interaction with public authorities and carrying out business transactions to logging into personal accounts. However, digital identity has some challenges and is associated with certain risks of leakage or theft of sensitive data. If your digital identity management system is weak, you may have more problems than benefits.
Challenges of digital identity management
Digital identity is convenient and effective. However, in the era of digital transformation, when a huge amount of data goes online, cyberattacks are also on the rise. Therefore, the use of digital ID is associated with certain risks and has its own challenges. Safe data management is the number one goal for online service companies. Users won't do business with a company again if they experience fraud on its platform. Therefore, companies need to implement security features into their products as well as work on internal plans for fraud prevention and risk assessment. And this is a real challenge that requires large investments and wide expertise in the field of cybersecurity.
Other challenges of digital identity management include:
Confidence in the legality of the transaction. Not all digital IDs are easy to obtain. If we are talking about banking or government structures, then it may take time to obtain official legal confirmation of identity. The digital IDs that companies offer you must comply with government regulations. Also, there are challenges in compliance with international data privacy regulations.
Lack of transparency and control over the use of personal information. We do not always understand how our personal data is used. GDPR has been an achievement in recent years, but it is not enough, because we do not really have a mechanism for verifying where our data is used and how we can control it.
Different IDs for different services. Unfortunately, the lack of a uniform accepted digital identity management system means you need to have an ID for every service you use. This is inconvenient because, with many different accounts, users forget their credentials, lose passwords, and become more vulnerable to cyber-attacks.
Building a trusted identity management system with blockchain
An ideal digital identity management system combines usability, security, and privacy. However, traditional ID systems are still far from that. They are highly vulnerable and have single points of failure, which increases the risk of fraud. And here's where blockchain comes in. This technology can become a reliable mechanism for managing identities due to its decentralized nature.
This is how it works. Blockchain is a database that stores information in the form of blocks. Each block is created based on the previous one and therefore all blocks are linked. No block can be removed invisibly without destroying the entire system. Thus, blockchain provides transparency and traceability of the system, while ensuring security through reliable cryptographic methods. Users use paired keys to manage their data on a blockchain. A public key is a cryptographic code that is generated using encryption algorithms and is used to convert a message into an unreadable format. This key can be shared with others to help identify your identity. A private key is a key that only the user knows, it allows the message to be decrypted, so a secure transmission is ensured. Each public key matches only one private key.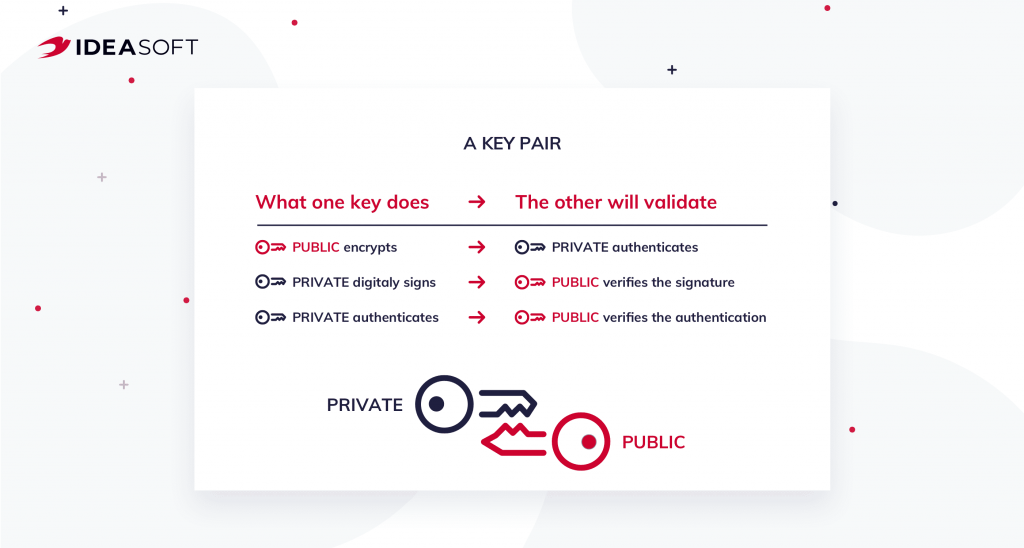 Thus, blockchain technology can provide a so-called self-sovereign identity, where users can easily and securely control their IDs, choose which data and which platforms to provide access to, and which data to keep secret. Also, you no longer need passwords and many different IDs because the self-sovereign identity сan provide interoperability of the ID across multiple platforms. Blockchain-based solutions can make this reality as they give users privacy and freedom to control their personal information while making data shareable in a secure way.
Decentralized storage
Blockchain technology solves the single point of failure problem by providing a distributed database. Storing sensitive data in one centralized location is always a risk because once fraudsters break into the system, they get everything. A decentralized database stores information on hundreds of nodes. In such a system, a verifier is sufficient to obtain pieces of identification information to check its correctness and reliability. Thus, users can be sure that their data is reliably protected and no outsider will have access to the entire volume of information, but only to the permitted fragments sufficient for identification.
| Criterion | Centralized data storage | Distributed data storage |
| --- | --- | --- |
| Access | A single central database file | Multiple database files located in different places |
| Data transmission speed | Slower | High |
| Managing | Easier to update and back up data in one file | Data need to be synchronized |
| If the database fails | Users lose access to the database | If one database fails, users have access to other files |
| Who controls data | Enterprises | Users |
| Data security threat level | High | Low |
Comparison of centralized and decentralized data storage
As you can see from the table above, a distributed data storage has many advantages for users by providing faster and more secure access to information. Since the data is stored on several nodes, the fall of one database will not entail downtime, users will still be able to access their data. Also, this format limits access to data preventing cyber attacks.
Immutability
Blockchain is well known for its reliability. The system of blocks linked to each other guarantees immutability, since it is quite difficult to make changes to information once recorded on a blockchain. At first glance, it might seem like a problem. But not for digital identity. The very essence of identity is to prove that your identity is unique and you cannot change it every day. To do this, all members of the network must be sure that you or someone else cannot simply change records and falsify data. Non-alteration of records reduces the risk of fraud and increases the level of reliability. In this case, you do not have to prove your identity over and over again, wasting time on it. Immutable data is reliable proof of who you are.
But immutability is not enough to be absolutely sure of the reliability of the digital identity management system. You need transparency, and blockchain can provide that as well. Blockchain makes it possible to track data as all blocks are linked. This means that information can be shared when and how the owner wishes. And it is safe because the information cannot be changed. Thus, thanks to blockchain technology, you get an ultra-reliable digital identity management tool that ensures the transparency and immutability of records at the same time.
Privacy and security
Decentralized digital identity on a blockchain can give users complete control over their digital data, eliminating the need for third parties. Without the user's consent, no data can be shared. The user can choose to whom and what data to send, and also have an idea where exactly and for what purposes his personal information was used. This is what we want, but it is impossible to implement this in the centralized storage of information since we cannot know for sure if our data has not been transferred to someone else. Blockchain opens up such opportunities. We can independently manage our digital IDs by confirming transactions using private keys.
A definite plus of blockchain technology is that it does not actually store sensitive data. Identities are stored in an encrypted digital wallet and transmitted over the network as individual codes. All information is encrypted, but available in the public ledger of the blockchain, to which the user has private and public cryptographic keys. The cryptographic technology used in the blockchain allows the user to prove the existence of funds, assets, or identifying information without revealing the details behind it. All this provides complete secure digital ID management.
Prospects for using blockchain digital identity management
Blockchain identity management can benefit a wide variety of industries, as we solve more and more tasks online: from making payments to voting. Blockchain technology will allow companies to make digital identity management more secure and transparent for users. Here are just some use cases of blockchain identity application.
Healthcare. For the healthcare industry, blockchain-based identities can be a reliable solution for managing patient data. Telemedicine is gaining popularity, but the lack of a unified system for identifying patients and storing their medical history significantly slows down the development of this direction. The immutability of data in a blockchain allows creating reliable identities both for patients who decide for themselves who and for how long to give access to their data, and for healthcare providers who can confirm their qualifications.
Financial services. Digital identity on a blockchain will speed up the customer onboarding process for banks, as users will not need to upload additional documents to verify their identity, and banks will not need to verify them. A fast and reliable identification process will also let users easily issue loans, make payments, and use other services of financial companies.
Government. The adoption of a single digital identity for citizens at the state level will help users of online services get rid of the need to have different IDs for different platforms. Blockchain provides enough transparency for citizens and enough security for a government. You can find real cases. For example, Estonia has established a complete electronic government system based on blockchain technology and provides most public services digitally.
Telecom. For telecom operators, managing user data is of paramount importance, which is why it is one of those industries that is the first to apply the latest technologies to increase efficiency and improve user experience. Blockchain identity will allow such companies to get faster remote KYC (know your customer) for new subscribers and improve identity management, which will let existing customers remotely subscribe to new services. Blockchain can also help reduce the level of fraud due to the traceability of records.
E-commerce. Online shopping has become an integral part of our lives. When we place orders we are often asked to fill in information about ourselves such as name, email, phone number, address, etc., which takes time to do it over and over again. Signing up on multiple e-commerce platforms using a single ID is less time consuming and blockchain can make it real. The technology also makes it possible to increase the level of security when making payments, since a retail company does not need to store users' payment data, which also reduces the cost of storing users' information.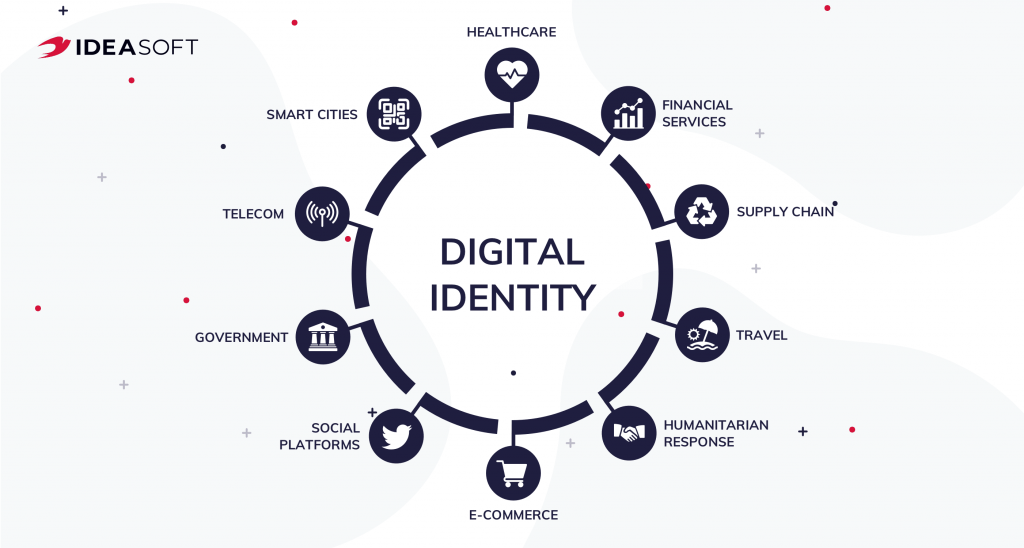 Wrapping up
So, blockchain identity management can be an excellent solution for a wide variety of companies that deal with online services. Users will get more privacy and more control over their sensitive data. Service providers, in turn, will be able to verify user data quickly and easily at no additional cost. The decentralized nature of blockchain makes it an excellent technology for building transparent and at the same time reliable data management systems.

However, the success of your project largely depends on the quality of blockchain implementation. You need developers with extensive expertise to create a reliable digital identity management system on a blockchain that meets all the specifics of your business and government regulations. At IdeaSoft, we have been working with blockchain technology for over 5 years and we have our own experienced blockchain development team to create a software solution for you that meets all your requirements. Feel free to contact us for advice and a free project estimate.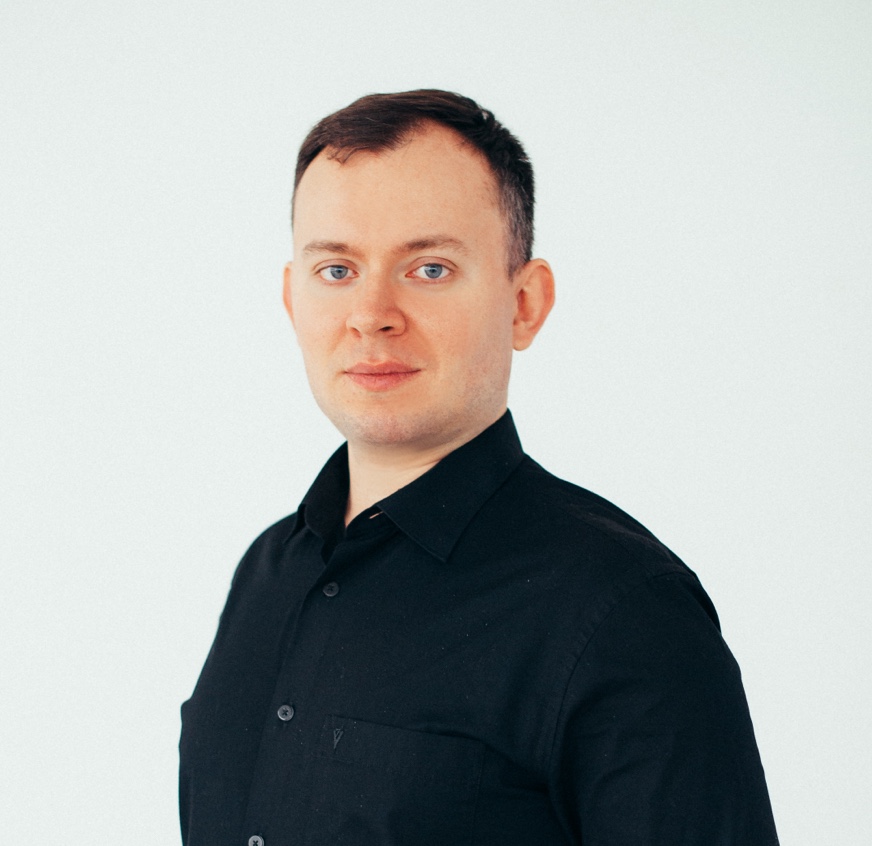 Viktor Legetsky
Managing Partner