If you have already learned about the benefits of blockchain and decided to start your blockchain project, you are probably wondering now how to do it right. Blockchain is still a fairly new technology, so not many people have a full understanding and sufficient expertise to work with it. And it's okay. We all have to learn. To succeed, you need to build a clear and understandable development process. We have prepared a guide on how to successfully launch a to help you get started with this technology. Here are 6 main steps.
Table of contents:
Step 1. Set clear project goals
According to Statista, global spending on blockchain solutions in 2023 is expected to reach $15.9 bln. Blockchain can solve many business problems, the main ones of which are ensuring the transparency, security, and cost-efficiency of the system. However, you need to clearly understand what tasks you want to solve with this technology to be sure that you have chosen the right one. There is no rush and you should consider alternatives, compare options to find out whether the blockchain is the only right solution.
Start with these 3 questions that will help you finalize your decision.
Do I need data storage and how it should work? Blockchain is primarily a data warehouse that provides distributed access to information. If your database needs centralized management, you don't need blockchain, and vice versa, if you need to provide secure access to multiple operators, use blockchain. This is an important question to be answered.
Do you want to involve third parties in your work? If you have profitable contracts with counterparties, you trust them and want to continue working with them, then blockchain will be useless for you. This technology aims to build a system without intermediaries, where a blockchain itself is the main regulator.
Are you ready to build a transparent business system? If you have trust issues in your company, then blockchain will help solve them. Thanks to the properties of transparency and traceability, all blockchain participants will be able to see what is happening in the system. If you are not ready for such openness and want to keep your business data in secret, choose another technology.
Now if you have answered 'yes' to most of the questions, then you can go to the next step. If most of the answers are 'no', consider other software solutions. Our team will be happy to help you with this.

Step 2. Choose the right blockchain
Different blockchain platforms provide different capabilities and are suitable for different tasks. Once you have decided on the goals of the project, you can make an informed decision about what type of blockchain you need. Before moving on to choosing a platform, decide on whether you will use a public or private blockchain. Let's take a look at the main difference between the two.
A private blockchain is a permitted blockchain, which has restrictions on who is allowed to participate in the network to perform actions and transactions. This option is for you if you need to know who is a member of your blockchain network. A set of rules for accessing and working with data is defined for each participant. The most known private blockchain platforms are Corda and Hyperledger Fabric.
A public blockchain is a network accessible to all users, which means that everyone can write, read, and participate in it. This type of blockchain doesn't have access or rights control but is more secure since it has more nodes on which information is stored. Examples of public blockchains include Bitcoin and Ethereum.
| | | |
| --- | --- | --- |
| Criterion | Public Blockchain | Private Blockchain |
| Access level | Anyone | Allowed Users |
| Participation | Permissionless and anonymous | Permissioned and identified |
| Speed | Slower | Faster |
| Security | Consensus mechanisms (proof of work, proof of stake) | Pre-approved participants and multi-party consensus |
| Network | Decentralized | Partially Decentralized |
| Asset | Native asset | Any asset |
| Energy consumption | Large | Low |
| Platforms | Bitcoin, Ethereum, NEO, Stellar | Corda, Hyperledger Fabric |
Comparison of public and private blockchains
The final decision on choosing the type of blockchain depends on your goals and the required functions, as well as the degree of openness of the system you want to build. The choice of a platform largely depends on your business processes. Pay attention to the criteria privacy, cost-effectiveness, speed of implementation, and bandwidth. Most often, the difference in these properties is crucial.
Step 3. Develop the proof of concept (PoC)
Proof of Concept is an important step for every new project. This allows you to prove the feasibility of your solution under real-world conditions. In software development, proof of concept will show whether your business idea is technically feasible and financially viable. After that, you will come up with a complete understanding of whether this project is worth investing in or needs to be improved. If you are dealing with blockchain for the first time, then testing your idea is crucial to your success, because you need to be sure that you have chosen the right technology and are moving in the right direction.
Here are some of the benefits of creating proof of concept:
You will know whether your product can solve your business problems.
You will choose the right technology stack for your project.
You can get feedback from the target audience at the early stages of product development.
You can save time and money without wasting it on a failed idea.
You can find out potential issues and ways to avoid them.
So, where to start? PoC development starts with defining a , a set of core features for your product that is sufficient for a first release. However, you don't necessarily need to design an MVP to prove that your business idea will work out, you just need to make the list of core features to build a prototype or model of your future product and test it on a limited number of users. Then collect feedback, make conclusions, and draw up final requirements for your project. These actions will help you find out possible pitfalls and areas for improvement before you start the project.
Step 4. Think about regulation
One of the difficulties of working with blockchain is the lack of government regulation in many countries around the world. But this is constantly changing. More and more states are recognizing the importance of cryptocurrency and introducing new laws to regulate blockchain operations. Therefore, we advise you to follow the updates of the regulatory framework, as well as assess the need for the execution of any documents and interaction with traditional institutions. For example, you might need help evaluating assets before tokenizing them. It's better to think ahead about the strategy for operating and regulating your network.
According to the latest study of Comply Advantage, cryptocurrency regulations around the world looks like that.
| | | |
| --- | --- | --- |
| Country | Cryptocurrency | Exchanges |
| USA | Not considered legal tender | Legal, regulation varies by state |
| Canada | Not legal tender | Legal |
| Latin America | Laws vary by country | Laws vary by country |
| Australia | Legal | Legal |
| Japan | Legal | Legal |
| China | Not legal tender | Illegal |
| India | Not legal tender | Illegal |
| UK | Not legal tender | Legal |
| Switzerland | Legal | Legal |
| EU | Legal | Regulations vary by member-state |
Source: Comply Advantage

Step 5. Find an experienced development team
Once you are done with the preparatory part, it's time to find a . The blockchain market is developing rapidly, but there are not many experienced specialists working with this technology yet. Many providers prefer old proven technologies and don't strive for innovation. Therefore, pay special attention to the experience of the developers with whom you are going to work, learn more about the . You need specialists who are well versed in technology and will be able to build the right architecture for your project and take all the advantages of blockchain.
If you'd like to save money on development and get a high-quality product, turn to outsource software development companies. According to the Skill Value report, based on +550 technical assessments, the top 5 countries with the best developers of the world includes specialists from Slovakia, Mexico, Poland, Hungary, and Ukraine. These countries win regarding price and quality. Learn more about company projects, reviews, and work approaches to select professionals who will help bring your business idea to life.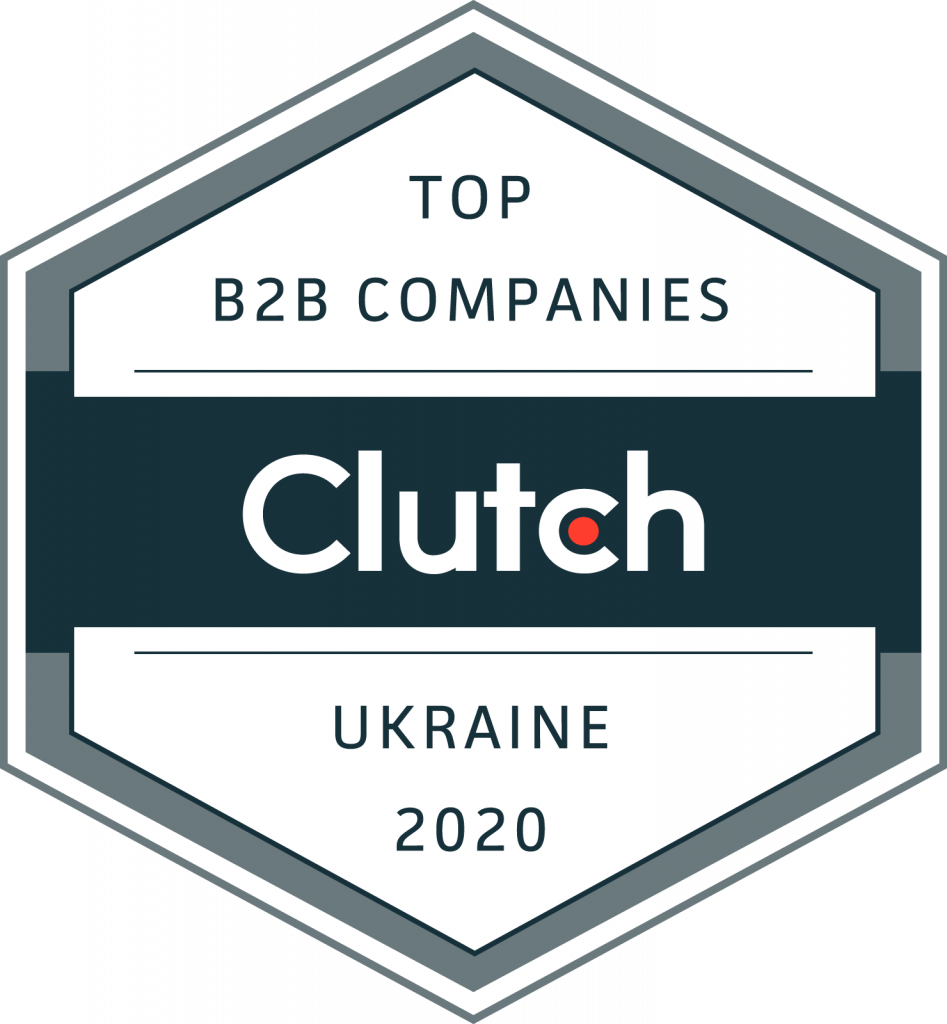 Based on deep expertise and experience, confirmed by more than 200 successfully delivered projects, we can help you launch a blockchain product of any complexity. Contact us to discuss your idea. Let's make progress together!
Step 6. Scale and improve
Working with an experienced development team will let you build a clear and effective interaction process and soon your product will be finished and ready to launch. You need to constantly improve and keep your product up to date to make it interesting to users. Experts advise to draw up short-term and long-term development plans that help to achieve the set results. Also, partnering with the development team will allow you to have a range of experts to suggest something or help you implement a new feature when you need it.
Blockchain is an excellent and promising technology for those who are not afraid to experiment and strive for market leadership. Follow these 6 initial steps of blockchain implementation and make your business grow. According to Deloitte, 84% of business executives believe that blockchain technology will eventually become mainstream. Now you have the opportunity to be one of the pioneers who will become the creators of blockchain history. Don't miss this!
Our designers have also prepared for you infographics on the launch of a blockchain project so you can go through all the steps once again and save the instructions for yourself. Don't hesitate to in case you need a consultation. Good luck with your project!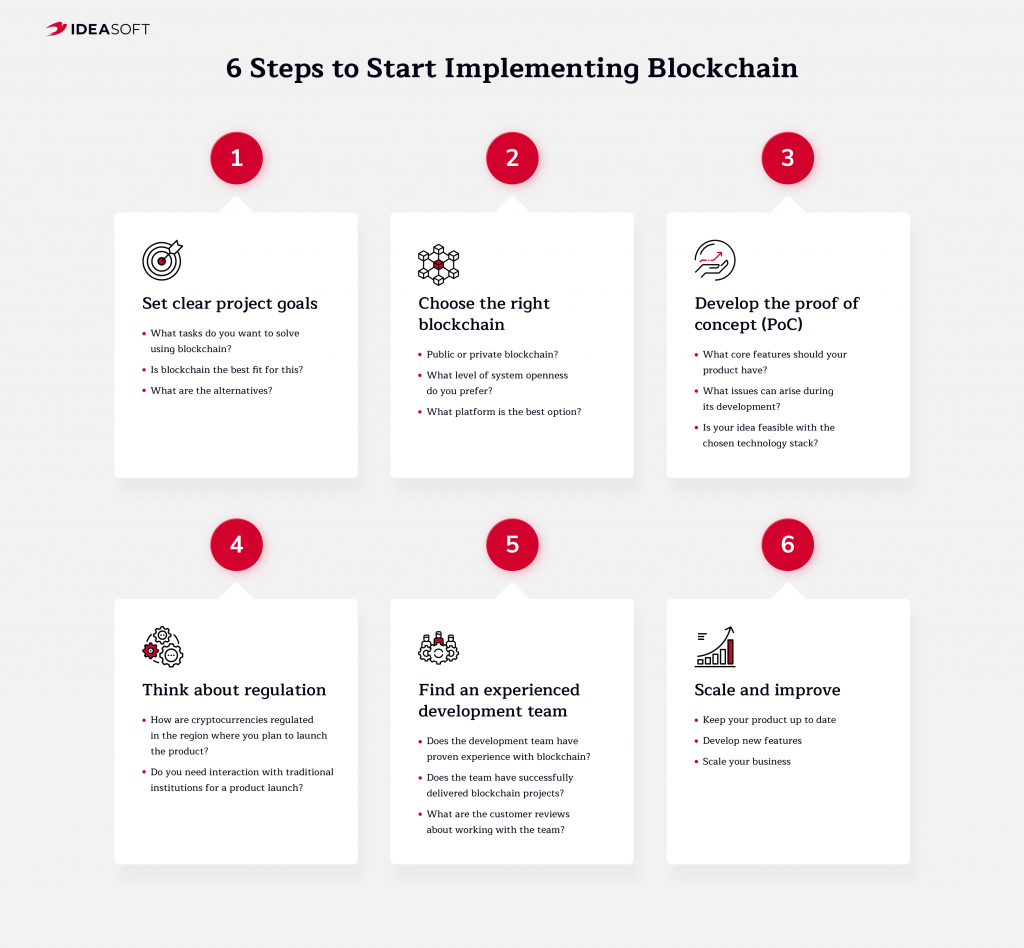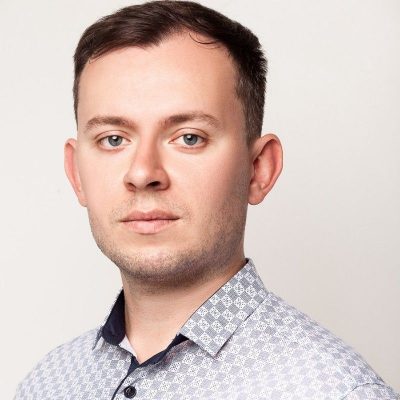 Viktor Legetsky
Managing Partner