We are all used to outsourcing software development. This cost-effective and flexible model allows businesses to bring products to market much faster and at significantly lower costs. But when it comes to UX/UI design, the decision to hire an in-house specialist or third-party agency is not so obvious. Should companies outsource their product design or not? That's what we'll talk about in this article to find out what is better, outsourcing or in-house UX design.
Table of contents:
Pros and cons of hiring an in-house UX designer
Designing the UX/UI components is a crucial step in the development of any software product. Today everyone knows that design is more than just the look and feel of a website or an application. This is the logic of the interface and user interaction with it. Even more, the quality of the UX determines the whole attitude of users towards your product. So, a great responsibility falls on the shoulders of the designer, right?
In this context, hiring an in-house UX/UI designer who will work under your control seems quite logical. The in-house designer will know the ins and outs of your business as they work with your team every day. However, there are pros and cons everywhere. Let's look at them in more detail.
Pros of hiring an in-house UX designer:
High level of engagement in the business domain. By communicating with your team, an in-house designer can better understand the product and its audience and use this knowledge to create an effective user interface.
High level of control. You can more easily keep track of the work of a specialist and quickly make edits.
Easier management of team communication. Having all the development specialists in one place, you can discuss the product at face-to-face meetings and promptly resolve emerging issues.
Elimination of the risk of data leakage. A common concern of business owners is that designers could leak some confidential data or developments to the company's competitors. By hiring a full-time specialist, you can control this better and you can also ask the employee to sign a non-compete agreement.
Cons of hiring an in-house designer:
An in-house designer will cost you more. This includes the cost of finding and adapting a specialist, a social benefits package, the necessary equipment and software, and more.
You need to provide a constant workload. A full-time designer needs long-term tasks, otherwise hiring a full-time employee and everything that you have invested in them will be unjustified when in a couple of months the specialist has nothing to do.
The most talented designers may already be employed. These are the realities of the market. You need to have a really good hiring team that can evaluate the professionalism of designers. Recruiting a skilled specialist that meets your requirements can take a lot of time and investment which is more cost-effective to put into outsourcing.
Let's draw the line. Hiring an in-house designer can be a great solution if you have a long-term project with a large scope of work and sufficient resources to attract and retain a specialist. Otherwise, you won't be able to get all the benefits of working with an in-house UX designer.
Pros and cons of outsourcing UX/UI design
Now let's talk about UX/UI design outsourcing. Usually, this means delegating design development to a third-party agency or even a software development company, if it provides a full cycle of product creation. This option can be ideal if you also outsource the development of an application or platform. No need to look for other contractors as you get all services in one place.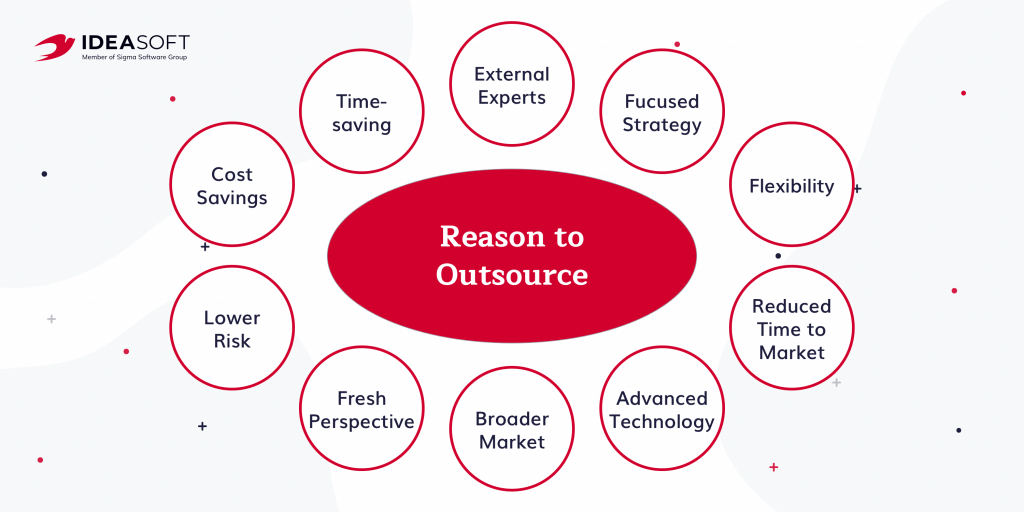 So, why outsource a design team:
Cost efficiency. Paying solely for the work of a designer without providing a social benefits package and all of the other costs incurred by having a full-time employee, you can reduce the cost of creating a user interface. Moreover, the possibility of choosing a design team from any corner of the world allows you to take advantage of different prices in different markets and choose a specialist at a rate more suitable to your budget.
No geographic restrictions. Outsourcing makes you feel free from the complexities of recruiting a specialist in the local market. You can work with designers from another country if their experience and talent are exactly what you are looking for.
Flexibility in scaling the team. A clear benefit of outsourcing is that you can expand your development team with specialists providing specific services when you need them. If at some point you need a designer who can handle a larger workload, a UX outsourcing agency can help you with this and provide you with an additional specialist. In the case of an in-house development team, you will have to urgently search for the missing person and use your effort and resources for this.
New ideas and broader expertise. Developing the expertise of specialists within the company is a task that takes time and investment. By outsourcing you get access to designers who have already implemented many different projects and worked with different industries, so they will be able to bring their experience to your product as well as enrich it with new ideas. An outsourcing specialist can take a fresh look at your product and find something that your team may have overlooked. Such insights can take your project to the next level.
Cons of outsourcing UX/UI design:
Communication issues. Remote work is often associated with some misunderstandings and gaps in communication. However, a lot depends on how you organize the interaction of all team members. In the end, during the lockdown, we all had to learn how to work remotely without distrupting performance.
Intellectual property risks. We have already mentioned this point, but it doesn't hurt to repeat it. Before starting work with a design agency, discuss the intellectual property rights for all developed designs and sign the necessary agreements to eliminate this risk. With the correct registration of cooperation and the reliability of the outsourcing provider, you will not have any problems.
Cultural differences. Not that this is a serious drawback, but rather one more thing that you should pay attention to when considering an outsourcing UX designer. When choosing a contractor from another country, make sure that you have no style differences in terms of design and user interface construction. Good references will help avoid this.
So, can UX design be outsourced? The answer is definitely yes. Like any other task related to software product development, you can also delegate the creation of the UX/UI part to a third-party team.
Are there any other options?
When choosing a model for working with designers, you should know all the options for cooperation. For example, instead of outsourcing design development entirely, you can hire an out-staff UX/UI designer. This is very close to the first model, but there are some differences. Working with an out-staff designer, you take a specialist into your team and manage the development process yourself. At the same time, you also don't need to spend resources on recruiting and ensuring a constant workload. An out-staff specialist will be able to perform the required amount of work at the agreed time and under your control. UX outstaffing may be perfect for you if you only have a few tasks or need temporary help for in-house designers.
Also, when trying to decide between outsourcing or in-house UX design, we shouldn't forget about freelance designers. This is usually one of the cheapest options and is excellent for one-off tasks. However, it should be kept in mind that turning to freelance specialists takes on more risk than working with a design agency or software development provider. Firstly, it is difficult to be confident in the quality of work and the experience of a specialist, especially given how many fake accounts there are on freelance sites. Therefore, try to choose reliable freelance listings and study the profiles of specialists in detail.
Secondly, the risks of infringement of intellectual property when working with freelance designers are much higher, since you cannot be sure of the uniqueness of the submitted designs or that your work will not be used for other projects. And one final warning, you shouldn't send advance payment for services to a designer using personal cards. It's much safer to use sites that hold your funds and can then transfer them to the designer only after you receive your artwork.
Factors for choosing the best option for your project
Now that you know the different options for interacting with designers, it's time to decide which is better: outsourcing or in-house UX design? First of all, it should be noted that both options are possible and may be most effective in certain conditions. It all mostly depends on the requirements of your project. Here is a short list of factors that influence the choice of cooperation model for UX/UI designers.
Scope of work
Define the tasks for the UX/UI design team yourself or with the help of consultants in order to understand how much work the specialist will have to do.
Project duration
Having an idea of ​​the volume of tasks, you can determine the duration of the project and for what periods you will need the designer's help.
Project budget
Having a clear project budget, you can consider the most cost-effective models of cooperation with designers.
Capabilities of your in-house team
Match the challenges to the current capabilities of your team. Perhaps you have specialists who will be able to close certain parts of the tasks, or on the other hand you may realize that you need additional human resources for the entire scope of work related to design.
Market opportunities
Finally, try to estimate how much time and effort it will take if you decide to hire an in-house UX designer. Can your project wait that long or do you want to get started quickly? And in general, how available are experienced specialists in your region?
| | |
| --- | --- |
| In-house UX/UI designer | Outsourcing UX/UI design |
| Long-term projects with a large volume of design tasks.You have a complex product and you need a specialist who can devote all his/her time to the deep study of it.You want to have complete control over the work of a designer. | Short-term projects where full-time employment doesn't make sense.You want to reduce project costs.You try to reduce the load on your in-house team.You don't have sufficient internal design expertise. |
Also, don't forget that you can always hire out-staff UX/UI designers as an alternative to outsourcing and in-house options. This will allow you to get experienced specialists into the team who will work under your control and will be able to fully immerse themselves in your project for the required time.
Wrapping up
Hiring a creative and experienced UX/UI designer can be a real challenge, but fortunately, there are many options on the market for collaboration with design specialists. When deciding on outsourcing or in-house UX design, you need to find out which model will be the most beneficial for your project in terms of quality and price. For short-term projects, it is usually more profitable to outsource, while long-term projects will benefit from in-house designers.
IdeaSoft is a full-cycle software development company. Our team has the resources and experience to cover all of the tasks related to the creation of a software product from business analysis and design to programming, testing, and support. The company's portfolio includes more than 250 projects in different domains, so IdeaSoft's specialists have a wide range of expertise that allows us to successfully combine proven solutions and new ideas.
Also, IdeaSoft offers a transparent outstaffing model for clients wishing to expand the capabilities of their internal teams with no hidden fees. We only have proven and skillful designers and developers working under a transparent contract. 80% of IdeaSoft specialists have been working with the company for more than three years, so you can be confident in their experience and skills.
Check out the IdeaSoft UX/UI design services page to find out more about our design team and feel free to contact us for further discussion of your project objectives.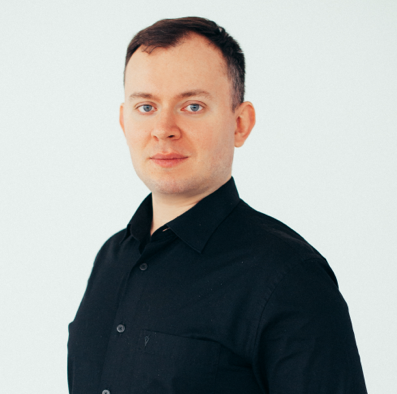 Viktor Legetsky
Managing Partner