Neo banking is a new Fintech trend in the world, the popularity of which has skyrocketed on the background of the COVID-19 pandemic. To ensure their security, people have started to look for ways to buy things and pay for services remotely. And neobanks have become a great answer to this challenge. Digital banks don't use branches for customer service, they are accessible exclusively through gadgets (mobile phones, computers). And if you want to know what are the prospects for this type of financial service, you are in the right place. In this article, we will tell you what is the future of neobanks.
Table of contents:
What is a neobank?
A neobank is a banking service provider that offers its services only remotely. The term "neobank" was first used in 2017. There are 3 types of neobanks:
Independent neobanks. Formed from scratch on their own through large financial investments. Initially, they don't have a client base but attract customers through favorable financial offers or service charges. Prominent representatives of neobanks belonging to this category are Revolut, Chime, Monzo, etc. Transfers and payments generate the bulk of the income for these banks. The expansion of the customer base is done through lending.
Neobanks from traditional banks. Some neobanks are subsidiaries of traditional banks. The main advantages of neo banking are ease of use, no paperwork, quick account opening, artificial intelligence (handling 90% of client communications), great propositions (no global withdrawal fees, interest on the balance, etc).
Big Tech neobanks. Such neobanks are established by major multinational companies such as Google, Apple, Amazon, etc. They are characterized by large client bases, high ratings, and trust of clients. Main advantages: artificial intelligence (98% of customer requests are processed), blockchain availability, robust and reliable ARM infrastructure.
Generally, the neobank business model is designed for users that looking for a simple and affordable way to manage cash flow. Such institutions don't have to incur rental and staffing costs, as they don't have branches. Neobanks focus on modern technology to handle large volumes of data and provide services to the masses. Moreover, few of these institutions are involved in lending, which reduces provisioning costs and significantly reduces risk.
The top 5 countries with active neobank markets are UK, South Korea, Sweden, France, and Brazil. The main sources of neobanks revenue are transaction fees, subscriptions to premium accounts, commissions from third-party services.
Neobanks market overview
According to Payments Cards and Mobile, there were 60 neobanks worldwide in 2018. And at the beginning of 2021, the number of digital institutions had risen to 319 active ones. Moreover, in the last two years alone (in 2019 and 2020), 144 new neobanks have opened.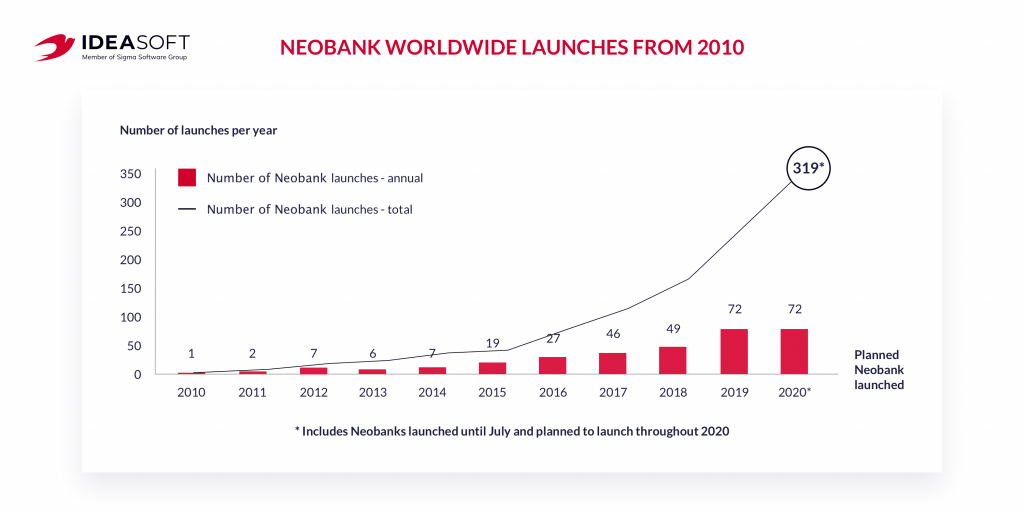 The first neobanks started to appear in Europe in 2015. The pioneers in the new fintech arena were financial companies from the UK, Germany, France, and Finland. From there, the new trend has spread around the world. And today there are more than 60 neobanks in Europe, with 30 million registered users, according to Neobanks.app.
The leader in the number of digital banks on the European continent is the UK. Thanks to low taxes, developed infrastructure, and government support, there is an excellent environment for neo banking and changing the future of the banking system. Today there are 21 neo banks in the UK, which is one-third of all European digital banks.
A rapid growth in the popularity of neobanks has been recorded in Latin America. Today there are about 50 neobanks. And 12 new financial institutions launched in 2020. Also, the growth of neobanks has been rapid in China. Local digital banks (Ant Financial and WeBank) are among the largest in the world.
Read how to choose a tech stack for banking app development here
The promise of remote banking is evidenced by the huge interest in the industry among investors. Even in the "quarantined" 2020, neobanks attracted more than $2 billion in venture capital worldwide. PitchBook analysts predict that by 2024 the number of users of neobank applications in North America and Europe will reach 145 million. So as we can see, the future of neobanks looks bright.
Among the 319 active neobanks, the largest are:
Chime (US) – the most expensive neobank in the world, worth around $14.5 billion.
Nubank (Brazil) – the largest number of users – 30 million.
Kakao Bank (South Korea) – a leader in terms of attracted investments – $2.5 bln.
Looking at these numbers, we can conclude that there is a demand on the market for both options, banks that have a financial license and provide financial services themselves as well as neobanks that partner with traditional banks to provide remote financial services. So if you have a digital banking idea, you can find out how to build a mobile banking app by reading our blog post.
Now let's take a closer look at the future of neobanks and the main advantages they have.
Advantages of neobanks
| | | |
| --- | --- | --- |
| Criteria | Traditional bank | Neobank |
| Supervisory authority | Central Bank | Central Bank and/or Ministry of Finance |
| License | Full banking license | Financial or payment license. However, some jurisdictions may obtain a full banking license (e.g. Volt in Australia). |
| Mode of service provision | Usually through branches, locations. | Only remotely through mobile apps, online banking. |
| Number of services | A broad range of services: loans, deposits, accounts, international transfers, guarantees, etc. | Limited range of services. Mainly payment transactions, deposits, account opening. |
One of the most important neobank advantages is that online banks provide savings. Opening an account in a neobank often means lower fees and lower management costs. When a person opens a business bank account, banks usually require a minimum initial deposit as well as a minimum monthly balance. For example, to open an account in a bank in Singapore, the minimum initial deposit must be between 1,000 and 100,000 Singapore dollars.
The second benefit is that neobanks have low overheads since they don't have branches. Opening a neobank account is usually free. Such entities also often offer lower exchange rates and transfer fees.
Also, Online banks provide convenience: neobanks allows users to do most (if not all) of their banking through a smartphone app. In addition to basic banking tasks, customers can manage their finances and forecast their account activity to prevent problems.
And finally, online banks provide more relevant services: while traditional banks typically offer insurance, loans, and a range of financial products to a broad audience, neobanks work on specific features aimed at a more niche market. For example, Coconut is a UK-based neobank that offers UK accounts for freelancers to run their own business. And Neat has created a specific platform that may be of interest to those planning to register small and medium-sized enterprises (SMEs) in China or launch an e-commerce start-up in the PRC.
Current trends
Given that neobanks don't provide the most basic banking services but specialize in payment transfers, often only within one country, they have lower regulatory requirements. Also, neobanks have less capital than traditional banks and are not required to meet liquidity ratios. Main trends on the market of digital banking include:
Focusing on national markets. As of the beginning of 2021, only 43 neo banks provide services in several regions, the rest are focused only on national markets.
Active participation in digital banking by traditional banks. Traditional banks promote 27% of all active neobanks in the market.
Neobanks are gradually transforming into full-fledged banking institutions offering a wide range of services, from account opening to travel credit card sales.
Neobanks are going into messengers. Customers will be able to manage their accounts and cards without installing the bank's app but from their preferred messaging service. The Starling Bank and Slack deal for corporate account notifications is proof of that.

Future prospects
Analysts predict that digital banks in 2021 will be influenced by the following:
Growth in the number of smaller institutions concentrating on specific niches.
Staffing with compliance specialists.
Refocusing on core products and regions.
Hiring local talent for executive positions.
Seeking new sources of income.
Increased lending through better credit risk management.
Also, neobanks will capture new niches, such as brokerage, which opens wide access to investing in foreign funds, real estate, or car deals. Neobanks will look more actively towards the B2B sector which will greatly affect the future of banking.
The next thing is that neobanks have to look for new ways to differentiate themselves from other neobanks. A very cool example has been set by Experian, a platform that has engaged in developing scoring models. If their UK customers pay taxes and Spotify/Netflix subscriptions on time, their credit history will improve.
Anyway, there is no doubt that neobanks will continue to develop not only as a response of the fintech industry to the Covid-19 challenges but also as a promising direction for the banking sector.
Wrapping up
So the future of neobanks looks bright, and today is a great time for neo banking app development. The crisis is not yet over, and the rapid digitalization of the world is picking up speed. More and more people are moving online while Fintech services are becoming more and more popular.
Neobanking has many advantages and if you have a business idea related to this topic, now is the best time to implement it. We will gladly help you by creating reliable and secure software solutions. Our development team has delivered over 250 projects in different niches, including online banking software. Check out our Fintech software development services or contact us directly to discuss your next project!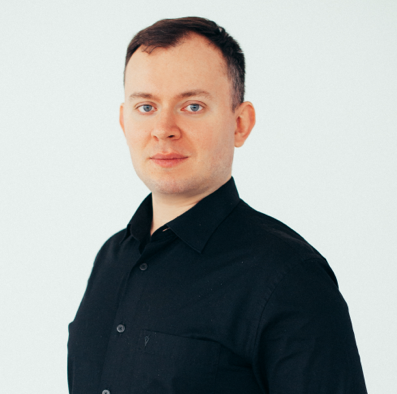 Viktor Legetsky
Managing Partner