The blockchain market is still exploding. According to Cision, it's expected to have a revenue worth $20B by 2024. Along with a growing interest in blockchain technology, the number of blockchain development platforms is growing too, and sometimes it is really difficult to choose the right framework to meet all of your business needs. In this article, we will provide a quick overview of the best blockchain development platforms for 2022 and explain what to look for when choosing a blockchain for your business.
Table of contents:
Ethereum
Starting with Ethereum would probably be the right decision as this network is one of the fastest-growing and hundreds of developers around the world consider it one of the best development platforms for blockchain. Introduced in 2013, Ethereum has exploded in popularity thanks to the support of smart contracts and decentralized applications (dApps) that unleash the full potential of blockchain technology.
The main features: Ethereum is a public open-source platform working on the principle of Proof of Work. It provides engineers with a wide range of tools to build blockchain-based solutions using the Ethereum Virtual Machine environment. Ethereum has its own programming language called Solidity and its cryptocurrency Ether, which is used within the Ethereum network for executing transactions and running apps. According to the Ethereum Price, the market value of one ETH at the end of May 2021 was $2,236 which makes Ether the second most valuable cryptocurrency on the market after Bitcoin.
Strong and weak points: The strengths of Ethereum are its high level of security due to decentralization, very little downtime, versatility and a huge community. Of course, there are weak points as well. For example, slow processing times and higher transaction costs compared to other platforms, as well as scaling issues. However, it's worth noting that the Ethereum team is working on troubleshooting. For example, in 2021, the platform partnered with Polygon, which aims to create Ethereum-compatible blockchain networks. Also, Ethereum is currently undergoing an update known as Ethereum 2.0, which will operate on the Proof of Stake (PoS) principle to improve security and scalability and make gas calculations more efficient.
Use cases: With the rise of DeFi in 2020 and NFT in 2021, which were directly related to Ethereum, the demand for the network has grown even more. The variety of Ethereum-based projects is impressive. In addition to finance, the platform is used to create voting systems, secure storage of medical data, games, social networks, etc. The number of successful cases of using Ethereum is growing and, thanks to constant improvements, Ethereum will be one of the most promising blockchain development platforms in the coming years.
Hyperledger Fabric
Permissionless networks such as Ethereum have many advantages, but some organizations operate under strict confidentiality conditions that open blockchains cannot provide. This is where the need for private networks arises, and this direction has a lot to do with Hyperledger Fabric.
The main features: Hyperledger Fabric is a cross-industry blockchain network enabling developers to create blockchain-based solutions using plug-and-play components. All thanks to the modular architecture. The platform was created for industrial enterprise use and it is permissioned, which means only authorized users have access to data. Hyperledger Fabric also has smart contracts called 'chaincodes'.
Strong and weak points: Hyperledger Fabric combines the benefits of blockchain technology with enhanced security for sensitive information and privacy. It offers good performance and scalability and allows you to set up a clear identity management system to control who joins the network. This is an example of a blockchain that is suitable for organizations that are not related to crypto projects.
The platform is constantly improving. For example, Hyperledger Fabric 2.0 was released in January 2020. The update allowed for improved data privacy and ensured decentralized management of smart contracts.
However, Hyperledger Fabric is not suitable for those looking for transparency. Since the market is mainly focused on public blockchains, there are relatively few use cases for this platform.
Use cases: Hyperledger Fabric supports private transactions and confidential contracts, making it ideal for privacy and security-focused financial companies. The platform is also suitable for other businesses wishing to create a private blockchain network, including healthcare, government, and supply chain companies. This platform is already used by HP, Amazon, Visa, Walmart, and others.
Despite a lot of competition in the market, Hyperledger Fabric is one of the most popular solutions for creating enterprise blockchains, and according to IDC in Europe, enterprise blockchain spending has risen 60% recently and we can predict further demand for this blockchain development platform.
Polkadot
Polkadot is a relatively new but promising blockchain platform created by Gavin Wood, one of the co-founders of Ethereum. Since August 2020, the Polkadot token has risen in price by 1238%, and the platform itself has become a noticeable player in the market.
The main features: Polkadot is a technology designed to create a multi-blockchain network with a fully decentralized information exchange. In this environment, developers can create new blockchains, as well as connect existing ones. Polkadot's unique architecture that includes parachains allows you to take permission data from a private blockchain and use it in a public blockchain. It has every chance of becoming one of the best blockchain development platforms in the coming years as it solves the problems of scalability and interoperability of blockchains.
Strong and weak points: Polkadot provides many benefits to both blockchain developers and users. First, the network enables fast and secure processing and transmission of data between public and private blockchains. The platform is highly scalable and functional. Secondly, it opens up new opportunities for developers of decentralized applications. For example, by providing a single framework for building protocols, Polkadot allows individual blockchains to rely on common security features. Many blockchain experts see Polkadot as a revolutionary solution that makes the concept of a unified blockchain network more realistic than ever.
Since Polkadot is a fairly new project, it has few use cases to fully appreciate the effectiveness of the technology. Some also criticize it for the lack of decentralization through a concentration on its own DOT currency.
Use cases: Polkadot is primarily focused on crypto projects including DeFi and NFTs. In 2020, it partnered with the Chainlink project to attract DeFi app developers. The platform supports the creation of transaction chains, IoT chains, oracle chains, identification chains, data distribution chains, etc. Interest in the platform continues to grow, and we are confident that new promising projects in the Polkadot ecosystem are yet to come.
Solana
Another popular name in the blockchain world and one of the best blockchain development platforms according to many developers is Solana. This blockchain is one of the largest in DeFi in terms of the number of blocked funds.
The main features: Solana is quite different from other platforms. This is a first-level blockchain with no sidechains or parachains. The platform is open-source and decentralized. It has its own cryptocurrency called SOL. Solana blockchain nodes are rewarded for processing transactions with SOL, and unlike many other blockchains, it doesn't have the minimum amount of coins required to create a node. Solana uses a new cryptic mechanism called Proof of History (PoH). It allows for greater scalability and faster transaction processing. According to representatives of the Solana Foundation, the current throughput of Solana is 60,000 transactions per second.
Strong and weak points: Solana's main advantages are not limited to the speed and cost of transactions. The platform also provides excellent scalability and compatibility between projects. It also offers a pretty good user experience that many decentralized projects lack.
Solana is a fairly young blockchain framework, so it has not yet gained widespread adoption and many projects are yet to come. Many functions work in test mode, which means system crashes are possible. Also, some developers criticize the blockchain for not being decentralized enough. Despite this, Solana has great potential and many advantages over Ethereum, for example.
Use cases: Although Solana has been on the market for a while, a real boom of this technology was seen in 2021 with increased interest in NFTs. Minting NFTs on Solana is cheaper and faster than on Ethereum, so users who appreciate the platform and many projects related to non-fungible tokens chose it for further development. You will also find enough DeFi projects built on Solana, including wallets, DEXs, and stablecoins. According to various data, over 200 companies are currently included in Solana's ecosystem.
Also, the network continues to evolve. In 2020, the Solana Foundation was created to support the development of the ecosystem. For this, the foundation received 167 million SOL coins from Solana Labs. Also, in October 2020, Solana developers created a cross-chain bridge with Ethereum that allows for transfer of assets between two blockchains.
Cardano
Cardano has a high degree of fault tolerance, decentralization, excellent transaction speed. These are all great aspects of Cardano. In 2021, the blockchain cryptocurrency called ADA ranked third in terms of market capitalization, behind only the market leaders Bitcoin and Ethereum. With such successes, we cannot fail to include Cardano in the list of the best blockchain development platforms for 2022.
The main features: Cardano is an open-source proof of stake blockchain platform. It has a layered architecture and an internal cryptocurrency called ADA. Cardano works on the Proof-of-Stake principle, which is based on the analysis of the amount of cryptocurrency. The platform provides smart contract functionalities. What's most exciting about Cardano is that it's highly decentralized. In 2021, the platform reached 100% decentralization, and currently, the network has more than 1500 validator pools.
Strong and weak points: Cardano is powerful and scalable. It provides faster and cheaper transactions than the Ethereum network. Another feature that attracts users is the possibility of passive earnings by staking ADA coins. The platform has a focus on security. The Cardano protocol called Ouroboros has mathematical proof of the persistence of the system even if the nodes temporarily go offline due to a computer failure or power outage, for example. The system is extremely stable thanks in large part to good decentralization.
Cardano is known as an 'academic blockchain' because its development is based on a lot of research and tests. On the one hand, this provides more network trust, but on the other hand it slows down the speed of the platform's development. Much of the criticism is connected with this since the market is quite competitive and the speed of emergence of improved solutions is crucial here.
Use cases: Cardano is primarily focused on building smart contracts, decentralized applications, and sidechains. The platform also supports NFTs, which propelled it to the top blockchains of 2021. Currently, DEXs, NFT marketplaces, stablecoins, lending protocols, and others are being developed using Cardano.
The Cardano team has a clear road map for improving the technology they use. In the near future, the platform is expected to receive a number of updates that can make it an even more attractive solution for the development of blockchain projects.
How to choose a blockchain platform for your business
Now that we have discussed the list of the best blockchain development platforms for 2022, let's move on to the question of how to choose the right technology solution for your business. When choosing a blockchain for your project, you should pay attention to those factors that are important to you and meet your business needs. These factors can include:
Confidentiality level. If your company has strict security and privacy requirements and you want to build an enterprise blockchain, you need to consider private platforms such as Hyperledger Fabric. If the goal of your business is to create an open project with a high level of transparency, choose among the public networks.
Security. Security always matters. Different blockchains have different mechanisms to ensure the secure storage and transmission of data.
Decentralization. More and more users and businesses are discovering the benefits of decentralized solutions. Decide what level of decentralization your project needs and what platform can provide this.
Transaction speed and cost. These factors are decisive for many users when choosing blockchain applications. If you decide to work with a platform with a high gas fee, your development team will need to think about how to optimize it.
Scalability. It all depends on your business plans and the expected load on the system. Make sure the platform you choose can handle a growing amount of work while delivering strong performance.
Adoption rate. Last but not least, when choosing a blockchain development framework. The more popular a platform is, the more likely it is to attract more users with less effort. If this is your goal, study the popularity of different platforms in the market and how successful they are.
Also, we advise you to always consult with experts who will be able to assess your requirements and suggest the best solution. By working with different frameworks, experienced blockchain developers can easily determine which platform is most likely to meet your needs.
Final thoughts
The blockchain market is evolving at an incredible rate. In addition to constantly updating existing solutions, new and more advanced ones are constantly appearing. When choosing a blockchain development platform for your business, you should pay attention to both the functionality of the blockchain and its history on the market, because with proven solutions there are always more opportunities to achieve success. Also, to successfully launch a crypto project, you need not only to choose the right framework but also find the right development team capable of unleashing the full potential of the technology.
IdeaSoft has been offering blockchain development services for clients around the world for over 5 years. Our team works with major blockchain frameworks and is a partner of Skale, an Ethereum-compatible network for building powerful dApps. The company's portfolio includes more than 250 successfully implemented projects, including DeFi wallets, NFT marketplaces, DeFi aggregators, lending/borrowing platforms, identity management solutions, and crypto exchanges.
Feel free to contact us to discuss your next blockchain-based project. We would be happy to be a part of it!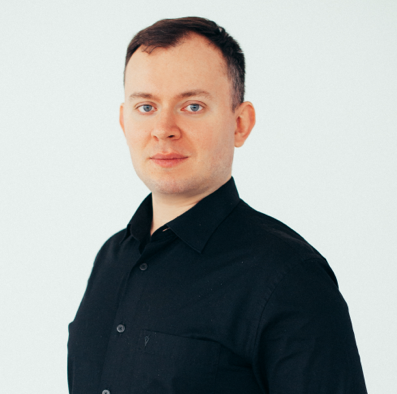 Viktor Legetsky
Managing Partner