For millions of businesses, launching a custom software solution is no longer an option but a necessity. Today, investing in high-quality, functional software helps improve a brand's online visibility, benefits customer engagement and loyalty, enhances business competitiveness in the market and of course, generates higher revenues.
Nevertheless, with the many advantages that come with custom app development, there are a lot of challenges businesses need to resolve when launching a custom application. In some cases, these pitfalls can become serious problems that can significantly impede the app's efficiency or completely ruin its value for a particular business.
In this article, we will uncover the most critical challenges in developing mobile app software and review some examples of successful business startups with impressive revenues. As a part of our discussion, our software experts from IdeaSoft will analyze some of the most common challenges in launching a mobile app for a business throughout the entire development life cycle.
If you're ready to get started with your next development project – contact our team right away! Our development experts will immediately start working on a mobile app solution which will ideally fit your business objectives and goals.
Table of Content
Major Challenges in Mobile App Solution Development
Top 5 Examples of Successful Mobile Development Startups
IKEA Place App
Before we start diving into mobile app startup development, let's review some of the most world-renowned cases of mobile application products and what makes them so valuable from a business perspective.
IKEA Place is an application that helps customers see how a particular Ikea item would look in a particular space. Users can scan various product options offered in the catalog and get a 3D image of a piece of furniture, which gives an impression close to the one a customer gets while visiting an offline store. Additionally, the application enables users to create lists of their favorite things, scan product barcodes to learn more about an item, check product availability as well as get unique discounts and attractive deals exclusively for IKEA Family members.
As a result, the IKEA mobile application has managed to improve and streamline customers' decision-making and purchasing processes. The company reports that the application has been downloaded over 8.5 million times.
Sephora Mobile App
With over 1750 retail stores in over 30 countries, a mobile application for the international beauty brand Sephora enables customers to easily find and purchase the products they need right from their couches. According to Statista, every month the app is downloaded over 520,000 times on average, and during the online sales season at the end of the year, it can hit up to 700,000 downloads.
Today, the application is extremely popular in the US and Canadian markets and is continually implementing new technologies and solutions aimed to enhance the app's usability and shopping experience. For instance, Sephora's Virtual Artist application allows customers to leverage the power of augmented reality when choosing the most suitable beauty product based on their makeup preferences and facial parameters.
Notion SaaS App
A great example of an excellent cross-device application that has become exceptionally popular in 2022 is Notion. It is an all-in-one workspace that unites notes, tasks, wikis and databases within a single ecosystem. If you try it once, you'll realize that the application is really versatile and extremely functional. It can be a great fit for users from an average technical level to advanced or pro users in organizing their daily routines or business workflows.
Now, let's dive into the numbers. Currently, the application has over 30 million users (for comparison, there were only 1 million users back in 2019), and around 4 million subscribers. Notion is estimated to make $67.2 million each year, while the estimated valuation of this software is $10 billion.
Considering the fact that the company started with just 12 employees in 2016, it does seem impressive, doesn't it?
Foodpanda Application
Foodpanda is known as the "leading online food delivery marketplace in emerging markets", which offers online ordering and delivery services for your favorite food and gets it to your door with just a few taps on your smartphone. The service was launched in 2012 and has been introduced in East Asia, South Asia, Southeast Asia and a few EU countries. Currently, it is one of the most well-known food ordering and delivery applications that offers a wide range of foods for any taste, and at the most attractive discounts.
Today, the application works with over 115,000 restaurants and covers various cuisines in over 400+ cities across the globe. According to the most recent open data, the application raised a total of $749.5 million and has a peak valuation of $40 to $50 million as of 2017.
Coca-Cola
In their mobile application, the Coca-Cola brand decided to leverage the power of AI and Machine Learning solutions to better understand user behavior based on buying patterns and how they respond to various offers and campaigns. The mobile application enables customers to redeem loyalty points and discounts on their favorite drinks, and in some countries even purchase the brand's soft drinks from vending machines.
As a result of the mobile app launch, the company managed to make a higher profit than it did before the pandemic. In particular, Coca-Cola's third-quarter revenue significantly surpassed 2019 levels, with $11.063 billion in Q3 2021 vs $9.507 billion for Q3 2019.
Major Challenges in Mobile App Solution Development
Once you're inspired by the success stories of famous enterprises in app startups, it's time to look closer at the major problems businesses might face when developing a basic mobile application.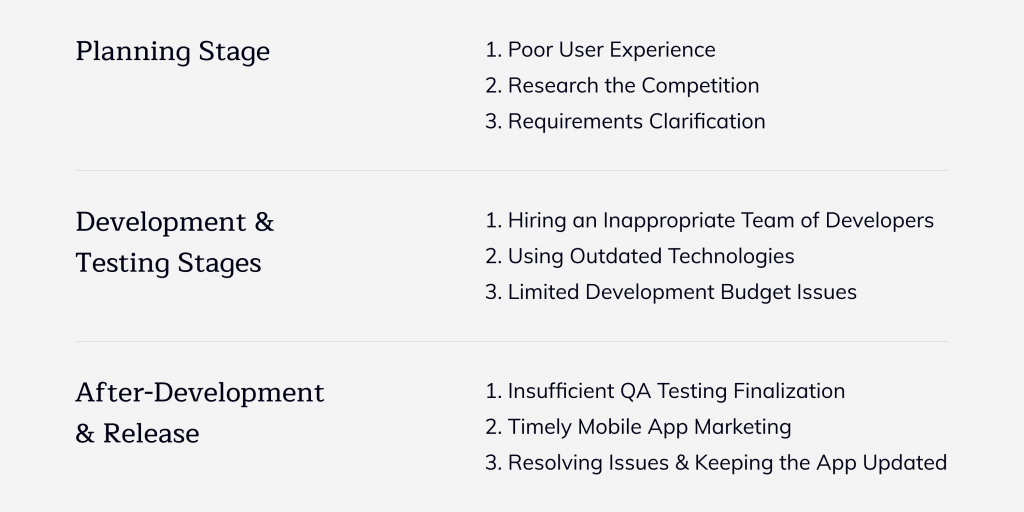 Planning Stage
Regardless of the app type you're about to launch, the first stage of any application development covers every aspect in detail. From what the app is about, the target audiences and their pains, what technologies you're going to use, key goals and requirements, as well as how to measure success.
Challenge #1. Poor User Experience  
Creating the right customer experience is one of the most essential aspects that can help either make or break the success of your mobile app. Typically, users prioritize the application's features and ease of use above all else, which is why 86% of customers would leave a brand after as few as two poor experiences.
Additionally, nearly 83% of executives feel that unimproved customer experiences can significantly affect a company's revenue, market share, and risk.
Solution: When planning the functionality and design of your upcoming app project, make sure to prioritize the user's needs and the key app objectives first. An outstanding UX will not only improve the first impression of your application but also make your product more competitive in the target market segment.
---
Challenge #2. Research the Competition
Another essential point that can impact the end result of your mobile application development is insufficient market research. Same as with audience research, knowing who your direct competitors are and learning their key strategies can directly improve your software product right from the initial stages of development.
Solution: A comprehensive study of your competitor's application will give you more insights into the strong and weak points of their products, as well as provide you with a bunch of ideas on what to add or improve in your upcoming product. Similarly, such research can provide a huge boost in inspiration for design concepts that can be a great fit into your mobile application.  
---
Challenge #3. Requirements Clarification
Before you get started with the development stage, it's also critical to outline the key requirements of your product and establish the goals it will help you achieve. This involves establishing the product's vision, scope, cost and schedule for your team, and also allows you to specify the app's key features and how those features should work.
Setting up these requirements is important for the brand-new software being created from scratch. And it is also important to have clear expectations about your product when creators need to make changes or specific upgrades to existing products to make them more functional or secure for end users.
Solution: To make clear and detailed requirements for your software project, it's recommended to consider the following aspects:
Determine the intended client for your software, and the goals and issues they might want to resolve
Identify the functions and other software specifics to meet the criteria above
Consider the structure of your documentation to increase its readability and clarity
Identify segments of each functionality to better uncover their purposes and track their progress
Add proposal sections to encourage your team to suggest interesting ideas or add-on functionality for your application
These are some of the most common things to consider when setting up the requirements for your application development. 
---
Development & Testing Stages
After all the preparations are completed, it's time to get started on the development of the mobile application. Based on the extensive experience of IdeaSoft, the most common mistakes clients make in the development stage include hiring the wrong software vendors, applying outdated technologies and overlooking some of the key compatibility aspects of a mobile application.
Below we'll explain what makes these issues so critical in the context of app development for mobile devices in 2022.
Challenge #1. Hiring an Inappropriate Team of Developers
The success of any software development project highly depends on the expertise of the developers hired. Even the best-planned functionality can suffer from poor deployment, thus significantly affecting the efficiency and effectiveness of the application.
Hiring the wrong development specialists can also cause issues with the security of the app, its use specifics and other critical issues. This can lead to the failure of the entire startup, as well as significant reputational and financial losses for the client.
Solution: In order to get the best talents for your mobile app development, make sure to pick relevant experts based on your project's requirements. Additionally, pay attention to and learn more about each developer's background: tech stacks, programming languages, developer tools and relevant project experience – all the skills and qualifications you'll need for your particular project.
A good practice is also to prepare key questions for use in interviews and a simple technical task that will help your candidates introduce their knowledge and skills in practice.
However, if you need to hire a full-stack team of mobile app developers, it's also possible to get professional assistance from an expert development company such as IdeaSoft. So far, IdeaSoft has a 5.0 Clutch rating and dozens of excellent reviews from our clients. With over 250 projects delivered, our team can help you develop mobile-based software of any scope and complexity.
---
Challenge #2. Using Outdated Technologies
One of the worst decisions made when developing a mobile application is choosing old development technologies. Though those may seem easier and faster in deployment, outdated development tools can significantly hinder the application's performance, functionality and usability, not to mention the security of the mobile app.
Additionally, this practice may negatively affect the long-term development of the mobile application, which can potentially lead to lower project ROIs for the client.
Solution:
When designing a mobile application, make sure to apply the latest, top-rated solutions which can potentially help your product remain relevant to its consumers for as long as it is possible.
For instance, some of the key technologies applied in 2022 include Artificial Intelligence (applied by over 72% of businesses), IoT (46%), Robotics (35%), Cloud Native Development (24%), Blockchain (22%), Digital Reality (19%) and more. 
---
Challenge #3. Limited Development Budget Issues
At the start, mobile-based projects are usually limited in budget, which pushes companies to reduce the app's functionality across all platforms or completely rebuild the software concept to fit the expected costs. Naturally, such software provides lower performance and value to the end-users, and can result in less competitiveness, which is exceptionally important for the project's ROI.
Solution: Instead of cross-platform development, a great alternative for a limited development timeline and/or budget is to launch the app on a single operating system first. For this purpose, identify the most popular operating system among your audiences and find the relevant experts who can help with the development process. A professional software development team can help with the front-end and back-end, UX/UI design, debugging and compatibility checkups to ensure the best performance for the end-users. 
---
After-Development & Release
The last but not least important stage of any mobile app project delivery is the post-development and its official release. Some of the most common challenges in this stage include overlooking the app's final testing and its proper marketing, as well as support for the mobile application after its official launch.
Challenge #1. Insufficient QA Testing Finalization
To meet the deadlines and start showing up your mobile application to audiences, clients usually overlook the QA stage to speed up the development process. However, being an integral part of any software development lifecycle, such practice helps developers identify the issues with software before its official release.
Skipping the quality assurance processes in mobile software development can result in notable usability issues, high bounce rates and lower conversions, thus ruining all the efforts of the previous project's planning and development stages.
Solution: Make sure your engineers conduct a comprehensive checkup of the app system across different stages of development. Typically, this includes full functionality and architecture testing, code reviews, as well as many other verifications to ensure the app complies with documentation requirements and security guidelines. This will not only improve the quality of your finalized product but also reduces the post-release maintenance chores. 
---
Challenge #2. Timely Mobile App Marketing
Today's software market is extremely competitive, which means it's not enough to just focus on the release of the app. No matter how outstanding your mobile application is, it won't stand out among competitors and find its audience (and generate revenues as well) without a powerful and properly planned marketing campaign. In some areas, such as blockchain projects or fintech startups for instance, the marketing campaign can start long before the development process to build a strong community at the time of its official release. Otherwise, all your input will be done in vain as your target audience won't be able to discover it.
Solution: To leverage all the marketing opportunities and effectively reach your audience, make sure to consider the timeliness of your marketing campaign and the key components it will contain. Typically, this includes social networks, organic and paid search, direct and referral traffic sources.
Moreover, launching your marketing campaign in advance enables you to analyze which of the traffic sources works best for the app's marketing. It also allows you to pinpoint the most effective areas for future product promotion. 
---
Challenge #3. Resolving Issues & Keeping the App Updated
After a client releases a mobile app, a commonly noticed issue is the lack of post-release support of the software. Usually, clients get ready to track the app's performance and conversions while completely missing sudden performance issues, flaws, bugs or crashes, which in fact require an immediate response. The more problems your customers face while using the app, the less likely they are to continue using it.
Another important aspect to keep in mind is that the device's OS is constantly evolving, which requires developers to regularly submit changes to keep the application up to date with the latest versions of the particular operating system.
For this reason, some popular app platforms have started to decrease rankings and/or remove or hide outdated applications from their listings. For instance, Google Play has warned developers that starting on November 1, 2022, apps which have not been updated for the latest Android OS releases will be blocked for installation.
Solution: Post-release debugging as well as regular app updates are an unavoidable processes of any application development. That is why when planning a mobile application project, always keep in mind the app's integration challenges and also the further support of your software to maximize its efficiency and ensure it stays on the top-rated app listings longer.
Final Words
Constantly improving technologies, innovative trends in the world of applications, and thousands of mobile-based apps being released daily, are constant and growing challenges for developers. Being aware of their key solutions can significantly help in launching functional and user-friendly mobile software which will remain relevant from a long-term perspective. We hope that this article has provided you with some insights about the development of mobile app software and helped prepare you for your upcoming project.

At IdeaSoft, we know how essential it is to focus on every aspect of app development to bring the most value to a client's business. With 250+ successful projects delivered and nearly a decade of experience in the software development industry, our international team is always ready to empower your business with outstanding, efficient and long-term software solutions that will help your business succeed.
If you're looking for a dedicated team of experts for your mobile app development project, feel free to reach out to our team. IdeaSoft developers are always here to provide a top-notch development strategy that will perfectly work for your business!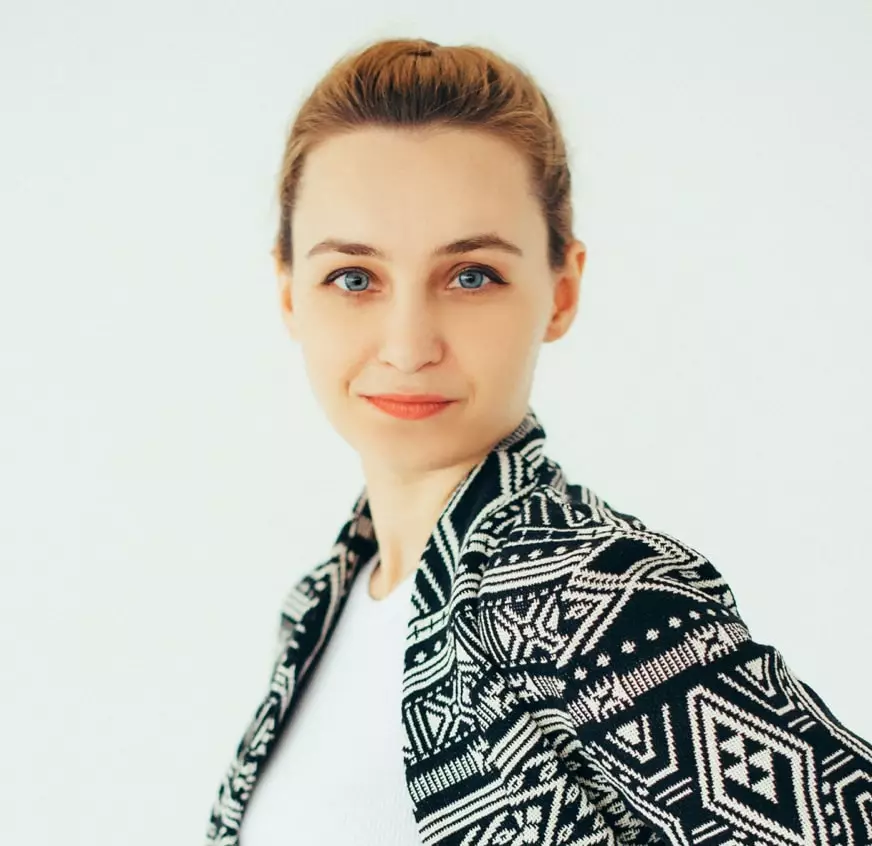 Yulia Shmitko
Business Development Officer