With over 26.4 million developers globally, it may seem relatively easy to find a mobile app developer for your project. However, according to the Business of Apps, 1 in 5 users abandon mobile apps after using them just once, as well as 3 in 10 users do so before the 11th session. Even though app abandonment is on the decline, these figures are still frustrating to any app creator. Finding a suitable app development team can become a strenuous task.
This article will guide you through the topic of how to hire mobile app developers. What are the key things to pay attention to when hiring a mobile app development team? Where should you search for suitable developers, and what are the hourly rates across the most popular offshore software development countries? Let's find out.
Table of contents:
Mobile development market overview
In this rapidly expanding world, mobile phones have become the preferred technology of consumers. According to Statista, mobile apps generated over 462 billion U.S. dollars in 2019 through paid downloads and in-app advertising, and in 2023 they are expected to generate more than 935 billion U.S. dollars globally. COVID-19 has even stimulated more demand for mobile apps, as well as motivated companies to prioritize self-employed remote mobile app developers over expanding their own departments.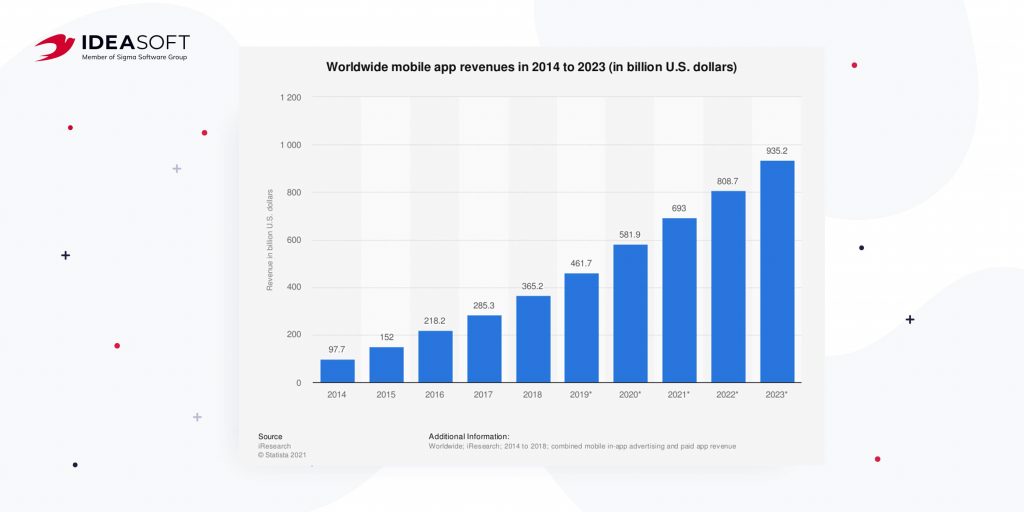 How should you hire mobile app developers?
If you are looking for a mobile app development team for your project, before beginning the hiring process, you should have a thorough understanding of the mobile app you want to build and how the development process looks. Here are some questions you should ask yourself:
What business goals should your future application address?
Which key functionalities and technologies should be embedded in your app?
What are the metrics to measure the success of your product launch (number of subscribers, leads, conversions, sales, etc.)?
Generally, this preparatory work is carried out during the discovery project phase.
Types of contractors
Before you hire a dedicated app developer, you need to know more about the different types of contractors. The IT market has a vast range of contractors of various levels and nature. The most popular of them include freelancers, outsourcing teams, and out-staffing developers. Each of these options has pros and cons.
Freelance contractors
Hiring a freelance developer is the best option for implementing a specific short-term task if your in-house or offshore development team doesn't include a relevant expert. Usually, these specialists are cheaper, which allows you to stay within budget too.
| | |
| --- | --- |
| Pros | Cons |
| Lower price.Availability and flexibility in terms of adjustment to your needs.Direct performance. | It's difficult to distinguish a specialist from a non-specialist.The complexity of managing the development process.Higher risk of failure to meet deadlines.There is a risk of fraud and disclosure of confidential information. |
Outsourcing contractors
Software outsourcing means hiring a company or team for complete app development based on your requirements. It has become commonplace in many niches and is suitable for both middle and long-term projects. Software outsourcing allows you to delegate the creation of a product to a team with the necessary expertise, which significantly saves time and development costs.
| | |
| --- | --- |
| Pros | Cons |
| Established development process that provides higher performance speed and high-quality work.Financial and legal security, non-disclosure of information, and data security. There is no need to engage in personnel management and project control. | It will be necessary to allocate more time for immersion of your project with an outsourcing company. It's more expensive than hiring freelancers. |
Out-staffing contractors
The out-staffing model consists of hiring a particular team or a single developer provided by a third party. It is suitable for those business owners who work dynamically and need various specialists at different periods of their activity.
| | |
| --- | --- |
| Pros | Cons |
| Reduced expenses and time needed for searching, hiring, and retaining an employee.Flexibility in choosing the number of developers or team size.High quality of work and meeting of deadlines. | The level of control and management is a bit lower than with in-house employees. There may be a risk of getting developers with a lower level of seniority than the client requires. |
Types of mobile apps
The next thing you should know before hiring a mobile app developer is what types of mobile apps there are and which of these types you want to create. This will help you look for the appropriate expertise and developers with the right tech stack. You can find the main types of mobile apps and their advantages and disadvantages below.
Native Apps
Native apps are written in a particular programming language to work on a specific operating system (Android OS, iOS, Windows OS, etc.). These applications are highly efficient and provide an excellent user experience as they are designed with the specific OS in mind.
Advantages of native apps:
Great performance and less wasted hardware resources.
Better use of OS and device-specific functionalities.
Interactive and elegant UI/UX.
Disadvantages:
The launch can be time-consuming and costly because you need to build the same app for different operating systems.
Hybrid Apps
Hybrid apps are built on a single platform and combine both native and web apps features. They are a great option if you don't need high-performance or complete device access apps.
Advantages:
A relatively easy, fast, and cheap launch.
Easy to develop new features and deploy updates.
Cost-effective and multi-platform support.
Can work offline.
Disadvantages:
Less interactive and may not provide a high level user experience.
Performance may be a bit compromised.
Apps cannot perform OS-specific tasks.

Cross-platform apps
Cross-platform apps have a single codebase and can run simultaneously on multiple platforms and devices. Such a development approach optimizes the building of mobile apps because most of the code can be reused for different platforms, and only minor parts of the code are developed natively.
Advantages:
Less costly and ‍faster development.
Wider target audience reach due to simultaneous launch on multiple platforms.
Identical UI/UX on each platform.
Easy app support, maintenance, and updates synchronization.
Disadvantages:
‍Limited UI/UX without the advantage of integrated native components.
More complex interaction with app stores.
Performance disruptions due to lack of flawless integration with operating systems and limited access to native functions.
Also, we recommend reading Native or Cross-platform App Development: What to Choose
Things to consider when hiring mobile app developers
We have selected the main points worth considering before finally deciding how best to hire mobile app developers. When you have determined the type of contractor which suits your project, you should research and get more information about the contractor you are going to cooperate with. This will allow you to learn more about the expertise and strengths of their developers.
Examine the Portfolio
Before hiring app developers, look at their previous work experience and portfolio. Investigate whether the mobile apps they have developed worked in your niche or if they have successfully developed similar apps in the past. Download some of their apps to verify their functionality, usability, reviews, and ratings.
Check Testimonials
When you hire app development teams, their website usually contains a Testimonials page where you can read testimonials of previous clients. Also, you can check feedback about the company on specialized websites like Clutch or GoodFirms. When you want to hire freelancers, each freelance platform provides portfolios of developers where you can find reviews from clients as well.
Know the technology stack
The success of mobile app development largely depends on the technology stack used to develop the app. Ensure the team chosen can leverage the technologies required for launching your app idea. Generally, the technical stack is divided into subcategories which are noted below: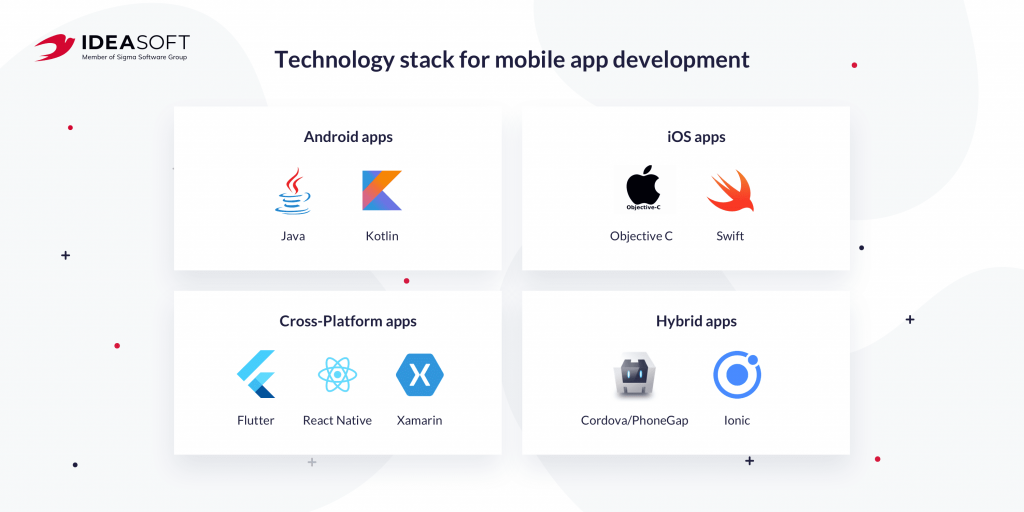 Determining the budget
Several factors determine the cost of mobile app development. Before commencing work, you should discuss these factors with your contractor to find out how they affect your final quote. Some of these factors include:
App features. The more functionality you intend to add to your app, the more expensive the product will be.
The number of device platforms on which the app will run.
Location of the development provider.
Maintenance costs, etc.
It's important to strive for the best value for the money, but you should never compromise on quality to keep costs down because a poorly-developed app will cost you more in the long run. It is always a great approach to discuss all aspects of the app development price, including post-development maintenance costs, before the project starts.
Timeline
A development cycle timeline is a vital factor that you should look into before you hire an app developer for your business. It takes time to develop a competitive mobile app that will satisfy the demands of users, so we recommend the following:
Deliberate on the schedule and format of communication between you and the performer.
Cooperate with developers who set realistic timeframes.
Keep your attitude flexible towards the timeline because quickness can affect quality.
Security Standards
According to Varonis's report, 53% of companies have faced unprotected data and poor cybersecurity practices in the past. This leads to privacy violations, system information leaks, insecure storage, and unstable deployment. Therefore, choose vendors that build mobile apps with secure coding and are prepared to sign a non-disclosure agreement (NDA) to keep your ideas confidential.
How much does it cost to hire app developers in 2021?
Now we're coming to the most important aspect of hiring mobile app developers: how much it costs to hire an app developer. We analyzed data from all over the world to come up with the list of average app developer prices worldwide.
| | | |
| --- | --- | --- |
| Region | Countries | Average hourly rate |
| Western Europe | Netherlands, UK, Belgium, France, Norway | $66 |
| Eastern Europe | Ukraine, Poland, Romania, Moldova, Estonia, Hungary, Belarus | $37 |
| Asia Pacific | China, Indonesia, Malaysia, Vietnam, India, | $28 |
| North America | USA, Canada | $55 |
| South America | Mexico, Panama, Brazil, Argentina | $50 |
| Africa | Morocco, Kenya, Egypt, South Africa | $31 |
Source: YouTeam
When choosing a region to hire app developers from, it is worth keeping a balance between price and development quality. Eastern Europe is one of the best regions in which these two components are combined in the best proportion. According to a report issued by Aventures Capital, Aventis Capital, and Capital Times, Eastern European countries are among the top 5 global software development centers.
Ukraine has long been the leader in this region. Its popularity has spilled over far beyond region borders thanks to globally successful startups like Grammarly, Ajax Systems, GitLab, and many others.
Ukraine has brought together highly competitive and talented people in combination with excellent technical education. The convenient geographic location of Ukraine offers good access to most Western European countries and is a 1-2 hour time difference with most European countries. For the USA, the time difference varies from 6 to 9 hours.
The price range in Ukraine is slightly higher than the average in the Eastern European price range, however Ukraine offers much higher quality than its' neighboring countries.
IdeaSoft mobile app development services
IdeaSoft provides a wide range of software development services, including mobile app development. The IdeaSoft team has extensive experience in creating multifunctional mobile applications of any complexity. Our specialists have the necessary expertise to cover all tasks from mobile app design to development and support. The company's portfolio contains over 250 large-scale private, commercial and government projects. We work with fintech, logistics, telecom, eCommerce, healthcare, B2B and B2G industries.
If you're looking for a skilled mobile development team with a flexible and transparent business process, feel free to reach out to us. The IdeaSoft team is here to bring your tech ideas to life.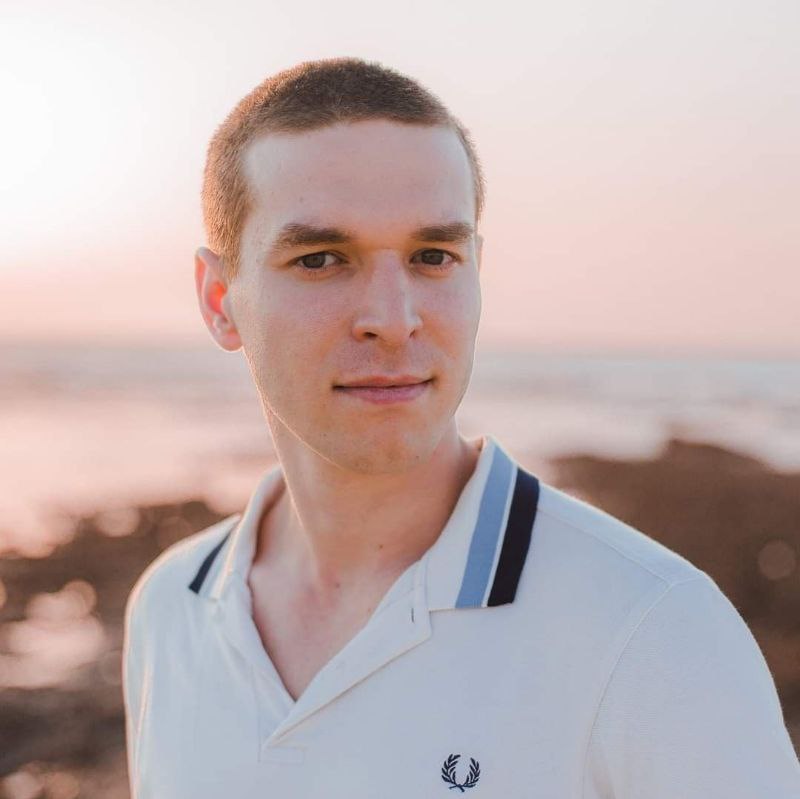 Arkadiy Kolomiets
Business Development Manager